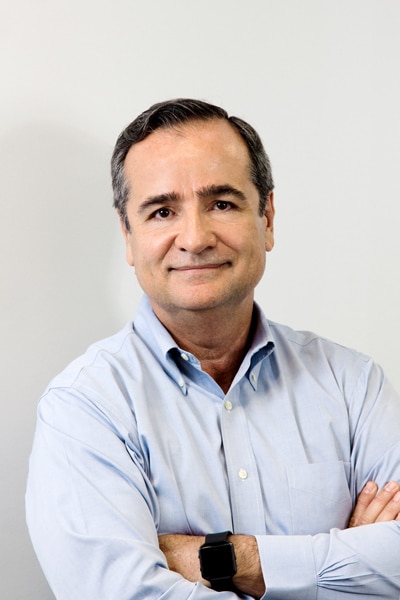 It's been a little more than a year since Hispanic Executive spoke with Fernando Torre, chief operations officer of leading soft contact lens manufacturer CooperVision. A lot has happened in the intervening months, but one thing that hasn't happened is stagnation, not on Torre's part and not with the company at large.
One thing that has happened is that Torre's job title has changed, from executive vice president of global operations and regulatory affairs to chief operations officer. While the new title leaves the mouth much more quickly, it carries with it a sense of corporate prestige.
"When I got the title of COO, I had been doing the job already for a couple of years," he says. "However, I've never been too worried about titles. You do the job, and everything else will come."
The company itself has continued its impressive growth—sometimes at two times the overall market-growth rate—and gained significant market share. CooperVision has been the number-three contact lens company for a while, but now it's edging its way to number two. The stock price has been climbing for a while, too. Torre says there are multiple reasons for this success.
"We've been able to do this because we have such a strong product portfolio," he says. "We've continued to launch new products but also enter new markets, add new customers, and grow our business with existing customers. There's been a lot of growth. It's a really exciting time for the company."
Environmental Responsibility
With high-volume plants around the world that use up a lot of energy and raw materials, CooperVision places great importance on being a leading environmental steward in the field. The company's plants have won many awards for environmental responsibility, and some of the initiatives they've implemented include:
Making it a requirement that the manufacturing process be as clean and "green" as possible
Making sure that any raw materials that don't end up in the finished products are recycled
Keeping water consumption to a minimum
Investing in making manufacturing and distribution facilities as energy efficient as possible
Using as much natural light in facilities as possible and powering them with energy from renewable resources (at CooperVision's Costa Rica plant, for example, 90 percent of the energy comes from renewable resources, primarily hydroelectric)
A year ago, the company was just starting production in its Costa Rica plant. That plant is now a fully operational, high-volume plant with four hundred employees and plans to double its production capacity soon. Yet Costa Rica is only one example of the company's growth. In the past four years, the company has implemented a huge push to expand its manufacturing capacity, with the expansion of existing plants in Puerto Rico, the UK, and Budapest, Hungary.
Europe is the latest market in which the company has begun to thrive. As of press time, its European sales were actually on par with its sales in North America, which has always been its biggest market.
"We have very strong distribution capabilities across the whole of Europe," Torre says. "It's because of our distribution infrastructure and very competent teams in both sales and operations that we can support this growth."
Over the next twelve months CooperVision is rolling out a further expansion of its distribution capabilities in Europe. It is expanding its main distribution center in Belgium to support the core European countries and building a new distribution center in Madrid to better serve Spain and Portugal. It's also starting the implementation of a new distribution operation in Hungary that will eventually support all of Central Europe.
"The challenge right now is that we need to continue to expand and improve our distribution and logistics capabilities," Torre says. "It's critical because everything is about how you get the product to market."
As COO, Torre plays a big role in supporting CooperVision's growth. He's responsible for all the company's manufacturing and distribution operations worldwide. He manages the global supply chain as well as the development of new manufacturing technology. He is also a leader who is always thinking about the impact of his organization on the company as a whole.
"From my perspective, a big part of my job is to make sure that we never become a constraint for the commercial teams," he says. "We don't want to have to tell them, 'Slow down,' or 'Don't close that deal, don't sign that contract, because we can't support it.'"
The latest product family the company has been concentrating on is its portfolio of silicone hydrogel daily disposable lenses. "Silicone hydrogel" refers to a new class of oxygen-permeable contact lens materials that came to market more than ten years ago in lenses meant to be used for two weeks or more, but these materials have only recently begun to catch on for daily disposable lenses. As opposed to lenses that people keep wearing for as long as a month, daily disposable lenses are only used once. Improvements made by CooperVision's R&D and manufacturing teams have allowed the company to produce these oxygen-permeable materials at a cost that matches older daily-lens materials. Many eye-care professionals prefer the daily lenses because they are more hygienic, and for many individuals they are preferred as a lifestyle choice. Thanks to big improvements in the silicone hydrogel materials and in its manufacturing processes, CooperVision is now a market leader for silicone hydrogel daily disposable lenses, the fastest-growing segment in many markets.
So, a lot has changed, but one thing that has remained the same is how much Torre enjoys being at CooperVision. "My job continues to be very demanding, but I really enjoy it," he says. "I like leading from the front lines. I travel a lot and enjoy that. I get a lot of satisfaction from the job and from seeing that, as the company grows, there are always new opportunities that come up that can be offered to our employees. We have very talented people, and I like that CooperVision can offer them opportunities to grow personally and professionally."