Evelina Rojas, vice president of human resources at On the Border Mexican Grill & Cantina, has spent her life advocating for others, both inside and outside of work. But it wasn't until the COVID-19 pandemic when she realized she wasn't advocating enough for herself.
"I joined On the Border in 2016 as a first-time mom who worked really long hours, trying to build solid relationships and to be everything for everyone. No one was asking me to take that kind of initiative, but I just wanted to prove myself," she recalls. "But the pandemic put me in my place. I was coming back from maternity leave after having my third child, and we were doing mass layoffs the day I returned from leave. The next day, they said I'd be a part-time employee, who only worked twenty hours per week with no timeline on how long it would last."
Though she would eventually be reinstated as a full-time HR director in 2020, the time she spent as a part-time employee was a reality check. It forced her to think about improving her work/life balance and to take inventory of what really mattered. Today, she shares lessons from that journey with her colleagues aiming to grow in their roles, women aspiring to be leaders and other professionals who want to be successful in their careers.
"Advocate for yourself or have someone to do it for you," she advises. "Be open to asking for growth, raising your hand, and say, 'I don't know anything about this, but I'd like to learn.' The worse thing anyone can say is 'no,' but you need to make sure you advocate for that experience and that exposure. Keeping your head down and working really hard won't get you promoted. You need to build relationships with stakeholders, to build a level of credibility so they see your potential."
That commitment to growth and relationship-building is what helped Rojas as she reentered On the Border full-time. She was faced with a department that needed restructuring, a new leadership team, less manpower, and more responsibilities. Despite those challenges, her efforts have helped the organization bridge the gap between support and operations while setting it on a path towards growth.
Recently, she's turned her attention toward developing the company's managers through face-to-face strategy meetings and situational leadership training. Her department is also working to do personality assessments to better understand the manager's communication styles.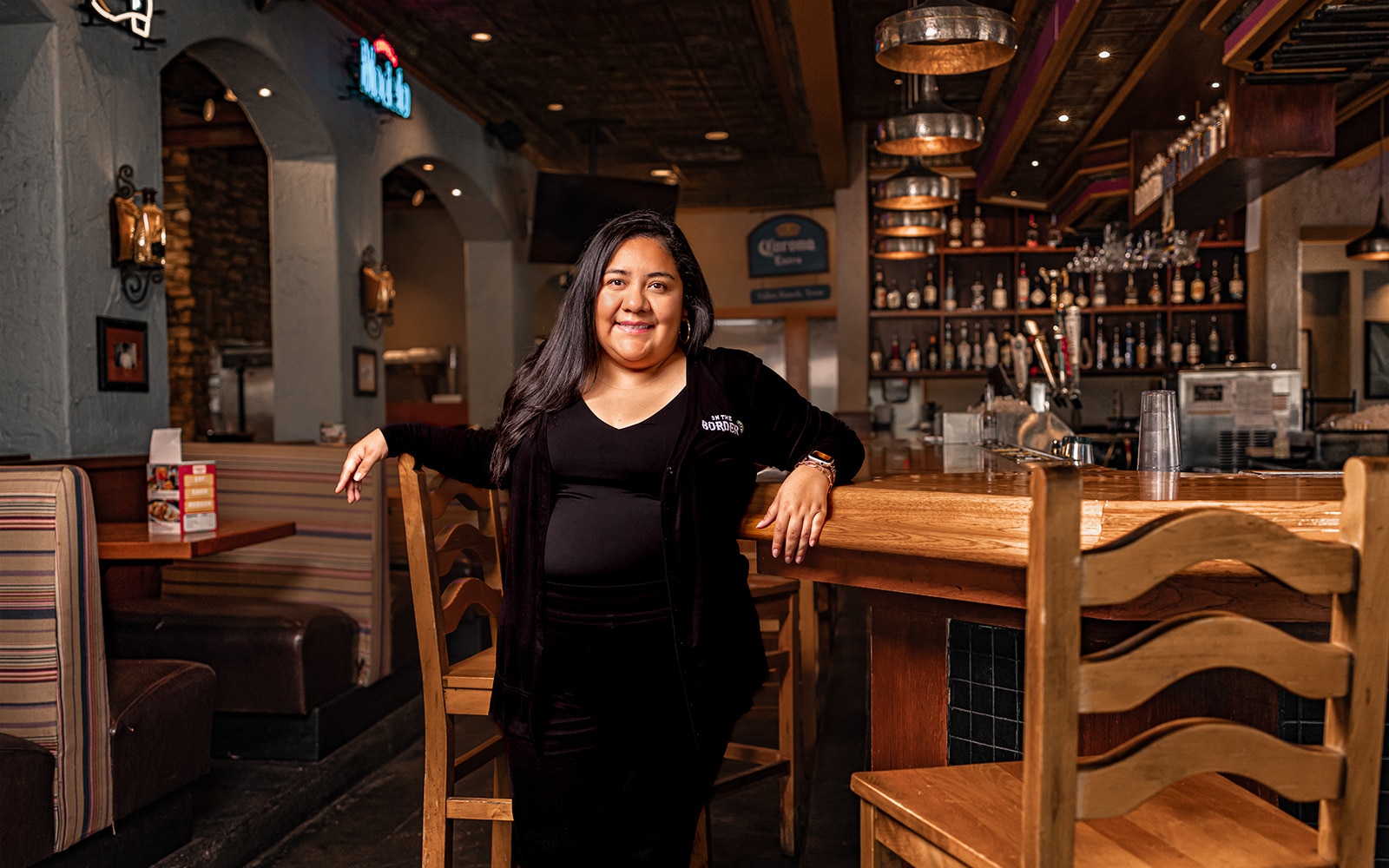 "We just want to understand who needs what level of communication. Do they need the pleasantries, or do they want direct feedback? We're trying to empower our people to reach out and ask questions, and the best way to do that is to meet them where they are," she says. "We also believe the situational leadership training will teach them to understand the leaders they are and allow them to better manage the workforce. They're the ones on the front lines, and if they don't have a great work experience, we can't expect our guests to have one either."
Rojas, who was born in Mexico and moved to the US at two years old, has always been the "go-to" in her family. Her father always thought she would become an attorney because of the way she advocated for others and argued a point. At just fourteen, she leaned on those innate skills to translate during worker's compensation claim negotiations with her dad's employer. She told that story to a hiring manager during an interview years later and ended up getting her first HR role as a senior administrator of worker's compensation.
"They had already decided on who they wanted to hire, and I came into the interview with no previous HR or worker's comp experience. But I just shared my real-life story about how I was the liaisons between my father, his employer, and his adjusters," she says. "I drew parallels between that and what the role would require of me. It taught me to be well buttoned up, how to document things, and how to follow up."
Rojas went on to work two years in that role before she was recruited as an HR generalist supporting five hundred Chuck E. Cheese restaurants. From there, she worked as an HR manager at Day Star Restaurant Group and an HR business partner at Focus Brands.
In addition to developing the On the Border's people, the VP is focused on giving her team exposure to new areas to spark their curiosity and advance them in their careers.
"If you keep someone in a box, it turns off that inquisitiveness, freedom to share feedback, and to gain knowledge," Rojas says. "You have to show your team how we support the business and how we build credibility so it can help them in the future."