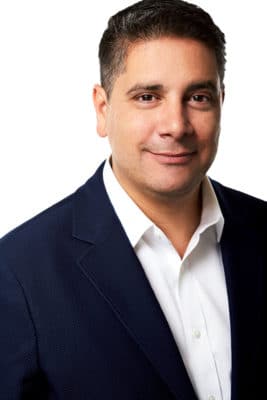 When Edward Medina walked into Ramona's Food Group in 2012 as the new director of finance, he had more than his fair share of work cut out for him. The third-generation Mexican food-production company had been struggling to stay afloat. Like with many family businesses, the challenge at hand was, he says, "how do we keep the business in the family but run it successfully?"
"When you have a large family, they want to be paid like owners," adds Medina, who is now CEO. "When you have too many cooks in the kitchen, decision-making isn't efficient. One of the best things that Romana Acosta Bañuelos did was implement a board of directors for the company."
Medina described the state of the company when he first arrived as "bleak." It wasn't profiting, and it faced a lot of scaling challenges. "We had to pinpoint the negative cash flow and stop the bleeding in a very short amount of time," he explains. 
Through a lot of negotiating with customers and suppliers, Medina and a small team managed to turn things around in a mere six months. He credits much of the success of the negotiations to high-quality food and his company's unwavering devotion to authentic ingredients. "People didn't want to go somewhere else because the quality couldn't be replaced," Medina says. "The customers wanted the product."
There were other challenges that Medina had to remedy along the way, including a flawed workers' compensation policy, the management of the company's 170 employees, and the safety of the company's food as it expanded rapidly.
Medina had a strong background in financial consulting from Ernst and Young and Toyota Corporation. He was approached to take on his early finance role by Ramona's board of directors, put in place by the matriarch of the company, Bañuelos.
Story of "Mrs. B"
"Mrs. B," as Medina refers to Bañuelos as, was the epitome of the American Dream. Hers is a true rags-to-riches story, from sleeping on dirt floors with her husband to founding what currently is a multibillion dollar company. But, Medina explains, the intention behind starting the authentic Mexican Food company was never to become rich; it was to be able to provide for her family.
As the daughter of poor Mexican immigrants, Bañuelos had faced adversity from the day she was born. During the Great Depression, her family was one of thousands deported to Mexico, despite being born in the United States. She spent her days working in relatives' crop fields in the Mexican town of Sonora and helping her mother in the kitchen. That experience making tortillas with her mother built the foundation for her to start her own tortilla company in downtown Los Angeles.
Bañuelos's days began before sunrise. She would bring her young kids to the factory to sleep on spare sacks of corn and flour while she began working to keep up with the high demand. The authentic fare was a rarity in the city and fueled the business. The popularity of the highly sought-after Mexican cuisine grew steadily, and, in 1954, the first Ramona's Mexican Food plant and restaurant opened in what is now South Central Los Angeles.
The origin of the household name that many Angelenos recognize today was a simple painter's error, misspelling her name from Romana to Ramona.
Empowering Other Hispanic Entrepreneurs
Bañuelos is known not only for her successful food brand but for her activism within the Latino community. She knew from firsthand experience that being Latina had made certain things in her life more challenging. She also knew that systematic prejudices existed in the banking system, making it difficult for Latino entrepreneurs to fund their endeavors.
In 1963, she started the Pan American National Bank, to finance Latinos starting their own businesses. Her logic was simple: if Latinos could earn more money, they would be able to have more of a political influence, resulting in a better life. In 1969, Bañuelos was appointed chairperson of the bank's board of directors and was named the city's Outstanding Business Woman of the Year.
Bañuelos made history when she was named the first Latina to serve as the US Treasurer and the highest-ranking Mexican-American in government. She paved the way for others in the Latino community to uphold such roles in government as well—including Rosa Gumataotao Rios, who served as the forty-third US Treasurer until July 2016.
Learned Leadership
In 2014, Medina became CEO of the company. He attributes many of his leadership skills to Bañuelos and describes her work ethic as something he has always tried to emulate.
The retail food group divided into two separate entities in 2017: Ramona's Food Group and Ramona's Restaurant Group. Medina and Bañuelos's grandson, Robert, decided to break up the company for better visibility. Medina is focusing on increasing the number of locations where Ramona's frozen food is distributed. The company is partnering with Disneyland and even school-lunch programs.
Medina also sees the parallels between his life and Bañuelos's. Medina's mother worked long hours in a factory, and he took his first job working in that same factory at the age of fifteen. A pivotal moment for him was when he saw a young man walk into the factory one day. Medina recalls, in vivid detail, that the man was dressed in a nice suit and pulled up in a BMW.
"I asked my mom what that man did," he says. "She told me he was an auditor. I knew that's what I wanted to become, so I got my act together. I became focused on academics, studied accounting at USC, and became an auditor at one of the biggest accounting firms."
"Bañuelos and I were similar in that we came from humble economic means and had to rely on ourselves to provide for ourselves," Medina adds. "Being in that situation, you become laser-focused on surviving economically."