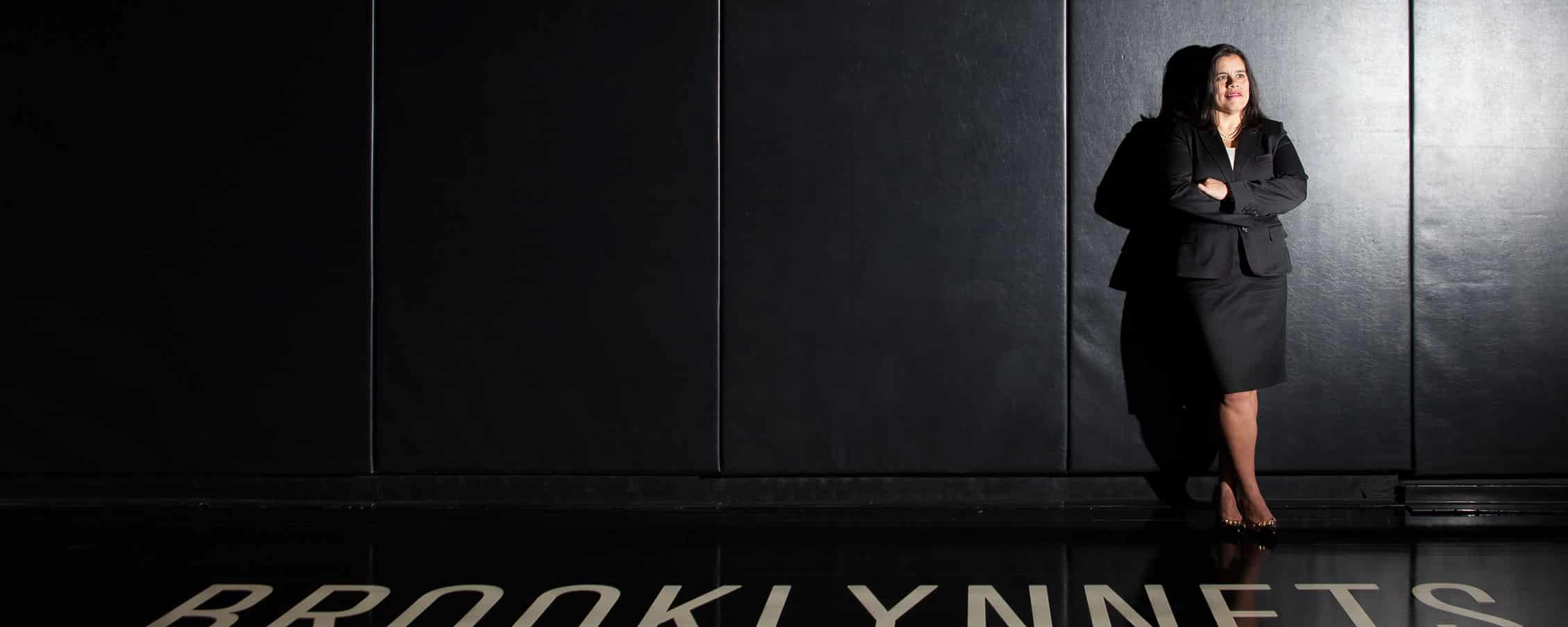 If success is a culminant point in a career that fully encompasses all past experiences, then Elisa Padilla is living her dream. Padilla's first job out of college was as an assistant to a woman who ran marketing for a NBA franchise. Seeing her in action, Padilla realized then that this was the job she someday wanted. True to her mantra—"if you can dream it, you can achieve it"—she made it happen for herself.
Padilla grew up in inner-city Newark, New Jersey, without easy access to educational opportunities. "I'm a Hispanic woman who grew up with blue collar parents," Elisa says. "I achieved this through hard work and intellectual property. It means a lot." Padilla became chief marketing officer just four and a half years after joining the Brooklyn Nets.
To ask Padilla if women are well-represented in her industry is to ask a loaded question. The short answer is no, not many women—especially women of color, and especially Latinas—reach that C-suite level. Over 20 years ago when she started in her field, her boss and mentor was the only woman in a meeting. Today, that has not changed—Padilla is almost always the only woman in the room. However, "I strongly believe the people who work with me don't view me as just the only woman in the room," she says. "I've proven I work hard and I deliver. I know that makes a difference."
"The way I like to see it is that there is huge opportunity for minority women in the sports industry," she continues. "My parents always taught me that if you work hard, success will come. If you deliver results, you will get returns. I'm not saying optimism will change everything. I know many women who are working in what is basically an old boys' club."
After obtaining her MBA in 2002, Padilla decided to take a very intentional approach to her career, ensuring that every step was made with the goal of being as diversified a marketer as possible. The woman she worked for right out of college came from a consumer packaged goods background, not a sports background. Padilla recognized the strength that comes with having a varied background to bring to the table, and today says she owes her success to having taken the approach of seeking out different experiences.
Diverse experience is something the chief marketing officer continues to seek out. Her leadership style is all about collaboration, an approach that requires listening to different opinions and committing to hearing from as many people as possible.
"Whether you're my assistant or the CEO of a company, I'm going to give what you say the same weight because you've experienced the world differently than me," she says, "which means I have something to learn from you."
Padilla insists that leadership is decidedly not something that came naturally to her. She was one of six children, and the youngest girl.
"In my family, there were four in front of me who thought they were the president of the house—and they behaved that way," Padilla says. "Leadership was something I had to learn. Every step in your career will teach you something, if you let it. I learned from good bosses and bad bosses, what worked and what didn't."
"My job is to think about where people work, live, and play and then figure out how to evoke an emotion that drives an action."
In her dual role as SVP and chief marketing officer of both the Nets and Barclays Center, Padilla has proven herself a capable leader time and time again. The multipurpose indoor arena that serves as the Nets' home base hosts concerts, conventions, and, starting later this year, will also be home to the New York Islanders NHL hockey team. Events ranging from the MTV Music Video Awards to WWE championships and hundreds of concerts have been hosted at Barclays. According to Billboard Magazine, Barclays Center even surpassed Madison Square Garden as the highest-grossing venue in the United States for concerts and family shows the year that the Nets moved to Brooklyn.
Many in the marketing industry still remember the simple yet highly effective marketing campaign she developed when the Nets first made their move from New Jersey to Brooklyn in 2012. On black and white billboards sprinkled across the borough, the words "Hello Brooklyn" announced the team's arrival to their new home.
That year, "Hello Brooklyn" won gold in the Best Overall Integrated Marketing Campaign category at the Sports Media Marketing Awards. Padilla says the reason it worked and resonated with people is because it was humble. "It wasn't talking at Brooklyn; it was talking to Brooklyn," she says. She also suspects part of the magic was that the campaign was evergreen.
"Five million people have visited Barclays Center since 2012," Padilla says. "To them, we're still saying hello."
The Nets only made their move three years ago, which means that from a marketing standpoint, they're still in their infancy. In the years since the move, Padilla and her team have focused on growing the brand and its fan base, with the goal of turning casual fans into hardcore fans. Even more ambitious, Padilla wants to put Barclays Center on the map as a must-see national destination.
"Barclays Center is still growing, and I'm confident we'll accomplish my ultimate goal, which is to turn it into a classic landmark," she says. "When you come to New York City, you want to see the Empire State Building, the Statue of Liberty. For me, the ultimate success would be to hear tourists saying, 'I have to see Barclays Center!' We still have a ways to go, but our numbers tell us we're well on our way."
Given what's been in the works, Padilla is right; they may not be far off. She's also heading up the marketing for the New York Islanders' move from Nassau Coliseum in Long Island to Barclays Center. Given that this is a wildly popular and locally beloved hockey team, the real challenge is to not isolate the fans, Padilla says.
This next move will be very different from the Nets' move. We're talking about a niche sport with very hardcore fans.
"Part of our work is opening the fans' eyes to the fact that this is really just a physical move from point A to point B, and at point B there's a beautiful, technologically-advanced arena offering great service and wonderful amenities. Everyone at Barclays Center was trained by Disney, known for being the best," Padilla says.
The chief marketing officer contends that she and her team aren't looking to shake up the Islanders; they're keeping the same colors, the same logo, everything. This is just about making a home for them and having two teams under one roof.
With both the Nets and the Islanders, Padilla is taking the same 360-degree marketing approach she always does. It's more of a philosophy, actually.
"If you boil it down, my job is to think about where people work, live, and play and then figure out how to evoke an emotion that drives an action," she says. "That's marketing in a nutshell. Getting a message out that's relevant and that resonates with people enough to evoke an emotion? Well, that's the hard part."