After jumping out of a helicopter 8,000 feet above the ground, MaryJo Villar descended into a crowd of screaming fans. The experience was a marketing stunt promoting Takis, a Hispanic snack brand. Following Villar's descent, the helicopter hovered above the crowd, pouring down a torrent of Takis while throbbing electronic music filled the air.
The Takis Airdrop capitalized on the boldness of the spicy-flavored brand while tapping into the adventurous nature of its consumers. In addition to generating social media buzz, the event demonstrated experiential marketing at its finest. It was all conceived by multicultural marketing agency, Elemento L2.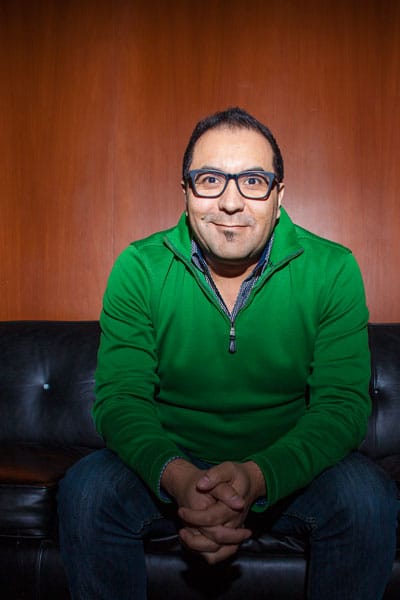 "Takis saw results right away," says Marco López, Elemento L2's executive vice president of client services. "They saw a 21-percent jump in sales, just during the program."
As brands seek new ways to reach consumers' hearts, minds, and wallets, experiential marketing presents an increasingly important touchstone.
"Experiential is about the physical connection between the brand and the consumer," López says. "In essence, it creates a relevant and insightful connection that can range from the most basic effort—like passing around coupons or product samples on a corner—to constructing a full-fledged experience."
Before launching Elemento L2, López had a two-decade career in multicultural marketing. He directed diversity marketing at AT&T (formerly SBC Communications), and then shifted into media marketing at Hoy, Tribune Company's Spanish daily newspaper with Los Angeles, New York, and Chicago editions. Eventually transitioning into the agency world, he landed at Relay Worldwide, a sponsorship and events marketing firm where he honed his experiential muscle.
In 2011, López went independent, bringing business partner Ivan López with him as managing director. The "L2" in the company's name plays on the founders' shared surname, says Marco—as in, "L squared."
In their new roles, Marco focuses on client acquisition, while Ivan runs the office and operations. "We both bring a level of maturity and freshness to what we're developing," says Marco. "Sometimes we may not agree with one another, but in most cases, we look at each other and say, 'This is so cool! How can we create more experiences like these?'"
Among the most impactful of Elemento L2's achievements is "Club Balón Rojo." Through this Coca-Cola-sponsored program, youth leaders are selected from nonprofits, such as the Boys & Girls Clubs of America, to participate in a soccer clinic whenever the Mexican National Team plays in the United States. In addition to the sports training, the Hispanic Scholarship Fund facilitates a college readiness workshop to the participants. Through this event, Elemento L2 has helped promote higher education to 230 students and more than 130 parents.
Club Balón Rojo had a double effect of bonding for the teenagers. "After a week, the kids were crying and saying goodbye to each other as if they had been friends forever," Marco says, "while bonding with the brand at the same time. We were building on the brand's objective to build brand love. These teens are going to be brand evangelists for rest of their lives."
Another Elemento L2 initiative involved a partnership with big-box retailer Target, activating the sponsorship of Festival People En Español. For the event, Marco's team took a closer look at the US-born Latina consumer to find out what makes her tick.
"In many aspects, you'll see [the San Antonio Latina] as very assimilated and acculturated, but based on research, we found that her consumer behavior is culturally driven," he says. "When she goes to the store, she buys frijoles, arroz, salsas, and tortillas to cook food for her family just like her mom and grandma. Although many cultural aspects have changed, many more remain true to whom she is."
Drawing from this customer insight, Elemento L2 constructed Aqui Cabemos Todos a 35-foot-high-by-70-foot-wide Target shopping basket placed in the San Antonio Convention Center. Inside the basket, consumers could explore beauty advice and fashion tips while they mingled with a chef sharing traditional recipes. The marketing goal was to position Target as a one-stop shop for Latinos.
It takes Elemento L2's staff of more than 20 employees of varying backgrounds (plus field staff) to orchestrate these dramatic, sometimes daring, experiences. "We have creative art directors, designers, and even people with theatrical backgrounds," says Marco. "We need to ensure that interaction with the brand doesn't turn into a bottleneck where only one person can relate to that experience. We want to give an unlimited amount of people an amazing experience—one that feels personal for each of them."
Ultimately, a campaign's success hinges on a holistic approach including advertising, digital communications, and public relations, but the experiential piece adds a level that is often more challenging to encapsulate in marketing. It's tangible. It's in your face. And it can adapt to the customer.
"A top executive friend of mine who works on the media side, said, 'Marquito, what you do is really cool," Marco recalls. "There is no speaker between you and the consumer like there is with radio, nor is there a screen separating you, like there is with TV. You're really representing the brand and can switch on a second's notice into English or Spanish, depending on how the consumer chooses to engage."
Once consumers form these shared memories with brands, Marco says, they'll stay with them for a lifetime.