Sitting in Gaddi H. Vasquez's office at Southern California Edison (SCE) is a photograph of him and his father standing outside the one-room trailer in Watsonville, CA where he lived as a child. Vasquez describes their economic situation, based on his parents' migrant farm worker wages, as having been "dirt poor." Despite his family's living conditions, though, his father instilled in him the belief that giving is better than receiving. His mother often provided food to the homeless. "I was taught to serve others," says Vasquez, which led to his becoming a public servant.
Vasquez's career in public service began in the police force of Orange, CA. He says working in law enforcement provides the most direct contact with the community—allowing one to witness the good, the bad, and the ugly. Vasquez moved on to numerous roles within the public and private sector before taking his post at SCE. His most recent tenure has lasted just longer than four years, but cumulatively he has been with the energy company for 12 years. He left in 2002 when former president George W. Bush nominated him as director of the United States Peace Corps.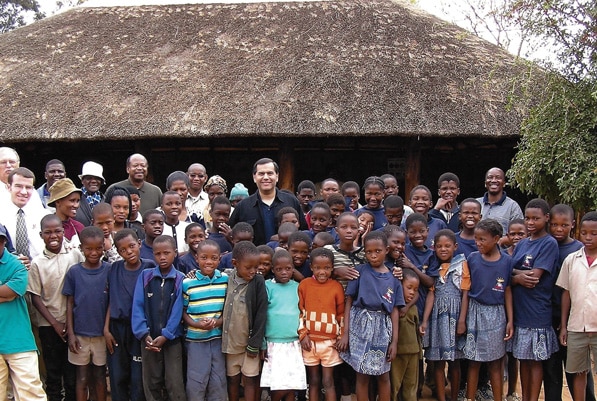 Vasquez became the first person of Hispanic ancestry to lead the international volunteer service organization. With volunteers and staff serving in 78 countries, it was "the most gratifying position I have ever held," Vasquez says. He admires the strong sense of purpose and commitment that Peace Corps volunteers have. Vasquez, who led the organization in the aftermath of the 9/11 attacks, was even more inspired when the corps saw an increase in the number of Americans applying to serve. Rather than withdrawing in fear, many of those Americans interested in serving expressed a belief that the post-attack period was a crucial time to reach out to people in other countries. "I witnessed the recruitment and acceptance of young, middle-aged and older Americans," says Vasquez. "I had volunteers who were in their 60s and 70s going overseas to serve in countries they had never been to."
In 2006, Vasquez was again nominated by Gerorge W. Bush and unanimously confirmed by the Senate, this time to be the eighth United States ambassador and permanent representative to the United Nations Agencies for Food and Agriculture in Rome. His leadership primarily focused on the mission of eradicating world hunger and chronic malnutrition. Setting out to assist people with the greatest needs, Vasquez promoted transparency and accountability of food and agriculture policy agencies.
"Many humanitarian workers deal with some very challenging situations in unstable areas around the world," says Vasquez. "At times, they are subjected to very dangerous conditions to accomplish their mission. They can face hijackings, attacks, and sometimes lose their lives, all to help feed those most in need." With the creation of an annual report, Vasquez documented the heroic efforts of humanitarian workers and helped improve safety and conditions.
In 2009, Vasquez returned from Italy and served as director of The Annenberg Foundation Trust at Sunnylands, working to further public policy development and other efforts in the public interest. SCE recruited him in July of 2010 to return to government affairs.
Today Vasquez is still serving the public's essential needs, now in a 50,000-square-mile area of Southern California. This flourishing community and its commerce rely on dependable energy and responsible collaboration between industry and government.
At SCE, Vasquez is responsible for government relations activities at the federal and state levels, including local public affairs. "My work allows for an exchange of ideas across both the public and private sectors," he says. One of the major challenges that Vasquez's team faces is operating in a rapidly changing electric utility industry. Technological changes affect planning, design, construction, and maintenance of systems that will continue providing safe, reliable, and affordable energy to all of SCE's customers.
Another major task is providing vital information and insights to California's policy makers and community leaders so they can evaluate, assess, and make informed policy decisions. Vasquez's team is in regular contact with local and state elected officials, the governor, members of Congress, regulators, business leaders, and other community stakeholders in SCE's service territory. Those relationships are crucial because, he says, everyone has to work together to create an environment where policy and decision making meet the challenges facing the state. "Energy is a key driver to a robust economy and job creation. We believe that through our efforts, we can lend our expertise to help California face our changing energy needs and power the future."