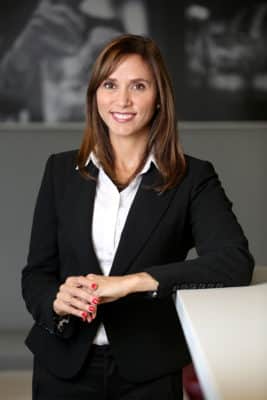 Ines Bahachille has never been content to let circumstances dictate her fate. It's a trait that has kept the vice president and legal executive at beverage giant Diageo at the forefront of her profession.
Bahachille grew up in Venezuela, where her father was an engineer and her mother was an architect. They stressed the importance of family and education, lessons that have guided Bahachille. Now a mother of two daughters, she says her husband has been a key supporter while her kids provide balance with her demanding career.
"Since I was little, I was very serious with my studies," Bahachille says. "I loved to read and enjoyed my classes."
Bahachille also liked working on the school newspaper, interviewing teachers and fellow students and writing articles based on her research. That work fed another passion of hers.
"I would defend any injustice I saw at school," she says. "I would be the one saying something isn't fair and representing my classmates."
When it came time to choose what to study in college, Bahachille wavered between law and journalism. She chose law, she says, because, "it was more about seeing myself working abroad. I saw a clearer path to do that with law."
Bahachille attended Universidad Católica Andres Bello in Caracas, graduating first in her class in 1994. One of her law professors hooked her up with a job as a legal associate at Lagoven, a subsidiary of the state-owned oil company Petróleos de Venezuela SA.
Through 1996, Bahachille established herself in a male-dominated business. "I never felt discriminated against," she says. "I made my way in a man's world by gaining their trust and not being just a pretty face. You have to work hard to find your place."
She had other issues, however. "My time at Lagoven is when I knew Venezuela was not in good shape," she says. "I tried to do litigation at first and didn't like the nontransparent environment."
Bahachille decided to do something about it, applying for a Fulbright Scholarship to study and research abroad for a year and return to help her homeland. She served as a foreign associate at the law firm Sullivan & Cromwell in New York City while completing a master's at New York University Law School and passing the US bar exam.
Returning to Venezuela, she says, wasn't easy. "I liked the law firm and saw opportunities to learn more in the US," she says.
She also knew she could apply what she'd learned in New York. Not only did she begin working as a senior associate at the Caracas-based firm Andersen Legal, but also started an eleven-year stretch teaching law at a juris doctor and master's degree level at her alma mater.
"The main reason was to give back to the university and encourage students and young generations to work hard and pursue their dreams in law, despite the circumstances in Venezuela," she says.
It was just one example of Bahachille finding a way to give back. She has always been part of panels and forums where she shares her experiences as an international legal counsel, advocating for women's rights and the equality of the law.
"I made my way in a man's world by gaining their trust and not being just a pretty face. You have to work hard to find your place."
—Ines Bahachille
After a year at Andersen, Bahachille took a position at Terra Networks SA, the Internet arm of Telefónica de España. The move put her in territory that was largely unknown to legal experts at the time.
"I started to talk to clients about incubators and ideas not so many people knew about," she says. "In 2000, I started to write articles about opportunities in tech."
Her challenge was convincing Terra executives to pay attention to potential legal issues surrounding Internet content and usage. Everyone, she recalled, was figuring it out on the fly.
"You had to act by instinct, common sense and good judgment," she says.
The work environment at Terra helped foster solutions. She was no longer in the buttoned-up, highly structured and formal world of law firms. Terra had a "we're all in this together" mentality that Bahachille says made her more down to earth as a lawyer. She got better at translating highly technical legal issues into messages everyone could understand.
That skill proved pivotal when Bahachille moved to the next stop in her career: legal, corporate relations and compliance, and ethics director for North of Latin America at Sun Microsystems' office in Caracas.
"There was no compliance department and no in-house legal team," she says. "I had to build everything from scratch and create a chemistry that allowed us to bond with technicians
and engineers."
Bahachille thanked her upbringing for her success at Sun. "Being able to understand the other side, I got that from my family," she says.
She didn't land at Diageo until 2008, when someone referred her for a position there. "I was determined to launch my own practice at the time, but when I learned about the company I fell in love with it," she says.
Bahachille became vice president and assistant general counsel for Diageo Andean in Caracas. Again, she succeeded at building an in-house legal team from the ground up.
In 2013, Diageo relocated her to Miami, Florida, to become vice president and assistant general counsel for Diageo West Latin America and US Free Trade Zone. Her dream to live and work abroad had finally come true.
Bahachille oversees legal for Diageo's third largest market, which includes forty-four countries in North and South America. Meanwhile, she finds herself at the forefront of legal work again with a new responsibility: brand protection.
"I've learned about the business and how a company must do everything it can to put the health of consumers first," she says. "We promote responsible consumption."
Bahachille will defend Diageo's brands with the same zeal she used to defend fellow Catholic school students in Venezuela. That drive has taken her far, and she has no plans of stopping now. 
EDITOR'S NOTE: After press time, Ines Bahachille took a new role as Executive Director & Associate General Counsel for Ingram Micro, responsible for Latin America