Some days, Denys Diaz imagines he has an angel on one shoulder and a devil on the other, both whispering in his ear. The angel tells him to make everything safe and secure at all times. The devil tempts him to deliver solutions as fast as possible. As the executive in charge of information technology, cybersecurity, and business continuity at a large and growing bank, his job is all about balancing competing demands to maximize profits and protect sensitive data while maintaining an excellent customer experience.
Despite the bank's relatively young age, TowneBank is making a mark in the financial sector. TowneBank got its start with three offices in 1999 and is already one of the largest banks in the state of Virginia. A family atmosphere and commitment to the community attracted clients (whom they call members) and helped make the bank profitable in just eleven months.
TowneBank has now expanded to over forty banking offices and has been publicly traded on the NASDAQ since 2007. The organization has continued to grow, celebrated its twentieth anniversary, and made its way onto Forbes Magazine's list of America's Best Banks in 2022. Now TowneBank is expanding into other states like North Carolina, where it will compete with industry titans.
TowneBank can't succeed against banking behemoths without the right technology and information security strategy. Diaz, a veteran tech leader with twenty-five years of experience, joined the organization seven years ago to increase security, enhance digital capabilities, and modernize the bank in support of an aggressive and ongoing growth strategy.
Diaz leads a department of approximately a hundred technology professionals serving several lines of business. The technology team is constantly challenged to meet regulatory expectations, provide reliable data, and secure all confidential member and bank information. Bankers expect easy access to information and data to deliver excellent service.
Diaz and his team are always working to find creative ways to provide solutions that satisfy all stakeholders. "When it comes to data protection, privacy, and cybersecurity at a bank, education is key," he says. "Most people understand our security measures are necessary, but accessing information and servicing the members can never become a chore."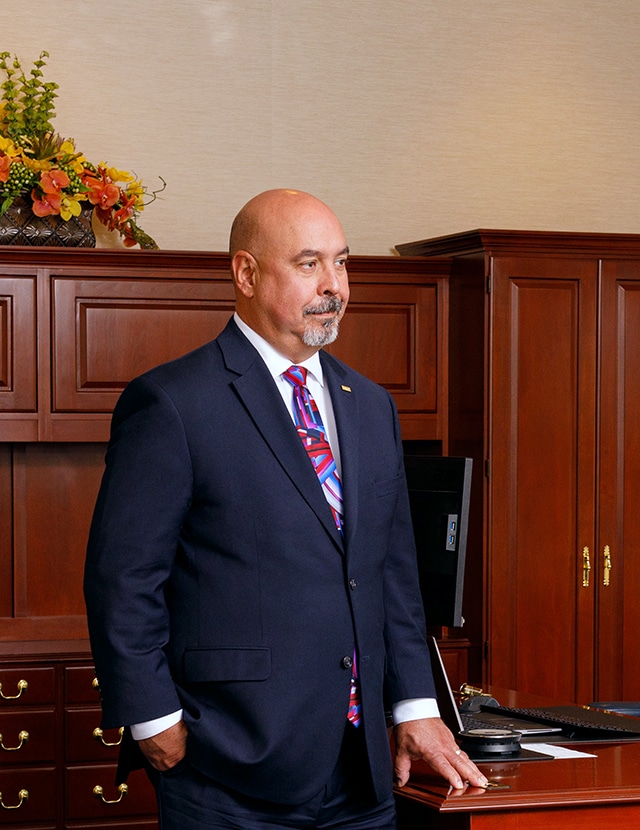 A quarter-century in technology roles has helped Diaz learn how to manage the delicate balancing act. He came to the United States from Cuba at age fifteen, earned a degree in computer science, and started his career in financial services for the job security and stability.
He's been a bank's first CIO four different times. While each stop has been different, the basic goals and principles are the same—banks deal in information and move bits and bytes that represent dollars and cents. Diaz and his team apply technology to make that information flow as quickly and securely as possible.
Before joining TowneBank, Diaz was working for its closest competitor, the smaller Monarch Bank. He stayed on when the organizations merged in 2016. The immediate challenge was for the team to create and deliver on a technology progression strategy to ensure the bank's competitive posture could be improved in light of the business growth plans. He looked to apply all the lessons learned throughout his career.
And over the last several years, they've done exactly that. The bank has now fully executed a comprehensive cloud strategy as well as other elements of a robust technology, security and business continuity all aimed at facilitating member service. Together, his team created what Diaz calls the "mobile banker." Now, bankers have the capability to interact with each other and serve clients without ever coming into the office.
IT has also condensed and upgraded digital capabilities and improved the member experience by providing solutions for digital signatures and improved onboarding processes for new members. The goal is to replace stacks of paperwork with digital solutions with the fewest "clicks" possible. Lastly, multifactor identification, password management strategies, and other protective measures are introducing a new level of security that is both safe and user friendly.
"As Denys Diaz continues to transform Towne Bank's internal IT processes and customer experience to embrace a digital future, we truly appreciate his trust and confidence in our abilities to assist in executing on critical strategies," says Presidio account manager Matt Estes. "Our engagements around enterprise architecture automation, modern backup, data recovery, and IT security best practices in partnership with Denys, I believe, have really helped them accelerate modernization."
Today, Diaz is more passionate than ever about the work that he does because he's seen the positive impact banks have on their local communities. "The people I work alongside are the ones who lend to the people who start new or grow businesses," he says. "Anytime you stay at a hotel or eat at a restaurant, it is likely a bank made a loan to fund an entrepreneur or business owner, and these businesses then become an asset to their city or town."
TowneBank also supports numerous charities throughout Virginia and North Carolina. The organization sends a percentage of all profits to the TowneBank Foundation, which partners with more than two hundred nonprofit organizations. Each year, Diaz joins many of his colleagues to donate time and money to local chapters of the Salvation Army and the United Way.
The value of community service was evident after the COVID-19 pandemic restricted and closed local business in 2020. As soon as the federal government announced SBA-backed loans to help businesses make payroll, Diaz and his colleagues shifted into high gear. They received rules and regulations on a Friday, worked with numerous partners to implement new loan operation software, and by Monday morning, TowneBank was ready to make Paycheck Protection Program (PPP) loans.
In the three months that followed, Diaz and his teams would work twelve-to-fourteen-hour days to process unusually high volumes of loan requests. They ultimately distributed about $1.6 billion that helped more than six thousand local businesses stay open and pay their employees.
Diaz is ready for whatever challenges lie ahead. Grateful for the opportunity his family gave him by immigrating to this great country and forever indebted to the wonderful mentors he's had throughout his career, he shares this advice for those who wish to serve in the field of technology:
"Get ready to unlearn everything you think you know and learn anew, because it is guaranteed things are going to change faster than ever. Obey the rules, but take risks, move fast, and hold on for a wild ride."