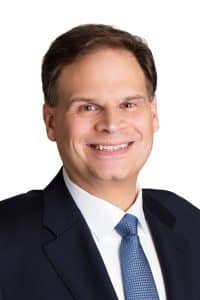 Marriott International is known for attracting guests to its many hotel locations, but what might not be as well known is the effort the company puts into attracting employees and helping them excel.
David Rodriguez, Marriott's executive vice president and global chief human resources officer, knows about the company's recruitment efforts all too well. After all, it's up to him to ensure the company is run in a way that is attractive to talent and the marketplace.
A job in human resources was a natural fit for Rodriguez, who is a trained psychologist. He received a doctorate degree in industrial and organizational psychology because it fed his interest in the inner workings of how people spent a big part of their life—at work.
"I was intrigued by that," he says. "We all know that people have an impact on an organization, but just as important is recognizing that the organization has a big impact on people's lives. I was very much interested in how you run a company that maximized the outcome for both."
The past year has been busy for Rodriguez and Marriott. For starters, the hotel chain is in the process of acquiring Starwood Hotels & Resorts. Rodriguez has been tasked with making sure Marriott's people-centric company culture is kept vibrant and relevant for current and future generations as well as to make incoming Starwood employees feel welcome after the merger is complete.
"The word that comes to mind is exhilarating," Rodriguez says. "There's never been a transaction of this size to my knowledge in the hotel industry and it's been exciting. Every day brings something perhaps you haven't quite ever seen before. So, you know you have to figure that out. That's been great."
It's hard to match Marriott's efforts when it comes to keeping its employees happy. The company's "TakeCare" movement puts an emphasis on three key components to help its staff members flourish.
First, it promotes good health and good careers so employees feel positive about themselves. Resources and training on financial wellbeing are made available to employees to help them manage their finances and secure a sound retirement.
Second, in an effort to help employees feel good about their relationships in the workplace, a large focus is put on making sure that each associate feels valued and included, like part of a family. The company wants everyone to feel accepted for who you are at work.
The third leg of the "TakeCare" movement falls under social responsibility and employees feeling good about Marriott and its role in society. For example, a group of employees recently helped raise money to pay for motorcycle helmets for women and young children in Bangkok—a luxury normally only afforded to men over twenty-five years old.
"What we have found is when all three of those elements are in place, people start to see something magical happen," Rodriguez says. "When you walk into a Marriott hotel, you are going to find a smile on the face of our associates that greet you because they think of that hotel as their home and they're welcoming you into their home. That makes a big difference in terms of the experience our customers have."
It's also not enough for Marriott just to see its employees excel in their current roles; Rodriguez and his fellow executives want them to have the chance to join the leadership ranks if they desire.
To do that, the company has programs to build its talent pipeline and enable employees to develop and grow.  Leadership opportunities are there for those who want to advance their careers. This includes a variety of development programs, an online mentoring program, and Talent Network Teams at Marriott Headquarters where employees across different disciplines can work collaboratively to solve a business challenge.
"We all know that people have an impact on an organization but just as important is recognizing that the organization has a big impact on people's lives."
David Rodriguez
"Everyone has to be accountable for their future and we think one of the most important steps is to have people understand how to build their careers," Rodriguez says. "We are getting phenomenal results, particularly with women and minorities, with this kind of guidance and support."
Rodriguez has not only been at the forefront of leading these people-centric programs and initiatives, but also he's been the beneficiary of them. He recently fought a life-threatening battle with leukemia and gave Marriott a lot of credit for his survival thanks to its TakeCare well-being movement. Before getting sick, he had been relatively healthy and was taking better care of himself through exercise and wellness programs offered at work.
"Having gone through that experience, I would say it's impressed upon me the duality of we're all very fragile, but resilient at the same time," Rodriguez says. "For us at Marriott in the way we run our company, it's always knowing that everyone's trying to do their best, trying to get through life. Every now and then they're going to have a fall and those are the times we most need to be present for our employees."