In his quest to become an excellent leader, David de Leon has been willing to constantly learn and evolve, supporting initiatives that allowed him to grow while also helping Alliant Energy succeed in delivering reliable and affordable energy. The senior vice president of operations and president of Alliant Energy Wisconsin has been part of the organization since 1987 and has accrued double-digit titles from engineering to management to director roles. He had just one request: to continue living in Madison, Wisconsin.
"I raised my hand for almost anything," the president says. "Every time there was an opportunity, it seemed like it worked out. The opportunities allowed my wife and I to stay in a community we love. It also provided my wife the chance to continue her career opportunities here while staying close to family. I love it here and I love our community."
The future leader, one of eight children, grew up in Guatemala. He divided his time between Guatemala City, where he attended school, and the family farm, to which his travel could take hours or days, depending on road conditions. He sometimes stayed at the farm for months to help his father.
During college in Guatemala City, the enterprising de Leon also started a business picking up milk from small local farms and delivering it to a cheese factory. His days started at four in the morning, seven days a week, but gave him the flexibility to attend evening classes. The business also provided him with an income to help support himself and his family.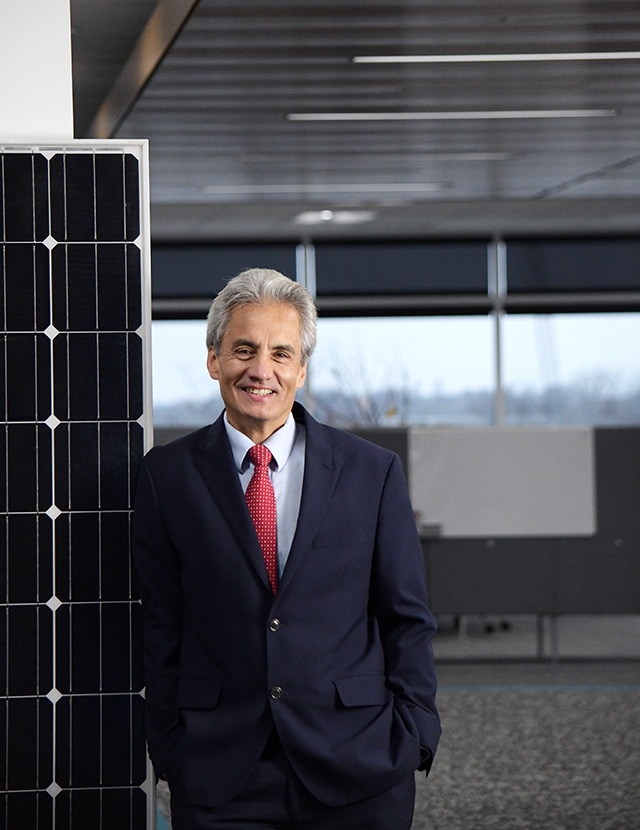 "We were better off than so many," de Leon says humbly. "We had a house, we had a vehicle to get around. And my parents wanted us to get a good education. I knew, however, I would have to leave Guatemala if I wanted to build a career."
That journey would eventually bring de Leon first to Platteville, Wisconsin (population: 11,836) and then Madison, neither of which he had known before. Along with a long and distinguished career track at Alliant, de Leon has found great satisfaction in helping to develop the company's internship program by mentoring new employees and working closely with novice engineers. It's something he wishes he'd had access to as a young and curious engineer.
"We have built a really successful program that has paid off for us and our interns several times over," the president explains. "Whether I have interns reporting directly to me or more informally, it's a way to help provide some guidance for students early in their careers. They get experience working and delivering results in an organization, which is such a valuable opportunity to have."
De Leon also takes great satisfaction in the many ways he's been able to help connect with the Latino community outside of work. The president has partnered with the United Way to work with Latino immigrants, to translate, and to help them find support and opportunity. De Leon is also a board member of the Madison Region Economic Partnership, an organization that works to retain and attract businesses to the area, mainly in rural Wisconsin.
The SVP also serves as a board member at Second Harvest Foodbank of Southern Wisconsin, yet another opportunity to help those who need it most not just by securing basic necessities but by helping promote understanding of how sustainable wages, permanent housing, and access to food create a better world for everyone.
As the Latino population of Madison has grown, so has the need for empathy, understanding, and support for those looking to build better lives for themselves, and de Leon says he's grateful to be in a community and company where he can help support those efforts.
"It might be technological literacy, it might be making sure that resources are available, or it might just be communicating with someone in a language they're familiar with," de Leon explains. "From the very beginning, my wife and I just wanted to volunteer and help people, especially Latinos living in or moving into the area."
When he's on the clock, de Leon is committed to serving customers, delivering on projects that improve the reliability of the grid while keeping rates affordable, and working with the company's three thousand-plus employees across Iowa and Wisconsin. Always the engineer, the SVP says the organization is consistently looking for new ways to deliver safe, clean, and reliable power that is cost-effective to customers.
"Doing so is a team effort and involves our great employees as well as our partner contractors, suppliers, consulting and engineering firms, union labor and many others," adds de Leon. "Working collaboratively allows us to serve our customers efficiently while building stronger communities."
If he's not at work or working in the community, you'll likely catch de Leon on the soccer field, the golf course, or just enjoying time outdoors. Given his location, that's only a handful of months during the year, but it's time well spent, nonetheless.
De Leon has achieved great things at Alliant, but his example outside it is arguably far greater. The Guatemalan transplant has found a home that he is committed to making better any way that he can. One would be hard-pressed to find a better example to follow.