In 2022, Daniella De Grande spoke at the Extraordinary Women in Technology global conference in San Francisco. The vice president of global technology and digital enablement at Thomson Reuters was asked to sit on a panel centered around inspiration and empowerment.
De Grande found herself speaking to a large number of former healthcare workers who, after years of dealing with the COVID-19 pandemic, believed that they belonged in a different field. They came to the right panel. Her boss has repeatedly joked with De Grande that she has a compulsion to help people, maybe even to the detriment of her own advancement at times. But that's not how the executive sees it.
"Providing guidance and mentorship is my currency as a human," De Grande says. "It brings me joy to see people succeed. I will never look back and wished I had helped fewer people."
Additionally, the VP has been doing some work with My Unique Genius to inspire and influence the leaders of tomorrow. She has been such an inspiration that she has picked up mentees who are not just starting but also ones who are reaching a pivotal point in their careers. Recently, she hosted an event where a teacher who shepherded her students to attend was so impacted by De Grande's words that she made the decision to pivot away from her eighteen years of educational experience and go after her next challenge.
That's the power of finding the right mentor, and it's just a sliver of what De Grande has brought to technological transformation, environmental, social, and governance (ESG), and diversity, equity, and inclusion (DEI) efforts over twenty-four years at Thomson Reuters.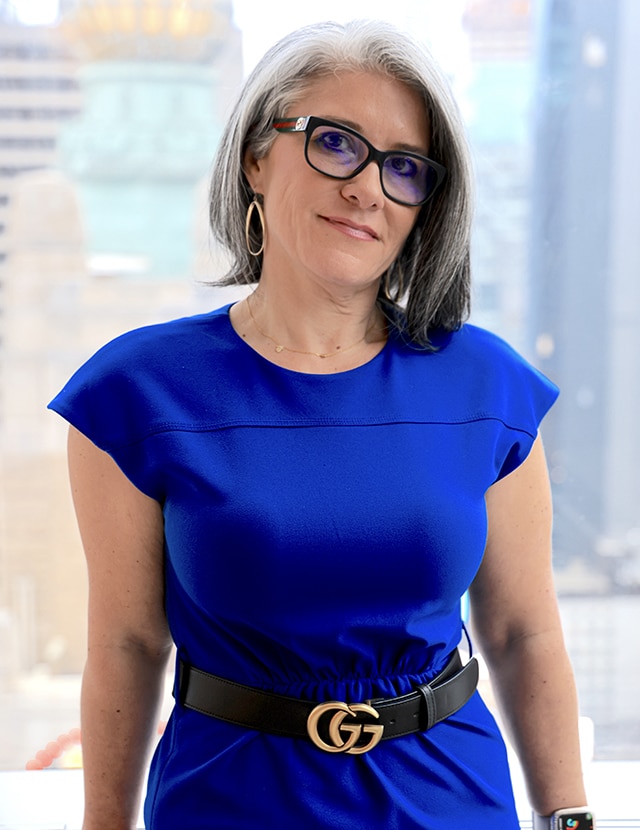 A brief video produced by My Unique Genius shows De Grande walking the halls of Thomson Reuters, as confident as one might expect, speaking about her love of using technology to get vital news to outlets while overcoming obstacles wherever they might pop up. She looks like she belongs in leadership. But she's adamant in relaying to people more junior in their careers that she shouldn't have been there. Not because she didn't deserve it or worked incredibly hard to get where she is, but, because by traditional hiring methodology, people like her often don't get the chance to thrive.
De Grande is the first person in her family to graduate from high school and go to college. Her Italian father and Puerto Rican mother were factory and hospital workers, respectively. They divorced when she was four and were not equipped to provide guidance on where her career choices should go.
"I had to pay my own way through college, so I was working full-time and taking eighteen credits a semester," she remembers. The job, a customer success manager role at Entex Technologies, eventually required her to do a presentation for people far older and more experienced than herself for both internal stakeholders and partners outside the business.
By the time she was done, she was offered a job at Deloitte.
"I didn't have the usual Deloitte pedigree: an MBA from Harvard or another Ivy," De Grande admits. "I was this little Puerto Rican girl from New Jersey who had moved around her whole life and clawed my way up to where I wanted to be. I took all of what people might see as negatives and turned them into positives. If you're reading this and something about my story rings true to you, this can be you."
De Grande credits Deloitte for providing her the training and experience to springboard her ahead, but it wasn't without incredibly hard work. Straight away, she was put to work on projects that all had some kind of trouble bubbling up, restless clients, invoicing gone askew, and other peculiarities that might have made it a nightmare gig.
But the VP is naturally a listener. It's what makes her servant-based leadership so strong. She's firm but inquisitive, supportive, and empowering. And she's put those skills on a variety of initiatives across Thomson Reuters.
De Grande has extensive global ESG experience that she sought out because she quickly realized that it was going to be an important part of any business' long-term planning. She's endeavored to see ESG through multiple lenses, like manufacturing and other industries that may be far from a news division.
"You can learn so much from different industries by seeing what has worked and what hasn't," the VP says. "I try to be a visionary and see these efforts through as many different lenses as I can seek out."
The same goes for DEI, where De Grande knows that finding more talent from unique backgrounds, backgrounds like hers, can find ready and willing candidates who are used to going the extra mile to be successful. "DEI is not about changing the color palette of your organization," she says. "It's about changing the thought mechanism, the thought culture of your business. It's about hiring for character and for passion. You can teach skills."
It's De Grande's job to be a visionary. As she continues to drive excellence in global IT, the VP is at Thomson Reuters first and foremost for the amazing results she's driven as an innovator, troubleshooter, and leader in the tech space. That's the point. Her excellence in her role is table stakes. Her impact on the countless mentees she's amassed on social media and through speaking engagements and conferences is her way of paying her success forward.
The VP's focuses on ESG and DEI are an effort to make the world a more welcoming place so that a young Puerto Rican girl can do more than dream about the leader she hopes to become. De Grande did it, and you can, too.
---
Amdocs helps those who build the future to make it amazing. With our market-leading portfolio of software products and services, we unlock our customers' innovative potential, empowering them to provide next-generation communication and media experiences for both the individual end user and enterprise customers. Recently, we partnered with Daniella to create new and innovative thought leadership on the Thomson Reuters CRM implementation, focusing on enhancing specific reporting aspects for an improved business user experience. The partnership emphasized constant communication, allowing for agile adaptations when needed. Throughout, Daniella's valuable ongoing feedback and approval of our strategic and tactical plans, ensured a successful delivery.