How the iconic Cuban-born journalist and television host parlayed her "lack of filter" and celebrity status into a business empire.
Cristina Saralegui, powerhouse media mogul à la Oprah, has a confession to make: she is secretly shy. No, really. Despite this, the legendary Cuban-American journalist, television and radio host, and entrepreneur has carved a thriving media empire largely in part to her candor and chispa—not to mention a willingness to tackle taboo topics in the Latino community without apology. Saralegui is full of surprises. "I named my new home 'Casa Macao,' after the hermit crab that carries its shell with her at all times. My husband (manager Marcos Avila) is always telling me I need to get out of my shell more," she says. "So, when I am out and see people, I am still surprised that, more than an autograph, what they want from me is a hug. It brings tears to my eyes that I have been able to connect with people at that level."
For the millions of loyal viewers worldwide who welcomed Saralegui into their living rooms via her hit talk show, El Show de Cristina on Univision (which went off the air in 2009 following a record-breaking 21-year run) and who still get their Cristina fix now through her radio network on Sirius XM and the weekly segment she hosts and produces, Cristina Entre Amigos, she is equal parts trusted friend, vivacious vecina, educator, activist, and icon. It is precisely her ability to connect with fans and her credibility with consumers that has allowed Saralegui to continuously evolve from Cristina the journalist to Cristina the celebrity to the next step in her 30-plus-year career of reinvention: Cristina the brand.
A Brand is Born
"Why did this happen? I guess credibility. Credibility is a hard-earned asset slowly simmered in a lot of hard work and determination," she says. "You have to believe in what you stand for and be true to your views and your audience and be loyal to the people who have supported you." Although Saralegui says her intention was never to become a brand, "success brings opportunity, so I was able to publish my own magazine and produce my radio shows among many other business endeavors, such as my home-furnishing lines under the banner of Casa Cristina, an eyewear collection, and so on."
behind the scenes with cristina saralegui
The number-one business lesson she's learned:
Don't be afraid to try new things. I fight myself on this constantly because we tend to settle into a comfort zone. Challenge yourself, open your mind to new possibilities. I don't regret the things I've done because we tend to learn quite a bit from our mistakes.
A surprising, little-known fact:
I don't own a cell phone.
Her hobby and hidden talent:
I make jewelry—I love it! It's a big hobby for me and it gives me peace of mind.
Her secret to success:
People are pretty much the same everywhere. They hurt, they laugh, they are concerned for their families, and they strive for a better tomorrow. I am happy that I have been able to create a warm environment for them to learn, to think, and to have fun.
This level of success may have been hard for Saralegui to fathom as a child when, at the age of 12, her "idyllic world of the rich and privileged" came to screeching halt when her family fled their homeland to escape the Castro regime and settled in Key Biscayne, Florida. "When we left Cuba, I had no clue it was for good. My parents didn't say anything to us out of fear we would talk in school about it and our exit would be blocked, so we boarded an airplane to Trinidad and Tobago as if we were going on a vacation. It was a weird period in my life … from one day to the next we were immigrants in a strange land," she recalls. "But one good thing can be said about youth and that is the acclimation period is much faster and, thus, I became a Cubanita-Americana and got adjusted fairly quickly. The lesson for me about having to leave Cuba is that you never know what the future holds around the corner and that we must live life to the fullest every single day because in reality, it's the only thing we have: this very moment."
Saralegui would end up following in her grandfather's footsteps (a well-known magazine publisher in Cuba), majoring in mass communications at the University of Miami and launching her media career as an intern at the Spanish-language magazine, Vanidades. Once she got her foot in the door, she never looked back. At the age of 29, she became the editor in chief of Cosmopolitan en Español, the groundbreaking sister publication of Cosmopolitan (published by Hearst Corporation) that would start to cement Saralegui's reputation as a fiery feminist and women's issues advocate. The sudden ascension came as a shock to Saralegui. "This was a very unexpected break. Unbeknownst to me, I had been on the radar of the owners as a possible candidate for a higher position, then a funny thing happened. One day, my boss at Cosmo, editor Frank Calderon (a mammoth of a man and a good friend of mine), stood up from behind his desk and in a very theatrical manner, lifted his IMB Selectric typewriter and slammed it on the floor and proceeded to walk out of the building to never come back. So I was tapped to succeed him.
"Needless to say, I was surprised, thrilled, and scared to death of the challenge that laid ahead. I remember that for a couple of weeks after I had been named editor in chief, I could not sit behind the desk at the editor's office. I proceeded to conduct business from my old writer's cubicle," she continues. "Finally, it became impossible to hold staff meetings in such tight quarters and I sat behind the desk, staying for over 10 years until television came knocking."
The Power of Mentors
During her tenure in print publishing, Saralegui counted the legendary, late Helen Gurley Brown, former editor in chief of US Cosmo, as her mentor—or "professional mama," as she still calls her. Equally "bullheaded," the two strong-willed women initially clashed. "Her magazine was front and center with the liberation of women as sexual equals to men and I wanted to make my magazine more into a motivational tool for all of our Latina women that were joining the workforce for the first time, so she had some issues with the pieces I was editing. But in time, she understood my reasoning that our 'girls' were at a different stage of development, and we started to work together very nicely," she says.
Saralegui was inducted into the world of television by the king of talk shows himself,  Don Francisco (real name, Mario Kreutzberger) of Sábado Gigante. Don Francisco invited Saralegui to appear on his show as a guest to talk about women's issues, and she happily obliged, eager to promote the then-fledgling Cosmopolitan en Español. Saralegui was a hit and Don Francisco kept inviting her back, until one day, the network approached her about a new talk show they wanted to produce ("It's Oprah with salsa," was the pitch) and El Show de Cristina was born in 1989. The success and longevity (20 years in total) of the Univision show made Cristina a household name and earned her 12 Emmys. In 2005, she was named one of the 25 Most Influential Hispanics in America by Time magazine, and in October of that same year, she became the first Latina inducted into the Broadcasting & Cable Hall of Fame, joining legends such as Barbara Walters and Walter Cronkite. Saralegui is also the first Spanish-language television personality to receive a star on the Hollywood Walk of Fame.
Just as she did with Cosmo, the executive producer and host parlayed El Show de Cristina into a powerful platform to discuss issues that had never been talked about openly within the Latino community, such as AIDS awareness, domestic violence, and sexual education for teens. While some may attribute this willingness to break boundaries to her fearlessness, Saralegui offers a different explanation. "Well, I'm missing the connection between my brain and my mouth—so that's part of the problem and the solution," she deadpans. "I call them how I see them, and the issues I have tackled in my shows and in my advocacy work I believe have been crucial when I've gotten involved with them. I never thought I was going to be able to help as many people as I have and this has been the real payoff for the job I've done."
Calling the Shots
Along with her radio show and lifestyle brands, Saralegui also co-owns a media company and a state-of-the-art television-production facility with her husband/manager, Marcos Avila, under the banner of Cristina Saralegui Enterprises, Inc., housed at the Blue Dolphin Studios in Miami. This makes Cristina one of a handful of women in television history to own her own TV studio, including the likes of Oprah Winfrey and Lucille Ball—and the only Latina to do so. It's a distinction that Saralegui finds both humbling and empowering. "I define success by the ability to call your own shots, meaning you have creative control of your own projects," she says. "It's a very difficult thing to accomplish and my proudest professional achievement."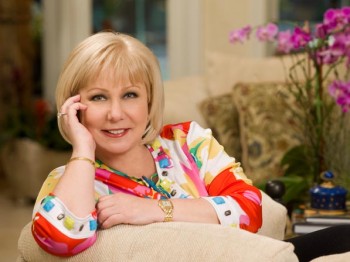 From a personal perspective, Saralegui is most proud of the interesting stew of characters that comprise her family. "I always told my friends in the business to take care of their personal relationships because you cannot put your arms around a career," she says. But balancing the demands of cultivating a high-powered career and being a mom and wife was a constant challenge, even for her. "I can't even begin to tell you how many cold sandwiches I ate in my car running around with my infant daughter trying to conduct an interview as a reporter," she says. "The demands on a woman that's in the workplace are almost inhumane because we are the backbone of the family, we are the homemakers, yet we must compete with our male counterparts to gain and reach the higher levels of our chosen fields, so this places an extra strain on us. But as I mentioned before, the payback for having a family has been worth it."
Recently, Saralegui has lent her considerable powers of persuasion to two campaigns: the Nestlé Pure Life campaign which educates mothers and grandmothers on the importance of keeping their families healthy and hydrated, and at the other end of the spectrum, President Barack Obama's reelection campaign targeting the crucial Latino vote—her first real venture into political endorsements. "After thinking about it and talking it over with my family—who is split down the middle, 50 percent Democrats and 50 percent Republicans—I took on the challenge. It was not a very popular choice for a large segment of the Cuban-American community here in Miami. I was called some names, including a communist, among others that I won't get into for fear they won't get published."
In September 2012, the entrepreneur—whose business ventures include the Casa Cristina collection, a complete home furnishings line—was honored as an "Ultimate Latina" by the United States Hispanic Chamber of Commerce (USHCC) during the organization's annual national convention. After receiving her award, a long line full of influential entrepreneurs and businesspeople waited to shake the hand of the guest of honor; one that after so many years of laughing, gasping, and crying along with her in their living rooms, seemed more like family than celebrity. A testimony to the loyalty she happily returns to her fans, Saralegui refused to leave until she had signed every autograph and shaken every hand extended to her. It is this mix of warmth and accessibility, peppered with a keen business acumen, that has contributed to Saralegui's staying power in an oftentimes fickle industry. When asked what makes her an "Ultimate Latina" from a business standpoint, she points to her nimbleness and resilience, the backbone of any successful businesswoman. "Having worked through adversity and crisis and changes in different mediums and through various generations of consumer tastes," she answers.
Whether in the public or business sphere, hosting a talk show, building a brand, or running her own production studio, Saralegui manages to embrace versatility while staying true to her nature—with her own unmistakable sabor. "I think of myself as a communicator, so no matter what role I am doing, it is all an extension of the same process," she says. And the expert communicator who helped coin the catchphrase "pa'lante" understands the power of words. "Pa'lante is a battle cry for development and growth and respect for our people in business as well as other walks of life," she says. "I've been privileged to witness the growth and importance of our Latino [business] community—without a doubt, we are a force to be reckoned with."