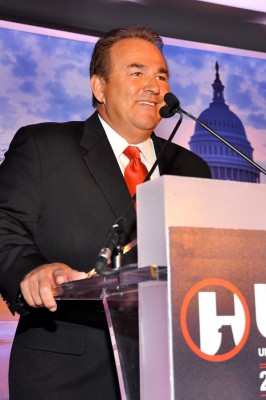 As president and CEO of Creative Times, Inc. (CTI), a design-build company based in his native Ogden, Utah, Donald Salazar leads all management activities from bonding and finance to planning and performance. The company, initially started for another purpose, today serves top clients in the government sector with contracts between $200,000 and $34 million. Over 18 years, CTI has completed more than 1,000 projects for clients like the US Air Force, General Services Administration, and the Army Corps of Engineers. Salazar, the cofounder of the Ogden Area Hispanic Chamber of Commerce, serves on the board of directors for the Utah Hispanic and national Hispanic Chambers of Commerce. He has a master's degree in organizational management and is a business transformation graduate from the Tuck School of Business Transformation program at Dartmouth University. Recently, he shared the story behind Creative Times with Hispanic Executive.

Creative Times Inc., our construction company, is actually a DBA of Creative Times Day School, Inc. People ask how a day school is in federal construction. Well, many years ago, I was working as a parole officer. There was a family about to get out—the parents out of jail and the kid of our juvenile detention. I was trying to place them in facilities, but nobody would take them. My wife ran day cares at the time and was helping me figure out what to do. I spent all this time setting them up at a place that would take kids on state assistance and then the woman made up an excuse and told me they were full at the last minute. I think the kids were the wrong color. So we decided to purchase our own day care and run it ourselves. That was in 1988. We kept expanding and adding more, and pretty soon we were planning lots of construction projects. We decided that we would set aside 25 percent of the spots for kids of color, kids on state assistance, or even just indigent kids. We were able to work with people we had contact with to provide free eye and dental exams and other great programs.
1988– The company starts doing business as Creative Times Day School, Inc. and has a total of three employees
1995– A domestic terrorist bombs the Alfred P. Murrah Federal Building in Oklahoma City including America's Kids Day Care Center. Creative Times
1998– Company is now fully involved in commercial construction with a focus on government work
2003– CTI is named the 2003 Minority Business of the Year by the Salt Lake Chamber of Commerce and the Women's Business Center
2009– Company wins the Recognition Award from the Ogden Area Hispanic Chamber of Commerce for commitment and improvement to the lives of young people
2013– CTI and its employees work on projects such as the Fort Carson Physical Fitness Facility, (Colorado Springs, CO, $32.7 million) and Fort Bliss Fire and Military Police Station
Then the Oklahoma City bombings happened and that kind of put the end to our plan to add day-care facilities in federal buildings. But, we had learned the building and the contracting world. We were certified to work on all kinds of federal projects, so [we] headed in another direction. I remember that I had $1 million of volume in my mind as a great goal. Well, we hit that goal in 2000. Then, in 2003, we did $3.2 million, and then just kept expanding to where we did $60 million in 2011. We just kept getting better and faster. It's like building a box—you do it 100 times and all of a sudden you learn all the tricks to building a great box. Our tagline is "quality service from quality people." We really focus on doing everything the absolute best with a great team of people.
In those days, I was going back to school for my master's degree [while] I was still the president of CTI and a full-time parole officer. I've learned that there are ways to make everything work. I was working 16 hours per day for many years. I often hear small-business people say they don't have time for something and I think to myself "sure you do." Things don't always come easy, but if you want them bad enough, they do come.
Today, we're doing jobs in several states, on federal facilities, and all over the place. Most of what we do is in government projects. One building is a $34 million project which was just completed. We've been able to prove that we have the ability to complete various projects and compete at an above-standard level with anyone else. There used to be two boats in the sea, but now there are 200. It's gotten so crowded and competitive in this government work because all companies try to be here, now that the residential and commercial worlds aren't what they used to be. But here, you learn from experience, you learn from doing, and we've done it. We'll keep moving forward, doing what we've always done.
While we're thriving, I embrace the philosophy of giving back to the community and participating in that way because it's so important as a business owner. I'm still on the Utah Hispanic Chamber of Commerce advisory board and helped start the Hispanic Chamber in Ogden. I was asked, too, to join the United States Hispanic Chamber of Commerce, and consider it such an honor and privilege because we have the chance to influence legislation and also teach, train, and affect other state chambers and members throughout the United States.