Though the Hispanic population is gaining strength in numbers in the United States, for various reasons it remains a population whose health needs are often underserved.
"While heart disease is the number one killer in most population groups, cancer is the leading cause of death for Hispanics," says Francisco "Kiko" Ochoa, City of Hope (COH) deputy general counsel. "Diabetes is also a major and growing problem, particularly in the Mexican-American population."
Headquartered in Duarte, CA, City of Hope is a leading research and treatment center for cancer, diabetes, and other life-threatening disease. More than half of the population in COH's service area (about 56 percent) speaks Spanish at home primarily or exclusively.
To address these realities, COH has developed a comprehensive strategy to improve access to health care, educate bilingually about cancer and diabetes treatment, and encourage Latinos to pursue careers in research and medicine.
Reaching out to local schools is a major component. COH is involved in a number of initiatives with students of all ages, from elementary through high school. "We want to get to them early, before they form negative impressions about careers in math and science," says Ochoa. The initiatives include a six-week summer internship program that exposes high school students to the wide array of employment opportunities in health care as well as a 10-week summer academy for high school and college students that gives the students the opportunity to work on a biomedical research team with COH scientists and clinical staff. City of Hope also reaches out to colleges, universities, and graduate schools. In 2013 and 2014, COH partnered with Televisa Publishing on a five-city college leadership tour to encourage Latino students to pursue careers in science and medicine.
City of Hope has also initiated a variety of other outreach programs. It partnered with the League of United Latino American Citizens (LULAC) and served as a platinum sponsor for LULAC's annual health fair, Feria de Salud, in Los Angeles last year. This year COH is working with the Duarte community, building a community garden and hosting a community e-waste collection drive. In addition, COH hosts "Ask the Expert" town hall meetings during which cancer specialists from the hospital answer questions from the public about cancer. The Foothills Fitness Challenge, a three-month program sponsored by COH, encourages participants from the surrounding community to adopt more healthful behaviors, "make a commitment to their health, and then stick to it," Ochoa explains.
Minority populations are often underrepresented in clinical research trials, which can impact the applicability of study results to the general population, so COH staff members use the institution's outreach activities to introduce the subject of clinical trials and recruit participants.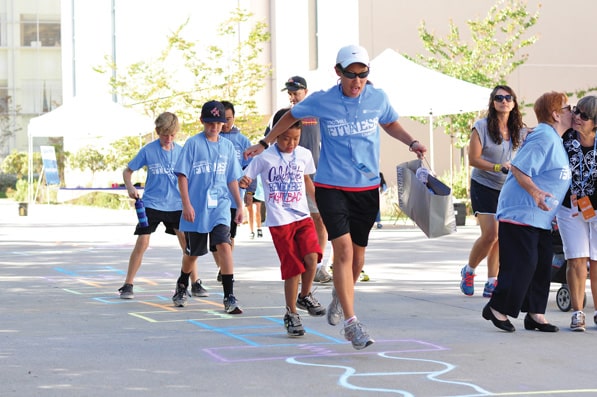 Some of the groundbreaking research being done at COH that specifically impacts the Hispanic population includes a study on breast cancer in Hispanic women conducted by Dr. Jeffrey Weitzel. Weitzel discovered that there was a unique mutation of the BRCA 1 gene (which produces tumor-suppressing hormones) originating in Mexico approximately 1,500 years ago. "The study confirmed a high prevalence of this genetic mutation in the Hispanic community," Ochoa explains, "and underscored the importance of early screening for this population."
To help develop a level of trust with Hispanic patients—whether to encourage them to participate in research studies or to take advantage of available health care services—Ochoa says COH has taken a multipronged approach.
"We have a great website accessible in English and Spanish. And we were the original sponsor of the website HealthyHispanicLiving.com," he continues. "Now, almost all of its content comes from City of Hope and focuses on topics such as cancer
screenings, research, diet, exercise, etc."
COH recently committed to increasing the number of translators available to assist patients. Furthermore, its community outreach efforts are spearheaded by Latinos for Hope, an internal group of COH employees who can serve as ambassadors for the institution at health fairs and other events.
With its location in mind, COH tries to recruit diverse personnel. "We want the employee population to reflect the community," Ochoa explains. Currently, about 25 percent of COH's employees are Hispanic (not including physicians). "We assume most of our future employees will come from Duarte and the surrounding school districts," says Ochoa. In 2013, COH sponsored and hosted a thought leadership forum, which involved working with other health care organizations to bring more Hispanics and other minorities into the health care professions pipeline. The forum resulted in a plan for joint mentoring initiatives and career days focusing on health care careers. "Our data shows that health care careers will grow in double digits for years to come," Ochoa says. "It is a social and business imperative to get well-educated minority candidates interested in the field."