Qualcomm may not be a household brand, but its products are essential to your everyday life. It creates and designs semiconductors, platforms, chipsets, software, tools, and services for wireless technologies. In turn, original equipment manufacturers and developers merge that tech into mobile devices, laptops, virtual and augmented reality, automotive, wearable, audio, wireless networks, industrial Internet of Things (IoT), cameras, and smart home applications. Qualcomm also owns patents critical to mobile communications standards such as 5G and 4G.
All this proprietary information falls under the purview of Cisco Sanchez, the company's senior vice president and chief information officer since late 2021. His role covers different verticals across the company, including human resources, finance, accounting, marketing, sales— "everything that makes up our back office," he notes. His team protects data centers and databases from intel threats, maintains networks and cloud services, and supports help-desk functions globally.
In addition, his IT department is involved in all merger and acquisition activity, preserving manufacturing data, the creation of a development center in India, and the company's efforts to penetrate other businesses.
"When I came to Qualcomm, our focus was on handsets," he explains. "Because we are a major player in that market, we can 'white glove' a lot of that tech; that is, Qualcomm can easily collaborate with its clients to ensure they get the capabilities they need. There are numerous common functions across the brands, so there is some standardization of products.
"But the automotive market compels us to meet the varying performance and application needs of many manufacturers and their numerous models," he continues. "And we can go even further, into consumer-level IoT applications, such as smart lighting fixtures, thermostats, security systems, and cameras. For those, we must demonstrate that we can produce quality products, at scale."
It's a good situation for Sanchez, who says the IT industry appeals to his creative side—and to his flexible nature. "IT never stops changing and morphing, and to be successful you must be able to change with it," he explains. "I enjoy the challenges of nurturing and growing new things."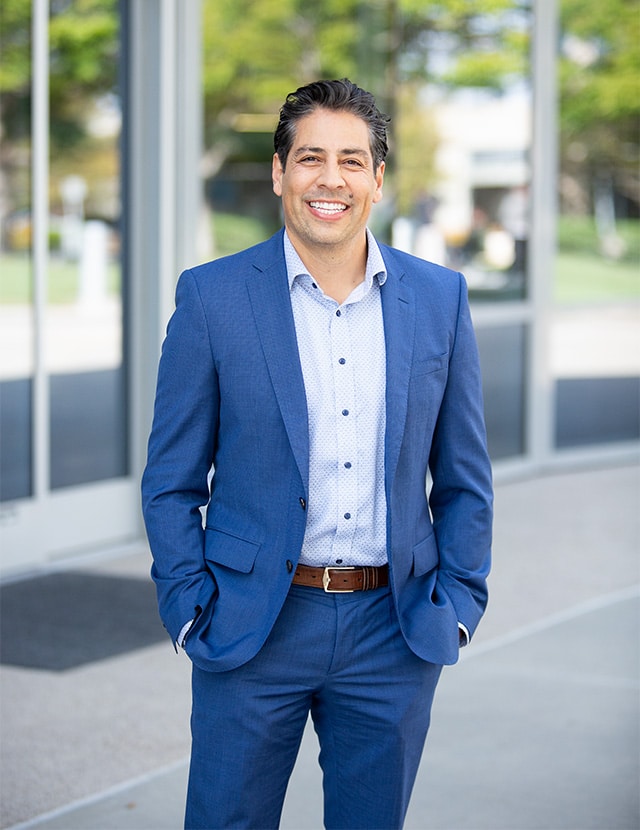 Before joining Qualcomm, Sanchez spent twenty-five years with FedEx. An internship in Colorado Springs, Colorado, led to increasingly responsible IT posts in Europe; the Middle East, India, and Africa; the Memphis, Tennessee area; and then Pittsburgh, where he served as CIO for FedEx Ground IT systems.
But after a quarter-century of globetrotting, Sanchez had reached a turning point. "My wife and I have three daughters, and we had agreed not to move while they were in high school," he says. So it was time to settle down—for a bit.
He learned that Qualcomm was setting up a new executive team, including a CIO. "I was really interested," he says. "Qualcomm is a powerhouse for technology, and I knew the company would challenge my capabilities. After meeting with the CEO and CFO, I realized that their vision fit well with what I'm good at, and I came on board in 2021."
One of his key challenges is turning economic headwinds into tailwinds. "Typically, mobile phones are refreshed every two or three years. But during the COVID-19 pandemic, the sale of handsets sort of plateaued; because people were locked down, people stocked up on other items," he explains. "Now we see a pending new wave in mobile phone purchases, and we want to capitalize on that by unleashing practical applications of artificial intelligence [AI]."
While AI is often depicted as an imposing juggernaut, Sanchez sees it as another way to make life easier. "You might be texting an invitation to lunch, and your phone's AI could recognize your intent and automatically call up a list of restaurants in your immediate area," he explains. This is like always having a digital copilot; you're not required to go independently to the cloud for data retrieval.
The explosive growth in AI capabilities is not only leading Qualcomm into new growth opportunities but also helping the company take advantage of them.
"In the past, customers knew who we were and came to us for products. It's not like that in new markets," he says. "But we can use AI to analyze the marketplace in terms of what potential customers want or need and pass that information to our sales and marketing teams. They can use a targeted go-to-market strategy, with information tailored to specific customers.
"Ultimately, it's all about how you embrace AI. Don't fear it, leverage it," he advises. "Even though it's not perfect, see it as a way to enhance jobs, not eliminate them."
Sanchez guides his team from the perspective he held as a software developer: build in high integrity. "I encourage everyone to be involved in the action, not just sit in an ivory tower. It's important to get your hands dirty, to understand the good and bad aspects of what's being created; be willing to stand up for what's right and worth fighting for," he says.
Throughout his career, Sanchez has acquired many nuggets of knowledge that can pave the way to success. A strong sense of curiosity is essential; when coming into a new role, study the landscape and understand why things are done the way they are before calling for change, he advises.
Be prepared for the "violent execution" of your plans, so take ownership of them and make sure other people know what you're doing. When you stumble, your record of accomplishments will overshadow your occasional misstep.
"And try to have fun every day," he concludes. "Life goes by much too fast."
---
Microsoft enables digital transformation for the era of an intelligent cloud and an intelligent edge. Its mission is to empower every person and every organization on the planet to achieve more.
Qualcomm and Microsoft continue to partner in the fields of AI, IoT and software development. The partnership centers around the integration of Qualcomm's cutting-edge AI technology with Microsoft's software development expertise to create innovative solutions for businesses and consumers. Together, Qualcomm and Microsoft bring solutions to market faster and more securely, empowering positive AI innovation. "We are excited to partner with Qualcomm to bring the power of AI and software development together," said Satya Nadella, CEO of Microsoft. "This partnership will enable us to create innovative solutions that will benefit businesses and consumers alike."
---
Dell Technologies: Powering Qualcomm's Mission with Cutting-Edge Infrastructure Solutions
In the relentless pursuit of innovation, collaboration is key. Dell Technologies, a leader in IT infrastructure, stands firmly alongside Qualcomm, enabling its mission to revolutionize wireless technology. By providing state-of-the-art infrastructure solutions, Dell empowers Qualcomm's vision of connectivity without compromise.
Qualcomm's commitment to advancing 5G and beyond demands a robust foundation. Dell's world-class servers, storage, networking and end-user technology offer the stability and scalability necessary to propel Qualcomm's groundbreaking ideas to reality. Together, they drive the development of transformative technologies, from autonomous vehicles to IoT ecosystems.
In the dynamic landscape of wireless communications, Dell Technologies serves as Qualcomm's steadfast partner, ensuring that the future remains connected, efficient, and extraordinary.