C

risto Rey San José High School, founded in the fall of 2014 and located in the Silicon Valley area, is on a mission to end the cycle of poverty. The school's founders believe the key to prosperity is education. It is affiliated with twenty-eight other urban Cristo Rey Network education institutions that span the country, and unlike the average high school, an admissions prerequisite is that the student comes from a low-income family. Each school's curriculum includes an adjunct to their academic studies called the Corporate Work Study Program (CWSP), in which four students team up to alternate daily at an assigned nine-to-five job, Monday through Friday.                                                                                                                                                                                                                                                             In its first year of operation, 129 freshman-level pupils make up the entire student body at Cristo Rey High School in San José; 92 percent are Hispanic and eight percent are Asian and black. Currently, there are twenty-eight different corporate sponsors in collaboration with the high school for CWSP.                                                                                                                                                                                                                                                                                                      These corporate sponsors hire one team of students for the school year: September through June. Cisco, one of the school's corporate sponsors, has exemplified what the program hopes to achieve. "Cisco has been very different from the typical experience. Their level of engagement and support of our students has been truly remarkable," says Matt Bell, the school's director of the Work Study Program.                                                                                                                                                                                                                                                                      The global IT company with 70,000-plus employees has the following vision statement: "changing the way we work, live, play, and learn."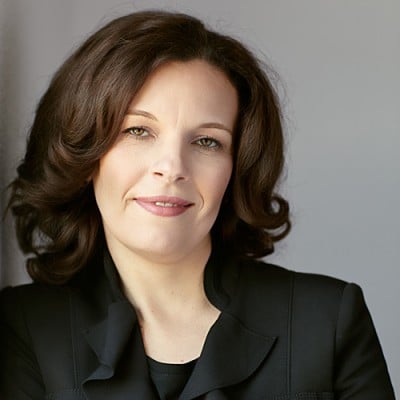 Anne-Marie Azzi, marketing manager at Cisco, says that the company's interest in participating in CWSP is to share a passion for revolutionizing the world through technology with younger generations. CWSP is a STEM initiative with a goal of building the pipeline for Latino leadership in STEM. By sparking interest at an early age, companies will more likely to be able to recruit from this talented and passionate pool.
Practicing what they preach, Cisco's executive vice president Randy Pond sponsors two teams, contributing $30,000 per student. Pond has also smartly linked the program to Cisco's Latino employee resource group, Conexión.
"[The corporate sponsorship] is not a charitable contribution. This is a business expense for our corporate sponsors," says the Rev. Peter Pabst, Society of Jesus, who is the president of the high school. The business pays 50 percent of each student's tuition, the school contributes another 40 percent through grants and fundraising, and the families pay the remaining 10 percent of the total $15,000 balance.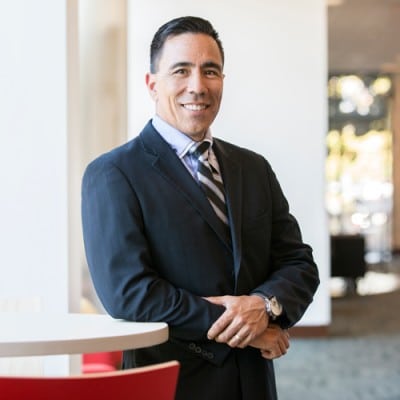 Another huge supporter of the collaboration is Cisco's Guillermo Diaz Jr., senior vice president of IT. "Guillermo has just been the champion of this program," Pabst says.
Diaz helps the students make connections with other Cisco employees; building their confidence in the process and creating mentor-mentee situations.
"Inspire exponentially" was Diaz's phrase of the year for his students in 2014-2015 school year. "That means waking up everyday and inspiring ourselves and others through the use of technology," he says.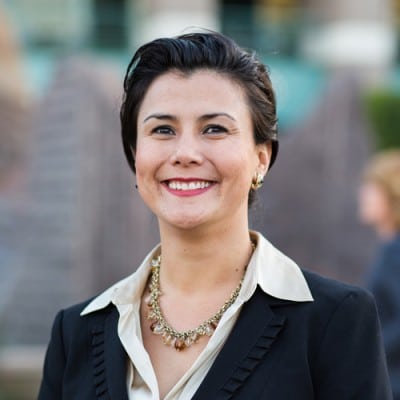 The student IT team at Cisco is lead by Katty Coulson, who is the senior manager of Latin America information technology. Working in a high-energy environment amongst recently hired college graduates, the high school students assist in web-page development, blogging, and creating presentations.
The second team leader is Ana Corrales, who is Cisco's senior vice president of product operations. Managed by her team she calls "product operations central," the students assist with events or product showcases that are targeted to the company. "It
has been quite delightful," Corrales says. "It's a very rewarding experience to see [the students] grow." She is recruiting the same students to return next year to continue building their skill sets and give them direct product experience the second time around.
In addition to students gaining work experience, there is an "unexpected by-product," as Pabst calls it, resulting from CWSP. The students feel excitement as they look forward to working in a professional setting and stand proud as their fellow adult colleagues treat them as professionals.
They also enjoy having real-world responsibilities and having others rely on them in the office. From the beginning of the program to today, the students have developed into mature, confident, and courageous future Latino leaders.