In a world only consistent in its unknowns, Christina "Tina" Diaz sought refuge in the hard sciences. She majored in biochemistry at Columbia and quickly wound up working in the pharmaceutical industry. "I really loved the sciences and the certainty that there's always an answer somewhere," Diaz says. "It's not wishy-washy: the answer has to be in there somewhere. That always appealed to me."
The Perfect Blend
The bench chemist went on to spend three years working on new medicines designed to combat atherosclerosis and heart disease by reducing levels of cholesterol. "This was years before the medicines common today were developed and became the standard of care," Diaz explains. "We had a whole team of scientists working to synthesize and test potential medicines. As a research chemist, I loved the pursuit of scientific goals that were important for people and could change lives."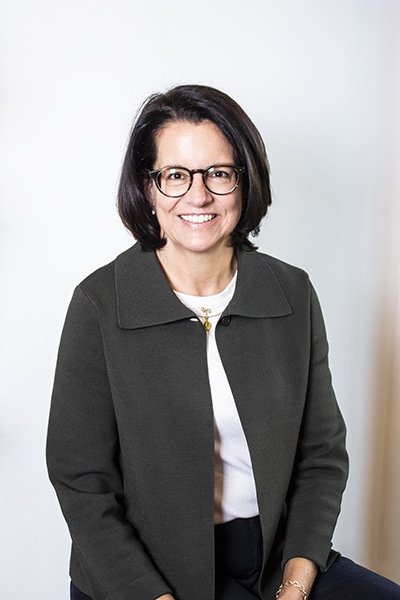 But the lab bench, it turned out, wasn't where Diaz believed she could be the most impactful. After assisting on a number of patent applications, she elected to attend law school, jumping headfirst into a field almost entirely predicated on arguing in the gray of unknowns. Nevertheless, she felt compelled to return to the pharmaceutical industry, where she could continue working to support the front lines of research and development for critical treatments and cures.
Now a vice president and associate general counsel at GlaxoSmithKline (GSK), a global pharmaceutical company headquartered in the UK, Diaz has found a way to combine her love of science and the law. 
Diaz's previous career is a firm foundation for her present role. "It helps to not be afraid of the science in this job," Diaz says. "More holistically, I have a deeper understanding of what scientists are going through in their minds. I understand that these are people who are clearly devoted to and believe in their mission. That desire to achieve is what drives any scientist, so I look at it as my job to help answer whatever questions or issues might arise in the pursuit of that mission."
The old lab bench tendency to go looking for the perfect answer can sometimes set the GSK counsel back, but that's where the lawyer's legal training and experience takes over. "There are often many issues to consider," Diaz says. "When providing legal advice, there may not be a single answer. There will always be a number of uncertainties, and getting to the right decision will require living with those uncertainties, understanding the business priorities, and ultimately applying our values to reach the right decision. It is this paradox between the law and science that can be most challenging but also the most interesting to me, and I do my best to provide the best counsel I can."
Strong Partnerships Endure
According to Diaz, GSK's commitment to diversity and inclusion issues is a cut above its competition. The company has earned several awards for its D&I efforts, and Diaz says that the COVID-19 pandemic, in a strange twist, has provided a unique opportunity to see some of those efforts grow more quickly than they might have organically.
"As difficult and tragic as the pandemic has been on many levels, the silver lining is that it has allowed our people to be their "authentic selves" more readily," Diaz posits. "You're on video calls with people all day. You're seeing who people are in their homes, what distractions they may have, and—in a way—you are better able to see and understand what your colleagues are juggling on a daily basis. What has emerged is the recognition that despite the varied circumstances facing each individual during the pandemic, our team is able to do their jobs—and, in many cases, do them even better."
Diaz says that while she's ready to get back into the office, she's convinced people will eventually return to work more comfortable in their own skin, with more empathy for each other and their complex daily lives.
More strategically, Diaz has supported the legal department and its D&I initiatives in her role as head of GSK's Global External Legal Relations Team. GSK has developed its own Outside Counsel Selection Initiative (OCSI), which helps the company select the right counsel at the right price—with an important emphasis on diversity. "Using formal scorecards, we look at everything from the fees to the diversity to the expertise of the firm," Diaz explains. "As diversity is one of five criteria that we evaluate, the law firms know that it is front and center for the company."
Since implementing the scorecards, GSK has seen a significant improvement in the diversity of teams proposed by law firms to handle a particular matter. Indeed, GSK received Buying Legal Council's Diversity and Inclusion Award in 2019. In addition, and with increased focus in light of recent events in the US and globally, Diaz has worked with the diversity leads within GSK to engage the key PLP firms on D&I. Together, they have explored new and better ways to partner on these issues. "I think it's been working," Diaz says. "But we're always looking to improve and collaborate with and encourage the firms to think that they can do better."
"I always tell my team that we don't want a law firm that's working for free . . . We want to work with firms with whom we've developed a good relationship, on terms that are fair to both of us."
The firms themselves concur with Diaz's assessment. "Tina's dedication to inclusion is mission critical and an inspiration to law firms like Kirkland. We are proud to call GlaxoSmithKline a client and Tina a friend," says Jay Lefkowitz, a partner at Kirkland & Ellis LLP. "The diverse set of voices Tina regularly assembles for all her cases makes GlaxoSmithKline's legal team one of the strongest in the industry."
Sean Fahey, a partner and chair of the Health Sciences Litigation Practice Group at Troutman Pepper, agrees. "Tina is a remarkable leader, and we appreciate how she has advanced D&I at GSK," he says. "D&I are core values of our firm, and Tina inspires us to do even more."
But the PLP program has done more than just help GSK identify its most effective legal partners. "We were hearing from our firms that they didn't always know where they stood with GSK," Diaz explains. "It became clear to me that the best way to approach this was to work on developing deeper relationships with the law firms built on mutual trust, so that they knew we valued them for more than just the current transaction in front of us."
Along with its focus on diversity, the PLP program's emphasis on transparency and partnership is a win-win, Diaz says. While controlling legal fees are a priority for her team, there is more to the PLP program than that: "I always tell my team that we don't want a law firm that's working for free," she says. "That's not fair for anybody. We want to work with firms with whom we've developed a good relationship, on terms that are fair to both of us."
A streamlined process to help address a litany of potential unknowns and solve a number of concurrent problems? It's a legal solution that almost seems scientific.
Finding the Right Fit
Christina Diaz has implemented a system to create better and more transparent relationships with GlaxoSmithKline's (GSK) outside counsel. Through the Premier Legal Partner (PLP) program:
GSK has developed a panel of law firms in its most active practice areas to deepen its partnerships with external legal providers and drive efficiency for the in-house legal team.
For the majority of matters, GSK is committed to engaging the firms identified as PLPs in those designated areas.
GSK evaluates proposals from law firms based on five areas, including the proposed strategy, diversity of the firm, and specific subject matter expertise.
A key component of the process is a "reverse e-auction," during which firms bid on work, are able to see the lowest competitve bids by phase, and then determine whether to adjust their own bids.
doeLEGAL congratulates Christina Diaz on receiving this prestigious honor. We proudly support her leadership in advancing GlaxoSmithKline's legal operations. doeLEGAL values its longstanding relationship with GSK's legal team, as their trusted partner for enterprise legal management solutions. We look forward to providing legal technology solutions that optimize their efforts.