Each time you visit a gas station, you swipe a card, fill the tank, and speed off within a matter of minutes to your next destination. For all of that to happen so fluidly, a vast network of processes spanning companies, countries, and cultures has to occur behind the scenes. That's where Carlos Hernandez and his teams at Baker Hughes, a GE company, come in.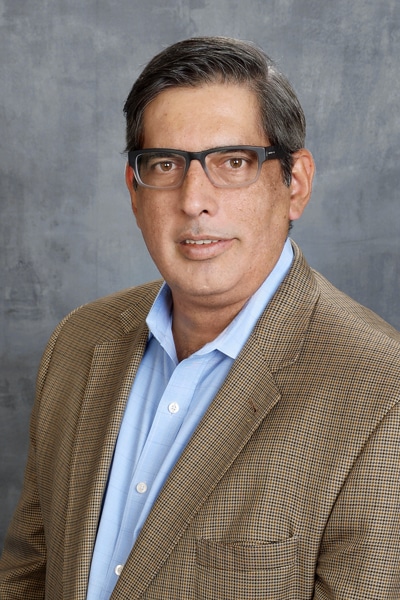 "As a business, we might service oilfields for our clients or provide certain products like drill bits or equipment for the refining process, but we're also involved in logistics and transportation," Hernandez says."We cover the whole spectrum from downstream to midstream to upstream."
As director of operations supply chain for BHGE's Latin America region, Hernandez' role entails overseeing each section of the multi-pronged support infrastructure created and maintained by the global petroleum products and services giant. His team also designs, implements, and—painstakingly—reviews strategic support initiatives which help the company accomplish its many supply chain endeavors in the most efficient and successful manner possible.
"Within the company, we have multiple support functions, including procurement, sourcing, international logistics, billing, collections, and everything related to facilities," he says. "My position is the converging point of all of the support functions for Latin America, and our focus is to make sure all of the goals for each support function are aligned."
To accomplish this seemingly Herculean task, Hernandez—who grew up in Venezuela; worked in Mexico, Brazil, and China; and today is based in Houston, Texas—finds himself tapping into the valuable leadership lessons and principles he's gleaned while working in a variety of cultures throughout his nearly three decades with BHGE.
One of the most important lessons came early in his career. "Originally, I graduated with a degree in aeronautical engineering, but a few months after graduating I took a job as a field engineer for Baker Hughes in Venezuela," he recalls. "One day my supervisor was giving me a performance review and he told me something I would never forget. He said, 'The only way for you to be successful is for your people to be successful.' That's something that I've applied during my entire career."
"Sometimes people in support roles might not believe that they're important. In actuality, they're very important. Just letting them know that can be very effective."
In the service of this philosophy, Hernandez works to maintain open communication with all levels of the company, which he says boosts morale and ultimately guides his teams toward successful outcomes. "Because we have so many people in our organization, I try to talk not only with my leaders, but also with the people they supervise. This is because sometimes people in support roles might not believe that they're important. In actuality, they're very important," he says. "Just letting them know that can be very effective."
Another fundamental principle Hernandez relies on is the notion of accountability, which he says transcends personal responsibility and entails encouraging his teams to look out for each other in order to ensure processes happen as planned. "When people feel accountable for something, and know that they are actually making something happen, they feel good," he says. "They're able to feel useful and not like they are a robot. If something goes wrong, I also try to keep my people informed of the bigger picture in the interest of accountability, so they are able to know the impact on all levels." Doing this helps ensure that his employees will gain the necessary experience to grow into more advanced roles within the company like he was able to do.
Perhaps the most valuable lesson Hernandez learned was the ability to fluently operate within the cultures of different countries.
"Living in Mexico, Brazil, and China taught me a lot about different cultures. For example, it taught me how much a certain culture might push back against things or accept things," he says. "The more you know about a culture, the more your affinity level and empathy with them will grow as well."
Those experiences also taught him the range of expectations when operating in the business world of other countries. In Mexico, for example, he says there is often an expectation that the company and its executive leadership maintain frequent, personalized contact with the clients. In Brazil, however, he says it can be very different: "They tend to want the relationship to be very professional and streamlined. Generally, [Brazilians] want to communicate only about practical matters of the deal and only if you're bringing business value to the table."
As Hernandez looks back over his career with BHGE, he says that he has found it's important to be open to learning lessons when they are presented and to go beyond merely stepping outside of your comfort zone.
"Stepping outside of your comfort zone means you go somewhere, do something, and then come back to your comfort zone," he says. "What's more important is actually expanding your comfort zone so you can continue to be creative, take on challenges, and grow."
Community Activism
Since 1996, BHGE's parent company, GE, has operated the Hispanic Forum, a professional development, mentoring, and affinity-networking forum, which aims to support, connect, develop, and inspire the organization's Hispanic employees as well as the communities in which they reside.
Hernandez has been actively involved with the forum for the last year. "Any employee can join, including non-Hispanic employees, and I've had a great time working with them. Last December, we organized a toy drive and then delivered the toys to kids at Sagrado Corazón in Houston over the holidays."
For the past three years, he has also been actively involved with the Language Proficiency Assessment Committee for his child's school. "Here in Texas, our community has many young students who are bilingual or English learners. As the parents, we go through individual children in the program and assess their progress during a ten-hour meeting at the end of each year. The goal is to ensure that they're proficient in English by the sixth grade. It's been very rewarding to see them progress and to see how much the teachers like to do this program with them."