Years before she joined Japanese beauty corporation Shiseido Company Ltd as senior vice president of global mergers and acquisitions in New York City, Carla Ruiz was reading beauty magazines, finding interesting brands, and testing beauty products in her spare time. Naturally, when a chance arose to experience the beauty industry from within, Ruiz couldn't pass up the opportunity to get a behind-the-scenes look.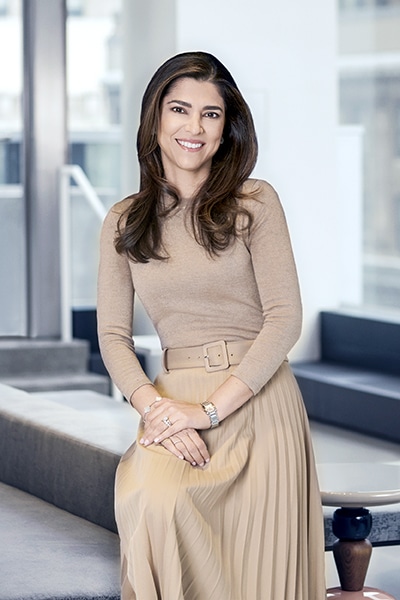 "Getting to explore beauty through my job is such a privilege," Ruiz says. "I'm humbled to work for an organization like Shiseido, one of the most trusted beauty companies in the world and one that is laser focused on helping people find happiness through self-expression."
Ruiz brings her own laser focus to the table at Shiseido, where she uses her industry's rapid pace to her advantage identifying new avenues for adding value to the company. At the same time, she maintains a strong emphasis on supporting the community, both in society at large and within Shiseido itself.
Ruiz began her career as an auditor in Lima, Peru, before moving to the United States in 2004 to pursue an MBA at Columbia University. Upon completing her degree, she immersed herself in the world of investment banking. After almost a decade in banking, however, she decided to act on her growing interest in beauty.
Leaving behind a position where she could interact with beauty and personal care products only from the outside, Ruiz made the jump to an in-house role at Johnson & Johnson. At J&J, Ruiz oversaw global business development across the company's beauty, baby, and feminine care divisions.
"Moving from an advisory to a corporate role was a great learning experience," Ruiz explains. "It allowed me to build valuable insights on how different functional areas operate and what the links are between them."
That understanding allowed Ruiz to acquire multiple value-add businesses during her time at J&J, with her in-depth knowledge facilitating efforts to evaluate potential partners. She has carried this expertise into her current role, which she secured in 2019 after the interim CEO of Shiseido Americas, Ron Gee, sought her out based on her impressive reputation.
"We had a series of exciting conversations about building a global M&A team for Shiseido as the company looked to strategically complement organic with inorganic growth," Ruiz says of her early interactions with Shiseido executives.
In the short period since she came on board as SVP, Ruiz has worked with her all-female M&A team to research and execute two major deals for Shiseido: the acquisition of high-performing, clean-compatible skincare line Drunk Elephant and a partnership to manage the beauty license of fashion label Tory Burch.
Prior to finalizing those deals, she worked closely with key team members across divisions to thoroughly assess each brand to ensure they were a good fit for the Shiseido family. "We're very careful about who we choose to partner with. It requires a lot of internal coordination to make sure that we're all rowing the boat in the same direction," she says, adding that she obtains cross-departmental input to strengthen Shiseido's internal alignment as well as to support the deals themselves.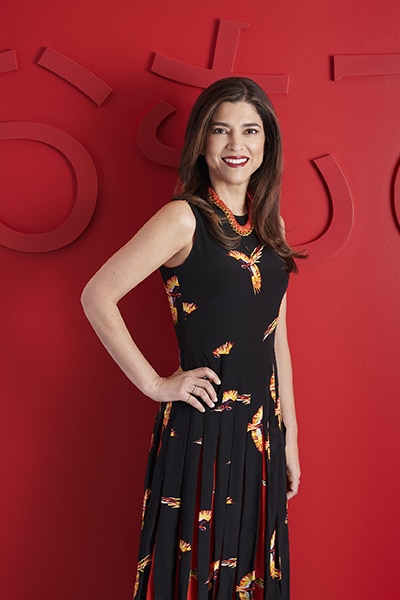 Beyond pursuing partnerships or acquisitions, Ruiz's role requires her to remain on top of industry trends. Given the dynamic nature of the beauty industry, especially in the age of social media, staying up-to-date can be a challenge. But Ruiz has a different perspective.
"The fact that the space is constantly changing presents us with opportunities," she points out. "There are so many smart, ambitious, and driven founders who want to take their businesses—their babies—to the next level. My goal is to show them that Shiseido can help accelerate that pace in a way that's respectful of them and their businesses."
Ruiz's willingness to establish relationships with the founders of up-and-coming brands and to foster connections with Shiseido's industry peers has positioned her to continue increasing the company's investments in the future. "We're currently in the process of evaluating multiple opportunities with the aim of creating further value for Shiseido," Ruiz shares.
These opportunities will tie into the formalized inorganic growth strategy that Ruiz has helped solidify at the company. She periodically reviews and updates this strategy as Shiseido and the industry evolve, so as to better preserve the level of discipline necessary for filtering through possible acquisitions.
On top of her multifaceted SVP role, Ruiz actively participates in a mentorship program for women at Shiseido. "To be part of that program has been incredibly rewarding," she enthuses. "I've been able to make new internal connections that have led to friendships and hopefully helped others connect the dots for career opportunities along the way."
Ruiz also serves on the board of America Needs You (ANY), a nonprofit organization that champions first-generation college students. In fact, Ruiz introduced ANY to Shiseido Americas in the context of the company's social responsibility program, The Beauty of Helping Others.
"I'm very proud of the fact that Shiseido has partnered with ANY," says the SVP. "It means so much to me to be part of an institution that actively supports the community."
With equal dedication to giving back and finding promising opportunities for investment, Ruiz is adding value to Shiseido in more ways than one.
A Shared Mission
Giving back matters as much to Shiseido as a company as it does to Carla Ruiz personally. That's why the company posts giving and volunteering opportunities, including virtual options amid the COVID-19 pandemic, on an online employee platform. The company also encourages employees to get involved in their communities by offering paid days for volunteering.