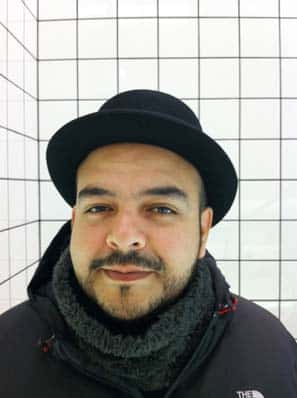 Grammy-award winner Camilo Lara may be one of the few music executives that is genuinely enthusiastic about the accessibility and digitization of music. "I like the world more now than in the '80s with five major companies and just a few indie [labels]," Lara says. The singer and record executive familiarity with the business of record labels comes from his time working with three of the biggest names in music—EMI Music Mexico, where he spent 17 years as a record executive then head of artists and repertoire (A&R) and eventually president; Virgin Mexico, where he was a managing director; and Warner Music Mexico where he was head of marketing and A&R.
Lara's passion for music started early. He recalls buying records as young as age six; as a child, Lara's parents assigned him chores so he could earn cash to buy records. He got his first real job to support his growing habit. "At 14, I started working at a restaurant to buy music," Lara says. Lara's CD collection soon paid off.  "I was working as a waiter and the head of the radio station started talking to me and hired me as musical programmer. They hired me because I had a lot of CDs." The station, which played indie alternative tunes, was one of the most influential radio stations in Mexico. Lara chose music for the station throughout the rest of high school, leaving to work for EMI as a promoter.
In 2001, Lara, together with film director Alfonso Cuarón, created Suave, the first independently owned and financed boutique label in Mexico. The label signed prestigious local acts and licensed acts from international indie labels such as Domino and Wall of Sound.
Suave, which Lara co-owned until 2002, helped transform the image of popular Mexican music. "A good idea generates money. That's my whole theory on life. First, have a good idea, an idea that can be sexy enough and strong enough to become a business. Then, if you're into creating music, be smart in how to promote and monetize that," Lara says.
He knows how to generate a profit off of making cutting edge creatively fulfilling music. Castete, formerly Experimental Workshop, is a label-services company founded by Lara designed to give the artists tools they need
to monetize and promote their music. Castete manages five bands, has produced three films, and has released 40 albums.
Lara's forward-thinking mind-set has given him the opportunity to successfully transition from cassettes, to CDs, to MP3s. "It's a consequence of technology, of how communication is nowadays so you have to adjust … In the past, you probably had a thousand ways to entertain yourself and now you have a hundred thousand. If these models of entertainment were around when I was 11 or 12, I wouldn't attend school. I would spend all day listening to cool music," he says.
When he's not working to provide an avenue for other artists to promote their music, he is also the mastermind behind Mexican Institute of Sound (MIS), an electronic music project that combines traditional folk music with electronica. Lara samples classic Mexican tunes from the 1920s to the 1960s to create the cutting-edge sounds. MIS has released three albums and their music has been featured on ABC's Ugly Betty, Showtime's Californication, New Line Cinema's Pride and Glory, a Dos Equis national ad campaign, and the EA Games' FIFA Soccer 2008 videogame.
Lara's forward-thinking Lara's musical relations are highly collaborative, with his most recent milestone being as the producer for the number one record in Mexico by the band Angeles Azules. "This album brought cumbia back to the masses," Lara says. He has also created official remixes for Morrissey, Tom Tom Club, Placebo, and the Beastie Boys. On the process of remixing Lara makes a tongue-in-cheek comment: "Remixing is a crime. You pick up stuff you like and you make it sound the way you would do it in your own style. I don't follow dance-floor rules. I start with the thought that I'm a flavor. I add my flavor to the song that I remix." And how would he describe that flavor? "Spicy and annoying," Lara says with a gleam in his eye.
If Lara is not in the studio mixing and producing music, he can be found performing live on a weekly basis. He has appeared at Roskilde, Lollapalooza, Coachella, and Bonnaroo. "It keeps you in shape. I just performed at the LAMC (Latin Alternative Music Conference) Celebrate Brooklyn. I love to keep on touring. It's therapy for me to be away from the office and do my thing," he says.
Though Lara is most passionate about his artistic endeavors, he points out that to make it in the music business artists can no longer simply focus on the art. "As an artist, it's way better because you are in touch with your creative and side and you explore more of a personal thing. But, I think nowadays there are no pure artists that only think on their art. I think it's super important to have a balance … That has been my whole life," Lara says.