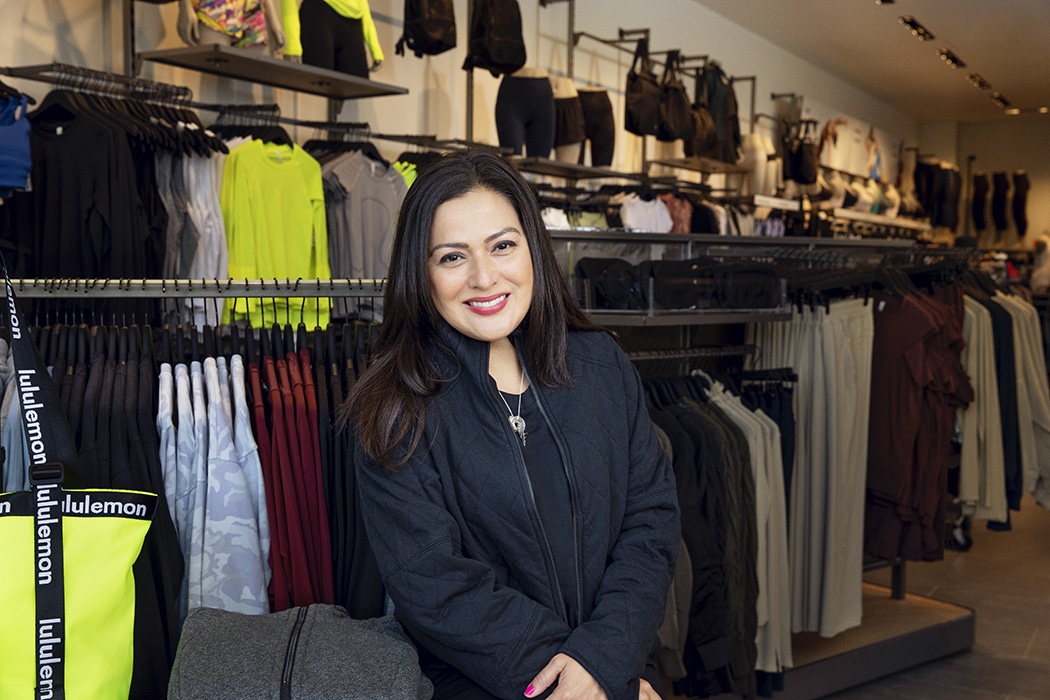 There is a certain type of no that can be particularly toxic. It is the no that discourages. Blanca Gonzalez was in high school when her counselor told her that she would never go to college because her family did not have the resources. Gonzalez was devastated, but her older sister assured her that they would go to college and prove to the world they could be successful.
Today, Gonzalez is senior vice president of global merchandising for sporting apparel company lululemon. Unsurprisingly, she is especially invested in team building and mentorship. Her guiding principles: "Don't let the no's bring you down. Don't let people define you. You define yourself and what you want to achieve."
Gonzalez was born in Mexico, the youngest of five. Her parents came to the United States when Gonzalez was three years old. "They came for better opportunities," she says. "My father worked in factories, my mother was a seamstress. We had very little, but by working hard, we were able to accomplish a lot. A very important moment in my life was when my parents bought their own little home. They live in it to this day. I saw their hard work and dedication and passion. I believed that anything was possible, and that has carried through my entire life."
Gonzalez and her sister were the first in their family to attend college in the US. Her sister is now a teacher, while Gonzalez has followed her lifelong passion for fashion. "I used to make clothes for my Barbie," she says with a laugh. "It's in my DNA; my great grandmother in Mexico was a designer, and my mom is very creative."
Gonzalez attended a fashion school in Westwood, California, a college town adjacent to UCLA. One of her professors there served as her first mentor. "I remember being in the classroom when she said, 'I just want you to know you have so much potential and you are going to go far,'" she recalls. "When you're young, you sometimes don't believe a lot of those things, but she really believed in me."
They remain close to this day.
Gonzalez came to lululemon in February 2021 after two decades at Nike, where she played an integral role in expanding the company's reach into the Latino community, as well as pioneering influencer and energy marketing.
As she puts it, her current role is focused on finding new opportunities for lululemon to grow and on creating product and merch innovation. "I learned a lot at Nike," she says. "I wanted to take all my learning and support lululemon as we continue to grow globally by developing those strategies. I'm on a growth trajectory, too."
Gonzalez considers it an important part of her role to pay it forward by way of mentoring her team members. "It's important to have people in your life who show by example it is possible to achieve your dream," she reflects, "people who believe in you."
As a leader, she strives to always consider what her team needs from her. "As you get to bigger roles, you have to realize you are so critical. Taking responsibility as an enterprise leader means setting the right tone," she explains. "I take the responsibility of making sure I am there for the team very, very seriously."
Another core value Gonzalez hopes to instill in her team is achieving a healthy work/life balance. "I'm a mom of three," she says. "I have twin girls, eleven, and I have a son, nine, with special needs. I always tell my teammates that our work is intense but to make sure you spend time with your families—and also to make sure you make time for yourself. It's critical for your own success as well as your team's."
For Gonzalez, taking time for herself means getting up early on Sunday mornings to read and enjoy a cup of coffee before her husband and children waken and what she laughingly calls 'my happy circus' begins. "One thing I truly enjoy are morning walks with my children," she adds. "We share and talk about each other's days."
For the past four-and-a-half years, Gonzalez has also served on the board for the Special Olympics of Southern California. "When I retire from corporate America," she says, "I want to be president of the board."
The SVP was very attracted to the inclusivity of the lululemon brand and to its cross-generational appeal. Her daughters, she says, have served as something of a focus group for their mother. "I'm always asking for their insights [about fashion], and I always take them to heart."
Gonzalez's passion for inclusivity also drives her to advocate for diversity in leadership, both at lululemon and in the corporate world at large. "I consider it a huge responsibility to represent not only women but also my community," she says. "I was impressed that lululemon values these things and has created support systems to enable diversity. Being able to share my journey can serve as an example that if you put your heart and soul into your passion, you can achieve it."