It's difficult for Bibi Hidalgo to talk about the day her parents met Barack Obama without getting emotional. As she watched the president hug her mother, suddenly it sank in just how far she'd come. Her father used to stand in many a principal's office in Miami, demanding Hidalgo and her sibling's admittance to quality schools. After demanding opportunities for small and minority-owned businesses in governmental contracts, Hidalgo had earned the privilege of bringing her parents to the White House, where they could stand in the Oval Office.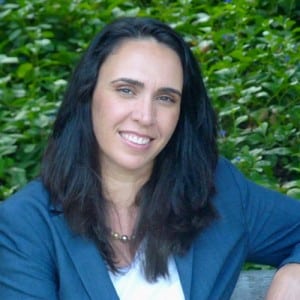 "It was such a gratifying experience," she recalls. Both Cuban immigrants, Hidalgo's parents moved to the States in the 1960s and raised five children  here. Though they struggled financially, they emphasized family and education above all else. "I was proud to have them in that room, given all their incredible sacrifices."
There is a beautiful sort of reflection in the way Hidalgo was able to share her present with the people whose past has been so influential on her work. Having seen first-hand the difficulty with which Hispanics like her them build their lives in America, Hidalgo developed an interest and passion early in her education for creating wealth in Hispanic and minority communities. While she was earning her master's degree in public policy at Harvard, Hidalgo again tapped into her roots to develop her thesis, an analysis on how to improve relations between Miami and Cuba through the Catholic Church.
That was Hidalgo's introduction to mobilization. "My professor at Harvard told me after I wrote my thesis, 'Now you have to go do this.' I thought, I can write about improving relations, but how do I mobilize?" Hidalgo says. Hired by the archbishop of Miami, Hidalgo was baptized by fire into the world of advocacy and organizing—and she proved to be a natural. After working with the Church, Hidalgo helped facilitate housing through the Department of Housing and Urban Development. Working closely with the African-American and Hispanic communities of Baltimore, Maryland, she stood out to her director, who pulled her aside after six months to tell her she was going to the White House.
Hidalgo had been tapped by the Obama administration to develop a strategy on small and minority business contracting. She arrived at the White House in 2010 as a senior policy advisor and in two years was able to organize 21 events with 10,000 business owners and increase small and minority business contracting through the Treasury by more than $100 million. The success of the strategy, Hidalgo explains, was in identifying what small and minority firms needed to compete with big business. The missing piece for them, she realized, was not a lack of resources or access to capital, but a lack of demand. Staid relationships between established, big businesses and career buyers kept the doors of opportunity shut tightly to small and minority up-and-comers. "I realized if we created demand in government through senior staff and contract and procurement officers," she says, "we could create a support system for these businesses."
With the root of the problem identified, Hidalgo next had to address a well-intentioned, but poorly executed infrastructure. Formerly, she explains, the lack of contracts for small and minority-owned businesses was addressed through statutes and regulations, almost forcing the hand of the buying staff. There were many ways around the regulations, and there were no incentives to prevent people from circumvention.
Though Congress had set goals for contracts, there was no accountability for anyone to achieve them.
"We found that to truly create demand, we needed to combine mandates with incentives," Hidalgo says. Performance reviews were one way senior executive officers could be rated on their achievement of the goals, and by tying that performance to bonuses, Hidalgo says she was able to incorporate rewards into the strategy as well. "People began going out of their way to find minority-owned businesses," she says.
The money to be made through federal government procurement contracts is $535 billion annually, and at the state and local level, it is upwards of a trillion dollars for goods and services. Hidalgo tells a story of a minority-owned firm she met at the White House that was in the business of bringing plutonium back from Africa. That operation got off the ground because of a government contract. "It's such a major avenue for wealth creation," Hidalgo says, "we can't afford as a community to ignore this issue. This is how major firms got where they are today. In looking toward the future, it's important for us to understand how to advocate for these firms and how to hold officials accountable to give them a fair chance."
With the success she achieved at the federal level, Hidalgo has taken her expertise to the Brookings Institute. Getting down on paper the strategy she employed at the White House, she hopes to establish a fellowship focused on small and minority business contracting at the municipal and state levels. For Hidalgo, the fight is only half won, and the future of Hispanic and minority communities continues to rely on their ability to seize opportunity. She believes what was accomplished in Washington can be replicated across the United States, it but will depend on future generations maintaining the concern for their communities.
At least in her own house, Hidalgo has seen what that future looks like. Standing with her and her parents on the day they met the president was Hidalgo's young son. Fearlessly—yet politely—interjecting among a roomful of the nation's most powerful adults, he asked the president if he would visit his school.
"I was shocked," Hidalgo says, "but also proud that he had the confidence to ask in front of all those adults. I thought, there's my future mobilizer."