At Hispanic Executive, one of our favorite things to do is go behind the scenes with your favorite Latino leaders and get candid with them during photo shoots.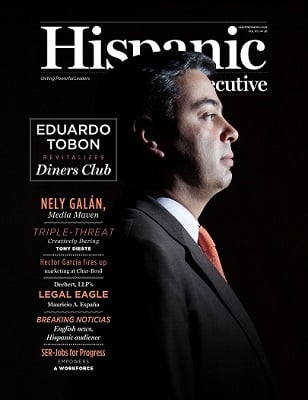 Our experience with Eduardo Tobon, president of Diners Club International, was a real treat as we spent not one but two afternoons with him to get that perfect illuminated shot for what we envisioned to be a very unique HE cover.
Photographed at the Discover headquarters in Riverswood, Illinois by our senior photo editor and in-house photographer Sheila Barabad, Eduardo and his team at Diners Club International were all hands on deck. A big thank you to Jeff Berger for his assistance in making this shoot a successful one!
Check out some photos from HE's first issue of 2014's cover shoot below. Also don't forget to catch our January issue featuring Eduardo Tobon along with many other remarkable leaders like Nely Galán, Michael Lizárraga of TELACU, Jorge Plascencia of Républic and so many more!