The world can't be saved by one person alone, and Beatriz Perez doesn't think it should be done alone. But by taking advantage of the wide-ranging scope of her responsibilities at Coca-Cola, Perez can and is helping drive others—individuals, communities, and entire industries—toward global change.
As senior vice president and chief communications, public affairs, sustainability, and marketing assets officer, Perez touches on nearly every aspect of the Coca-Cola business, from the World of Coca-Cola attraction in Atlanta to the T-shirts and hats sold at global sports and entertainment events like the Olympics and World Cup.
"With the portfolio of areas that I have been given, I have been able to connect sustainability deeply into the business to drive growth," Perez explains. A perfect example of this, according to Perez, is the recycling program central to Coca-Cola's World Without Waste initiative.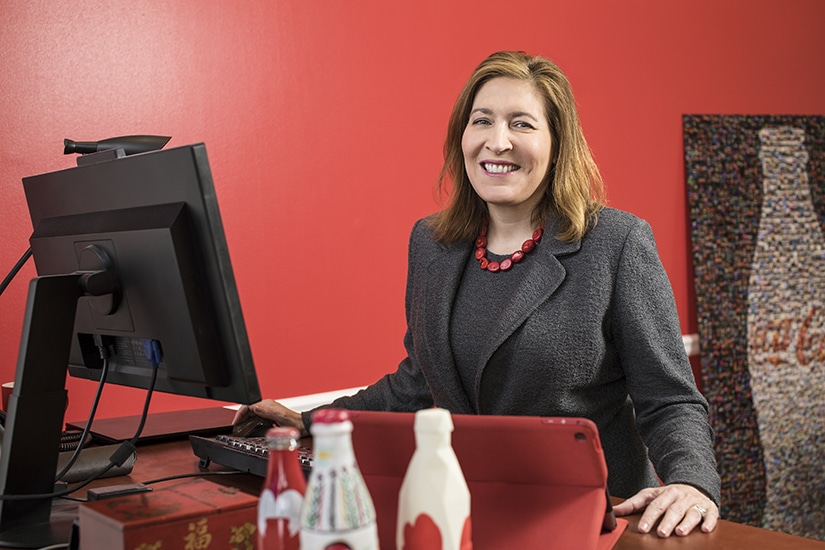 "We re-create a bottle out of what was once the package that you put in a recycling bin, and then we can put that bottle back on the shelf," the SVP says. "So it's a circular economy for the environment and for the business at the same time."
Rather than an obstacle standing in the way of her ability to achieve sustainability goals, Perez sees Coca-Cola's for-profit business model as a partner to its social responsibility initiatives.
"It's about how we can leverage the scope and scale of the business in a way that can change the world and drive growth for the business at the same time," Perez offers.
Scale and scope have certainly been at the heart of Perez's recent efforts. Coca-Cola's World Without Waste initiative aims to recycle the equivalent of each and every Coca-Cola bottle sold around the world by 2030. Under Perez's leadership, that ambitious goal is being realized. Today, several markets around the world have introduced 100 percent recycled-content bottles for certain water and sparkling brands, says Perez, and Coca-Cola has expanded access to its PlantBottle IP to enable other companies—even competitors—to access this game-changing bioplastics technology. PlantBottlematerial is made from plants but is fully recyclable and acts just like PET plastic.
But the impact of the World Without Waste initiative goes far beyond the packaging of Coca-Cola's products. During Perez's tenure as chief sustainability officer, Coca-Cola has achieved its goal to replenish or balance 100 percent of the water used in the production of its beverages and return it to nature and communities. While the company achieved this goal five years ahead of time, Perez doesn't focus on the expedience of these results. Rather, she focuses on the widespread impact of the company's water conservation efforts on local watersheds and the communities that depend on them.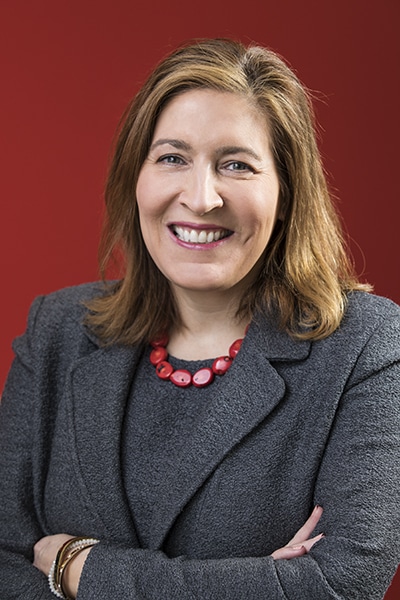 "This is really a global initiative," Perez notes. "It requires different solutions depending on the water in a particular area. Some countries, for example, have an excess of water—but the water needs to be clean. There are other places where we have stopped production when there was a drought and redirected the production to other facilities so that we could actually get water in the hands of people who needed it most."
To fully integrate its water conservation and sustainability efforts, Coca-Cola is working with organizations such as the World Wildlife Fund (WWF) to ensure the health of river basins and other water systems. To Perez, a standout example is the Rio Grande. "Water has always been an issue there. For the past decade we have partnered with the World Wildlife Fund, the National Park Service, and others to remove invasive vegetation that has grown along the banks of the Rio Grande. We've helped to restore more than forty-two miles of riverbank and improved the natural hydrology of the river channel and the aquatic habitat," Perez says.
Across the world from the Rio Grande, Australian farmers are working with Coca-Cola to reduce the water use associated with the agricultural industry. "Agriculture uses about 70 percent of the water," Perez says. Through Coca-Cola's Project Catalyst, farmers are working together to make sure that they understand different drip irrigation technologies and are equipped to manage the soil in a way that eliminates any runoff to the Great Barrier Reef.
"The work is not done," Perez says. "We will continue to work on water—it's important for us to look at how we maintain the goals we've set, and how we think beyond our goals."
"But it isn't just the company doing this work," Perez emphasizes, speaking to the beverage giant's many social good initiatives, of which sustainability is just one. "It's real people who care passionately and deeply about our planet, about society, and about each other."
The genuine, honest passion of those people is something Perez delights in highlighting in her role. The company brand campaign in North America is "putting humanity at the heart of the business," she says. The marketing materials used in that campaign feature real Coca-Cola employees— including a Coca-Cola hydrogeologist. They tell an authentic story of the societal and environmental challenges that Coca-Cola is trying to solve. "We wanted to get others to join in our journey, other businesses, NGOs, governments, and society," Perez says. "So we're excited because it's really helped to get more people involved."
Perez, who has been recognized by the Association of Latino Professionals for America as one of 2017's Most Powerful Latinas and as one of CNN and People en Español's 25 Most Powerful Latinas, recently celebrated her twenty-fifth anniversary at Coca-Cola. But the SVP won't be leaving the company—or its groundbreaking social good initiatives—any time soon. "If I can still walk and function for another twenty-five years, I'll still be here," Perez says, laughing.
Forwarding 5by20
In addition to steering Coca-Cola's global marketing assets, public affairs, communications, and sustainability work, Beatriz Perez is devoted to community service, which she commits to as chair of the Coca-Cola Foundation. The Coca-Cola Foundation has awarded more than $1 billion in grants since its inception in 1984," Perez says proudly.
The Foundation's three priority areas—namely environmental protection, community enhancement, and the economic empowerment of women—are aligned with the company's primary social responsibility initiatives. These priorities are particularly close to Perez's heart and are embodied in the company's 5by20 campaign, which aims to enable the economic empowerment of five million women entrepreneurs by 2020.
"We're working to make sure women get training in how to run their own business including making sure they know that they should pay themselves a salary," Perez says of the 3.2 million women the company has reached thus far. "We focused very specifically within the Hispanic marketplace and on working with Hispanic entrepreneurs, but we also worked with women farmers and women shopkeepers in Africa and India. There are many different programs, to reach women from diverse backgrounds. They are all really impressive."