Many organizations pay lip service to diversity; however, Froedtert & the Medical College of Wisconsin actually walks its talk. The health network—a partnership between Froedtert Health and the Medical College of Wisconsin supporting a shared mission of patient care, innovation, medical research, and education—effectively prioritizes diverse hiring, language services, and culturally competent care. These efforts are led by Andrés González, its vice president and chief diversity officer.
González helps the Froedtert & MCW team conceptualize, implement, and measure the network's D&I efforts to both raise the standard of care for all patients and to make the organization an employer of choice for diverse employees in the healthcare industry. "We strive to be a workplace of choice offering an inclusive culture that leverages our employees' unique talents and abilities," González says.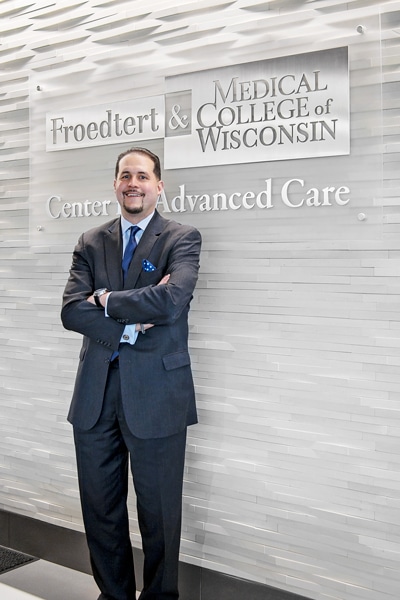 In support of that goal, the health network supports both business resource groups and diversity action teams, which conceptualize tactical and strategic ways (respectively) of bringing diversity to the organization. The business resource groups, which comprise employees at all levels, break down into three affinity groups: Black/African American, LGBTQA, and Military/Veterans. The diversity action teams engage employees with supervisory roles or above. Together, these teams take ownership of the organization's diversity philosophy and find ways to bring it to life.
The business resource groups and diversity action teams regularly communicate their ideas to the diversity council, an internal governing body and executive group that includes González. The council metabolizes the teams' suggestions and combines them with its own diversity-related ideation. Meanwhile, the office of diversity and inclusion serves as a corporate resource providing coaching and guidance to other departments throughout the health network. In the broad scheme, the business resource groups, the diversity action teams, the diversity council, and the office of diversity and inclusion form a continuous feedback loop where new ideas constantly take shape.
That ideas flow both upstream and downstream speaks to how deeply embedded D&I is into the Froedtert & MCW health network's culture. "The diversity efforts go back to the vision and philosophy of the organization and align with its mission and values," González explains.
One important way that González helps to implement the Froedtert & MCW health network's diversity goals is through the Equity Pledge, created by a consortium of health care organizations including the American Hospital Association. Historically, there have been racial, socioeconomic, and geographic disparities in the US healthcare system that have prevented underserved populations from accessing culturally competent care. The Equity Pledge asks signees to reverse the trend, a mission that coincides perfectly with the Froedtert & MCW health network's equity and justice ethos.
To make good on the Froedtert & MCW commitment, González has helped to define four steps for the organization to take:
Collect "REaL" data—the acronym stands for race, ethnicity, and language—to better understand and serve its diverse patients.
Offer unconscious bias training to Froedtert & MCW leaders and nearly 13,000 staff members.
Incorporate a wider variety of backgrounds into leadership positions in both the C-suite and the board through human resources and diversity-focused hiring efforts.
Cultivate strategic community partnerships by supporting local nonprofits.
Together, these initiatives have added depth, breadth, and meaning to the Froedtert & MCW health network's emphasis on diversity.
Another of the health network's initiative includes bringing healthcare to diverse constituents, rather than always expecting patients to walk through the doors unprompted. González recalls that the Froedtert & MCW team recently attended a Hmong New Year celebration to do blood pressure, blood sugar, and vision screenings, build awareness about the health network, and encourage attendees to take control of their health by finding a primary care provider.
"That's where it starts—building that awareness, and then creating that call to action: referring them to qualifying healthcare providers and community partnerships," González says. A similar push took place at the Fiesta Mexicana, where Froedtert Health staff encouraged festival attendees to apply for jobs at the company. By meeting diverse populations where they are, the Froedtert & MCW health network ensures that language and social determinants of health are never barriers to care.
Because the Froedtert & MCW health network has set ambitious goals for diversity and inclusion, González and his team are dedicated to measuring progress and ensuring the organization stays on track. For example, one goal is to ensure patients at Froedtert are not coming to the hospital to treat problems they first tried to address in the doctors' offices, indicating a lack of efficacy of doctor's-office treatments. To achieve this goal, González and his colleagues work hard to make sure that all patients understand their plan of care with the resources of language services.
Another progress measurement occurs when González and the rest of the diversity council review a "balance scorecard" and recalibrate their tactics every quarter. Identified as a business imperative, executive compensation is tied to achieving diversity goals.
The Froedtert & MCW health network includes five hospitals, more than 1,700 physicians and nearly 40 health centers and clinics across Southeast Wisconsin. Thanks to González's strategic mind, passionate commitment, and follow-through, the Froedtert & MCW health network has made great strides in terms of equity and justice. Nevertheless, Froedtert Health and the entire health network are doing more than just responding to a moral imperative—its D&I programs are also good business. González says, "Our CEO values diversity and views it as a business imperative as critical as financial strength, compliance efforts, safety guidelines, and quality measures."