https://hispanicexecutive.com/candice-pinares-baez-hard-rock-international/
For Alex Alvarado, growing up in Las Vegas not only provided him with one of the world's most exciting cities as a backyard but also offered him a front-row seat to the premier experience in the hospitality world.
Alvarado, a self-proclaimed "casino aficionado," did not always envision himself working in hospitality or gaming. After graduating from college, Alvarado began working in the IT space—a career move that eventually granted him a very special opportunity. "I joined a project that required the installation of Wi-Fi in just about half of the hotel rooms on the Las Vegas Strip," Alvarado explains. This project opened doors for Alvarado, and ultimately led him to receive an offer to join international hospitality and entertainment giant MGM. For Alvarado, making the choice to join MGM wasn't a difficult one. In his past interactions with MGM, he had always had remarkably positive experiences with each and every staff member he encountered. "Whether these folks were front of the house or back of the house or admin, I enjoyed every interaction I had," he affirms.
When Alvarado joined the team at MGM, he pivoted from a history of more behind-the-scenes roles to a front-of-house position. "I was paying jackpots," he says, laughing. "I never imagined that I would be a slot manager, but over time, this position afforded me greater opportunities. I went on to perform more administrative tasks, to then sitting in more analytical roles, then ultimately working in strategic roles—which have taken me to where I am today."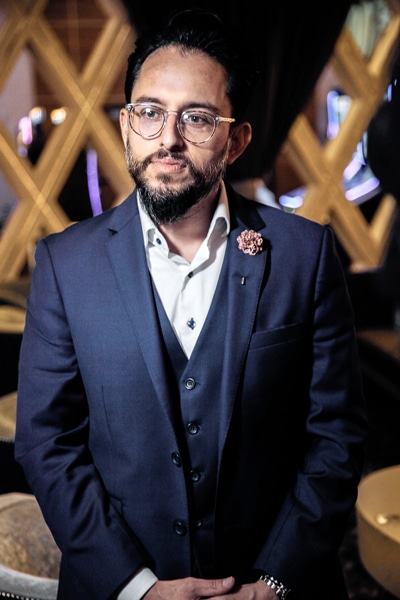 In the fifteen years since Alvarado first started at MGM, he has changed employers and relocated to other countries—and other continents—to further develop his career. Now, Alvarado finds himself back at MGM. He currently serves as vice president of casino operations at MGM National Harbor, a luxury resort and casino based in Washington, DC.  Alvarado oversees all gaming operations that take place at the resort: paying out jackpots, the slot machines, climbing the slot operations ladder, and driving an innovative gaming experience through the large-scale deployment of electronic table game terminals and contactless payment solutions.
"My role is focused on the strategic development of the business," says Alvarado, who sees unlimited potential in mobile engagement and the introduction of virtual reality and augmented reality technologies into the casino. He likens his strategy to an etch-and-sketch. "I'm always asking myself, are we getting the most we can get out of this set of resources? How can we continuously optimize or re-sketch out the plans for those resources?"
Alvarado attributes the successes he has found in his current role to his early experience in Vegas. "I am so incredibly grateful that I started my career in Las Vegas. On so many different levels, Vegas is the pinnacle," he says. "The work ethic and the culture that has been established there over decades can be chalked up to the genuine pride that people take in their work.
"It isn't service," he adds. "It's hospitality at a degree that I have personally never seen achieved in another market."
While living up to Las Vegas standards might seem intimidating and difficult to achieve, Alvarado uses his experience in Vegas as a benchmark for his own goals and expectations for his team. "I know that we are not performing at the level we can be when I find myself pointing back to that experience. I'm always pushing and challenging my team, saying, 'This is the level that we can achieve.' And the best team members will react to that in a positive way," he says.
"My team members know that I am always looking for the best way to solve problems or drive results, and we truly share this vision. Everyone is a part of the solving process."
Alvarado takes great pride in the team that he has built at MGM National Harbor, not only because they are hard-working, versatile team-players but also because they make his job "incredibly fun."
"I learn a phenomenal amount from my team on a regular basis," Alvarado enthuses. Some members of his team have been in the business longer than he has, and others are brand-new to the business. But each employee, the VP emphasizes, brings a critically important perspective.
"My team members know that I am always looking for a better way to solve problems or drive results, and we truly share this vision. Everyone is a part of the continuous improvement process," he explains. According to Alvarado, this team alignment and collaboration helps drive the business forward and also promotes the professional development of his team members. "I want my team members to be strong assets in their roles here but also to be prepared for their next roles, wherever that may be—with us or somewhere else," he says.
Alvarado also places great value on creating an intentional work/life balance, though he acknowledges that at times in one's career journey, one has to be willing to make sacrifices. "You always have to be honest with yourself about what you want from your career and from your life," he asserts. "If you suffer in one area, you'll suffer in the other. Luckily for me, I have a career that makes this balance incredibly natural."
---
Related Features