Presidential cabinet administrator, award-winning investigative journalist, news anchor, investment banker, public servant, commissioner, and corporate board director are only a few of the titles Aída Álvarez has held over the course of her illustrious career. But for the Harvard cum laude graduate, this is only the beginning.
"I've always believed that no matter what your job description says, it is up to you to actually invent the job," says Álvarez. A quick look at some of the roles she has held, and one can see that this idea of striving for excellence and creating your own job description is integral to her work ethic.
She began her career as an investigative journalist, later becoming a news anchor in New York City. In 1982, Álvarez was nominated for an Emmy Award and won the Associated Press Award for Excellence for her work reporting on guerrilla activity in El Salvador.
From there, she took on a series of roles pertaining to finance, both in the public and private sector: from investment banker at Bear Stearns to director of the Office of Federal Housing Enterprise Oversight.
Álvarez then blazed a political trail, becoming the first Latina to serve as an executive officer in the US Cabinet. She was appointed Administrator of the Small Business Administration in 1997 by President Clinton.
Currently, she spends a good deal of time in the boardroom. Álvarez serves on the board of Walmart, the largest retailer in the world. And in February of 2016, Álvarez was asked to serve on the board of HP Inc., the company that formed last year when Hewlett Packard split into two companies.
Upon Álvarez's recent appointment to the board of directors of HP Inc., CEO Meg Whitman said, "Aída is a tremendously talented individual with unmatched experience spanning both public and private sectors."
In addition to developing a deep understanding of small and large businesses, Álvarez's time in Washington helped her to learn how to broker deals and create compromise.
"Washington is pretty complex. There are so many different constituencies and interest groups trying to get your attention," explains Álvarez. "Part of it is gamesmanship. You need to be able to kind of cut through that, and do it respectfully, while not letting people roll you over."
Álvarez's ability to add value in the boardroom is widely known. In HP Inc.'s recent announcement, the technology company highlighted Álvarez's tremendous expertise in public affairs, finance, media, and government, saying that the company would benefit from her diverse background.
"I am very lucky to be on the boards of companies where I know the management team is really outstanding, where they are trying not to just be successful in business but to do public good."
Aída Álvarez
"I am excited to try and make a contribution, to help the business become better as a result of the counsel that I bring," Álvarez says.
The company's board of directors now includes five women—over one-third of its composition—positioning HP as having the most diverse board in the tech sector.
"Bringing men and women of color and of diverse backgrounds to the board enriches the company," says Álvarez. "It is also a reflection of who we are as a country."
Not only does Álvarez believe that it is a moral obligation of a company to encourage diversity, but she also believes it helps the decision-making process.
With such an impressive résumé, one can imagine that Álvarez has her choice of boards on which to serve. "I am very lucky to be on the boards of companies where I know the management team is really outstanding, where they are trying not to just be successful in business but to do public good. It is fascinating to really see the inner workings of these companies whether they are big companies like Walmart or smaller, private companies like Oportun or Zoosk," says Álvarez. "You learn so much. There is a complexity that is really fascinating."
"Boards provide strategic direction to guide a company's future," says Álvarez. In addition to Walmart, Oportun, and Zoosk, Álvarez previously served on the boards of PacifiCare, now part of United Health, and MUFG Union Bank. She also served on the diversity advisory board of Deloitte Touche.
"There are real-life consequences to the decisions that a board makes; it's not just academic," says Álvarez.
One recent development at Walmart was the decision to raise minimum wage at the company to $10 an hour. Calling this a "good outcome," Álvarez says that the board played a significant role in that decision.
Álvarez also believes in the importance of nonprofit work to affect change. She is the chair of Latino Community Foundation in California and serves on the boards of Cisneros Center for New Americans, the Smithsonian American Art Museum and the San Francisco Symphony.
The first Latina to serve in a presidential cabinet, Álvarez both lives by example and pushes the importance of diversity in both the public and private sphere.
"It is very helpful to have people around you who don't just think like you do," says Álvarez. "There is no doubt about it."
In the Hot Seat with guest editor Myrna Soto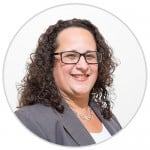 MS: I would love to hear your thoughts as to how you believe your experience on Walmart's technology and e-commerce committee will relate to your new board seat at HP Inc.
AÁ: I am brand new to HPI and have yet to attend my first meeting, but I'm excited about the opportunity. I want to approach the new appointment with an open mind and not speculate on HPI's direction right now. At Walmart our focus has been on creating a world-class online shopping site. The company continues making significant progress towards achieving that goal.
MS: The composition of the board at HP Inc. is stellar and certainly one of the most diverse. What would you encourage other companies to actively do in evaluating their board compositions? What guidance would you provide, knowing it may take several years before a large portion of companies can construct an equally diverse board?
AÁ: HPI has been very intentional in creating a diverse board. They have done outside-the-box thinking, identifying talented board members from different industries and from different networks. HPI is to be applauded for setting an example, which I believe will prompt others to do the same. There's an old saying that applies: "Where there's a will, there's a way."
MS: You said in your article, "There are real-life consequences to the decisions a board makes; it's not just academic." For those that may not be aware, serving on a board carries a significant degree of personal liability—can you elaborate on this and share your insights on how important it is to evaluate a company's stature before deciding to join their board?  What do you look for?
AÁ: It's important to look for companies that are financially sound, with excellent leadership and a culture of integrity. Those companies are not likely to put themselves or their boards in jeopardy. In addition, responsible companies carry directors' and officers' liability insurance to cover unexpected exposure.
MS: How often do you channel your internal investigative reporter when fulfilling your board duties? 
AÁ: I was a journalist for eleven years and did my share of investigative reporting. The qualities that good reporters and good board members have in common are the ability to ask probing questions, to engage in critical thinking, and to pursue the truth. Companies are well served by board members who exhibit these qualities.