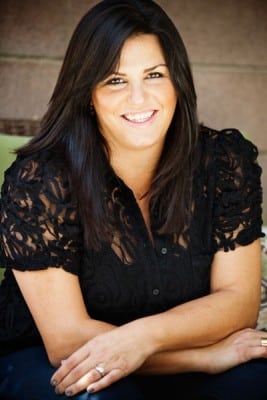 When a huge job opportunity presented itself in 2006—Susan Rosenbluth of Anschutz Entertainment Group (AEG) Live, the world's second-largest live-show promoter, called about a job—Rebeca León was ready to disregard the offer. "I'd been running my own management and consultation company for two years, and had seen a lot of success, with one of my clients, JD Natasha, getting nominated for several awards—among them a Latin Grammy," explains León. "Plus, my boyfriend had just moved to Miami to be with me, and we'd bought a condo."
León told Rosenbluth she'd consider the job, but only if it were based in Miami. Rosenbluth was persistent, though. "All she asked is that I fly out to Los Angeles and talk to her," León says. She agreed, but only for the frequent-flyer miles. "I didn't take it seriously," she recalls. "My boyfriend was concerned, and I remember telling him, 'I just need to make platinum status on American Airlines, and this trip will allow me to do that. So, I'm going to go to the interview, but don't worry, we're not moving to Los Angeles.'"
After the interview, however, León texted her boyfriend from Los Angeles: "So, do you want to move out here?" she asked.
Fortunately, León's boyfriend—who's now her husband—was understanding. The couple made the cross-country move, and León became a concert promoter. That was a change for the 37-year-old Miami native, who had previously worked for Sony Music Entertainment and EMI Music, most recently in marketing and A&R [artists and repertoire], which helps a record company sign hit acts and develop them. "Susan, Randy Phillips, Larry Vallon, and everyone else at AEG, they kept saying to me, 'It isn't brain surgery. You have good relationships. You can do it,'" León says.
Today, as vice president of Latin talent at AEG Live's Goldenvoice division, León builds lucrative bridges between Latin artists, sponsors, and venues, which is ironic, given that she didn't grow up listening to Latin music, and planned on becoming an interior designer.
León graduated from Florida State University in December 1997 with a bachelor's degree in art history and studio art, and hoped to enter a master's program in interior design at the Pratt Institute. While she waited for admittance, she took her father's advice and explored some other options. "I grew up listening to U2 and Dave Matthews Band, but Latin music was getting hot in Miami, with all of these record labels opening," recalls León. "So, I thought I'd give it a try."
After doing some research, León decided she wanted to work at Sony, the market leader, but with no positions open, she worked her way in through a Miami staffing agency. "I called the front desk at Sony and harassed the receptionist until she told me what temp agency she came from," she recalls. "Then, I went to the same agency, filled out the paperwork, and said, 'Call me when you have a job at Sony.'"
A week later the agency called, and León was on her desired career trajectory. She worked her way into A&R at Sony, which handled some of the Latin-music genre's most popular artists, including Ricky Martin, Marc Anthony, and Shakira. After four years, León followed her boss to EMI Music, where she worked for two more years before signing JD Natasha, whose parents then asked León to take on a management role. At the age of 29, León opened her own business, which she was operating when AEG called.
León's first mission at AEG Live/Goldenvoice was to increase business at the newly opened 7,100-seat Nokia Theatre, which was competing with the Gibson, a Los Angeles institution. She easily succeeded, increasing show volume 25 percent in 12 months by promoting shows by both major Latin stars (including Ricky Martin, Enrique Iglesias, Luis Miguel, and Juanes) as well as an innovative lineup of regional Mexican acts, who rarely perform in theaters (such as Espinoza Paz, the late Jenni Rivera, and Banda el Recodo).
All told, AEG has registered a 60 percent increase in Latin show volume at Club Nokia, and nine times more concerts at the adjacent Staples Center. León says 90 percent of those shows were profitable, with many selling out. Among her greatest successes, León counts seven nights of sold-out Maná shows, which broke the all-time record for sales at the Staples Center. These successes have led León to grow her unit's revenue by 150 percent between 2011 and 2012, in a time when the Latin music business was wavering.
Relationships did, indeed, come into play with León's accomplishments, which include the coordination of many successful collaborations, including Wisin y Yandel's sponsorship by Corona in more than 12 markets; event promotion partnerships with SBS Entertainment (for the Calibash festival) and KBUA-KBUE-FM Los Angeles (for multiple Nokia Theatre shows); and collaborative tours between artists like Jennifer Lopez and Enrique Iglesias.
Thanks to these successes, Billboard magazine named León one of its "40 under 40" power players in 2012, and one of the top 30 women in music worldwide in 2010. She has also been on Billboard's top 10 Latin power players list for three years, the only female to make the grade.
Becoming one of the most powerful women in music took hard work and sacrifice, but both came naturally to León, who says she was always eager to do more. "If my job was to answer the phone, I'd answer the phone, but also ask to be involved in budget discussions," she says. "I remember, when I was temping at Sony, I'd go home and study sales reports, then come in the next morning and ask my boss if he'd give me five or 10 minutes to explain them."
León is quick to acknowledge, however, that none of her success has been hers alone, explaining that she's always had "the best people" around her, such as bosses who allowed her to ask questions, took the time to teach her, and encouraged her to focus. "You have to find what you love and dedicate yourself to it, because if you jump around from thing to thing and look for a quick rise to the top, you'll never get what you're looking for."
No one, however, gets more credit than León's parents, who are Cuban immigrants who always supported her dreams—within reason. "The ongoing topic in our house was what we would be when we grew up, and I remember, when I was young, asking my father what he'd think if I said I wanted to be president of the United States," recalls León. "He was very supportive and factual about it: he said I'd need to study hard and get straight As, and make a lot of sacrifices. Then I asked him what he'd think if I said I wanted to be a professional singer. He said, 'You're crazy.' So, my parents were encouraging, but not delusional."