AARP's Ivonne Fernandez shares her group's strategies for helping Latinos age with dignity and purpose
Although AARP advocates for almost 40 million seniors—making it one of the largest membership organizations in the United States—its presence, in the past, has not been strong in one market: Hispanics. Enter Ivonne Fernandez. When she took on the role of AARP's associate state director of multicultural outreach in 2006, it became her responsibility to increase awareness about the organization among Florida Hispanics. Today, she covers all minority communities, running programs that show these communities how AARP can serve them. Her impact has been so relevant that, in 2011, she was given one of the Hispanic community's highest honors in South Florida, being named one of 12 "Hispanic Women of Distinction" in Miami. She also received a Special Certificate for Outstanding Service in the Community from the US Congress.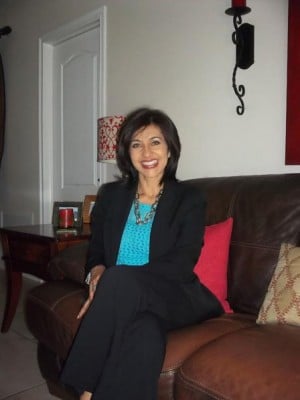 1
Communities Converse with Café con Leche
In 2007, Fernandez launched a series of meetings, community conversations, she calls them, whereby local Latinos can meet with neighbors to talk about their needs and find solutions via social networks. The idea was good, but the initial name—Latino Point of Action—was not. "It didn't resonate with the community because it sounded too political, which is controversial to people who come from countries of origin where political circumstances were the reasons for their exile," says Fernandez. Undeterred, Fernandez renamed the meetings Café con Leche after the popular Latino drink—because who, after all, doesn't like to chat over a cup of coffee?
Up Close & Personal
Getting to know Ivonne Fernandez
Describe yourself in three words. Achiever, dreamer, and perseverant.
As a child, what did you want to be when you grew up?
A lawyer.
What's the best advice your parents gave you?
Education will take you wherever you dream of going.
What's the hardest lesson you've ever learned?
In a three-hour flight, I went from being a successful businesswoman to a neophyte. Coming here as an immigrant, a Hispanic, and a woman was much harder than I expected.
What has your ethnic background contributed to your career?
It's given me cultural sensitivity.
What advice do you give others seeking to follow in your footsteps?
Giving and receiving mentoring is vital to success. I encourage all leaders to be mentors, and I encourage everyone who wants to be a leader to get a mentor.
Within a single year, the program had grown from five to 36 regular meetings—hosted by AARP staff and volunteers referred to as "baristas"—at a myriad of local meeting places, such as churches and community centers. Café con Leche has been so successful, Fernandez has brought it to radio, and now personally hosts three weekly talk shows. A Facebook presence also allows participants to connect when not in meetings. "Café con Leche allows us to create a relaxed and interactive setting to listen to the people's concerns about a variety of topics, then talk about how AARP's mission can help address those concerns," Fernandez says.
2
Knowing the Disconnects
AARP, says Fernandez, is a social-impact organization that has millions of members—but the importance of making a positive social impact doesn't necessarily resonate with the Hispanic community in the same way it does with the mainstream American culture. "Before moving to the United States and obtaining a master's degree in marketing, I was a microbiologist by training, working for 15 years in South America, so I know personally what the disconnects are for Hispanics coming to this country," she says. Considering her experiences, Fernandez knew she would have to come up with an approach to market AARP that took "giving back" to a new level. "I asked myself, what does this organization … mean to our audience?" she says. The answer: community.
"Better than promoting the idea of giving back to the community was promoting the idea of being involved," she says. "Children, parents, grandparents—all of them coming together and doing something fun." To that end, Fernandez started the Days of Service initiative, in which volunteers join together to provide services to an organization in need, such as a housing facility for low-income seniors, a park, cultural center, or even the zoo. Sometimes the volunteers paint, clean, or beautify the facility; other times they provide entertainment. In all cases, families enjoy going to it together. "We sweat hard and play hard," says Fernandez. Today, the program has expanded to four events a year and garnered prestigious community partners, including the Miami Dolphins, the Miami Marlins, Miami Dade College, Florida International University, Service For Peace, The Sherwin-Williams Company, Starbucks, and Miami-Dade Parks, Recreation and Open Spaces. The most recent multisite event—in which volunteers beautified West Perrine Park, Colonial Park, and the Miami Metro Zoo—garnered 500 volunteers to celebrate Martin Luther King Jr. Day.
3
Empowers Local Leaders
Several years ago, Fernandez noticed that when she spoke with community leaders who came from other countries, they all expressed frustration about starting over in the United States. "These were successful business people in their own countries, but after coming here, they struggled to find their path and reestablish their power as leaders," Fernandez says, noting that she had the same experience. Fernandez began asking how AARP could empower Hispanics struggling in this way, and ultimately came up with the idea for Destino, a leadership academy that is now in its third year.
Partnering with Miami Dade College, Radio 88.3 FM, and Toastmasters, a nonprofit organization that has been helping the public develop speaking skills in local clubs since 1924, AARP began running a series of day-long workshops. Participation is by invitation only, with invitees chosen from local leaders and leaders-to-be who will likely have a positive impact on important social areas, such as education, health, and finance. The topics vary from community organizing to networking manners, but always touch on the three things Fernandez says are necessary for leadership development. "We've created a net that combines education, communication, and service to the community with AARP as a leader," she says. Ultimately, Fernandez hopes Destino will help Hispanic leaders and, by extension, Miami. "We want to create positive social impact that will make our community a better place in which to live, where people could age with dignity and purpose," she says.