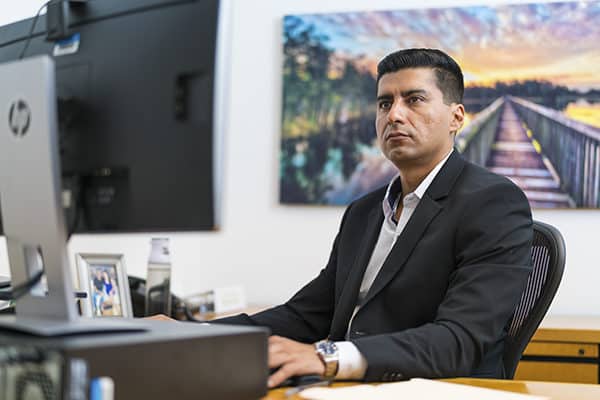 TVs may be thinner and viewing mediums more varied, but the magic of television remains constant. Like the Wizard of Oz, however, much of that magic happens behind the scenes. At Twentieth Century Fox, William Sevilla, executive director of digital manufacturing and distribution–TV mastering, works his magic.
"I think viewers would be surprised to know that a lot of hard work goes into making television available around the world," Sevilla says. "Behind the scenes, people grow grey hairs making sure the minute details are taken care of. This industry makes the impossible seem possible, but at the end of the day, it's about hard work."
The California native is the eldest of three children born to Arturo and Lourdes Sevilla, both natives of Mexico. Living in his grandmother Rosa's house, Sevilla grew up around an extended family and remembers being inspired by his uncle Armando and his extraordinary work ethic.
"He worked full-time in manufacturing but also worked in construction, restored classic cars, and worked as a DJ on weekends," says Sevilla. "But he was also a great family man and made sure to spend time with Grandma and his siblings."
It was also as a child that he became fascinated with television, particularly his favorite shows, Married with Children and The Simpsons. "I sat in front of the television for as long as my parents would let me," he says. "I had never seen shows like that and I remember wanting to find out how they worked."
As an undergraduate at California State University–Fullerton, he switched majors from business to radio, television, and film (RTF), landed productive internships at Dr. Phil and Cartoon Network, and began his career at Fox as a temp. "When I took Introduction to RTF, that's where I hit my stride," he says. "I found that I enjoyed coming up with project ideas, collaborating with classmates, and editing all together. It felt natural to me."
In a baptism by fire, he was quickly catapulted into the world of television distribution when his boss at Fox left for a month-long vacation. Because of his bilingual skills, he was hired to help oversee localization of the Spanish- and Portuguese-speaking markets.
"I would go through old purchase orders and find the contacts," he says. "I reached out to vendors to ask advice and questions. It was through asking question that I figured out my role. I got hired as a full-time employee after three months."
Now, he's come full circle, surviving multiple management changes and reorganizations at Fox. Today, he manages a team of his own, trains them on the process he developed along the way, and continually re-evaluates that process to finds ways to improve.
In the television industry, that fluidity of thought is essential, particularly with the growth of technology and the speed that it requires to remain competitive. Focused on the digital supply chain and post-production, Sevilla looks to outcompete other digital product providers like iTunes, Amazon, and Netflix—and not just in the United States but also in countries like France, Germany, and Spain.
"This industry makes the impossible seem possible, but at the end of the day, it's about hard work."
"In the tech area of TV distribution, every hour matters," he says. "The faster we can get a show out the door, the better. Once a show hits the air, it can be pirated, and if so, it loses all its value. It's important for my team to be quick so that other countries can create sound tracks and subtitles and get the same experience of getting something new, like a US audience."
This season Fox is handling fifty original series on different networks, including Homeland on Showtime, This is Us on NBC, and The Simpsons, the longest-running show on Fox with more than six hundred episodes.
According to Sevilla, it took a natural disaster to flip the industry on its head, specifically, the tsunami of 2011 that devastated Japan. Content had been distributed via videotape, but the process was disrupted when Sony, the chief tape supplier, could no longer produce.
"The shortage forced clients to switch over to taking shows digitally, and within a year, we had to reinvent the supply chain," he says.
At the time of the interview, Disney was in the process of purchasing Twentieth Century Fox. "Before, we were media a company that sold content," he says. "Now, we're turning into a tech company that sells content."
Sevilla relies on his team of thirteen to meet the challenge and happily mentors them.
"Even though we rely on technology, we ultimately depend on people first," he says. "People make these difficult deadlines manageable and make the workplace fun and exciting."