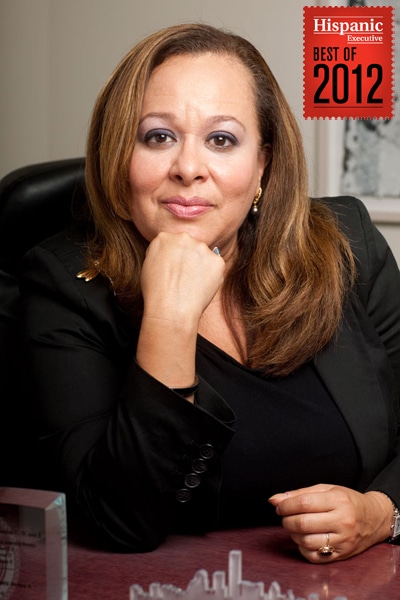 Education was huge in my family.  I'm from Colombia, and education was the reason my parents came to the United States. As the oldest of five, I felt an obligation to make my parents happy in that respect. Hispanics have very strong disadvantages educationally, so many of our kids are not even graduating from high school. If you graduate from high school, you're already a high achiever in our community. So, it's been extremely important to my career, having had parents that pushed so hard about education
I've always had an affinity for numbers. My mother was in finance; she was a bookkeeper and a [controller] in her company, so I was always around it. Because of my knack for numbers, I ended up staying in the area of finance and studied economics at Harvard University, eventually starting my career as an investment banker with Smith Barney.
What I like about finance for women is that you can always quantify what you're doing. Did you save money for the client? How much did something cost? Did you bring in revenue? The quantification aspect enables you to better measure your performance, so there's less room for subjective evaluation. It's very clear-cut, and in that respect it's very good for women. In fact, more and more women are developing an expertise in finance for that reason. When I started my career, there weren't very many minorities of any kind—including women—in this field. It's very different today.
I always thought I would run companies. I serve on the boards of several mutual funds, including UBS, Morgan Stanley/Citigroup, and Mercer. Serving on a board is running a business because you're supervising the people that run it. It's something I've enjoyed doing, and a lot of companies need directors with financial expertise, so that's been helpful to me.
I founded A.C. Advisory in 1995. It was the suggestion of Chicago Mayor Richard M. Daley. I started it to work with the City of Chicago, to help them on some bond financings. Since building on that relationship, I have expanded to include issuers like the State of Connecticut and the City of New York, and most recently the State of New York. I've had this firm for over 15 years. It's my proudest achievement because it's not just doing busy work. Everything I do shows up a year or two later as bricks and mortar—new schools, new roads, airports, transportation, etc. It's all for the public good.
The most important thing I've had to do is raise my girls. Their dad died when they were very little, so I've basically raised them on my own. The most important lesson I've tried to convey to them is to find happiness. If you're happy when you're working, it's so much more possible to succeed. People that are successful enjoy what they do, so they excel at it. That's what I underscore for them. For me, I enjoy working; I love being financially independent, and I can't imagine a world where Latinas don't work.
I've always believed you have to be involved with others beyond your immediate self. I've been fortunate to have opportunities to serve in leadership capacities for a number of not-for-profits, including the Ravinia Festival Association and the Girl Scouts. It's a sense of obligation and giving back, and it allows me to be a voice for Latinos when it's needed. It's important to me to be an example to other Latinos; we are united by our language and our culture, and it's important to demonstrate that you can succeed in the United States despite the strong discrimination against immigrants in this country.
Get to know all of Hispanic Executive's "Best Of 2012" Recipients here.