The Vikings—Norse carousers of the eighth and ninth centuries—were known for their brute strength and adventurous spirits. Viking Cruises—the Los Angeles-based, international river and ocean cruise line—thrives on a similar thirst for conquest. Norwegian businessman Torstein Hagen started the venture in 1997 with the purchase of four Russian ships. Through both organic growth and acquisitions, his river fleet reached fifty-two vessels in 2014.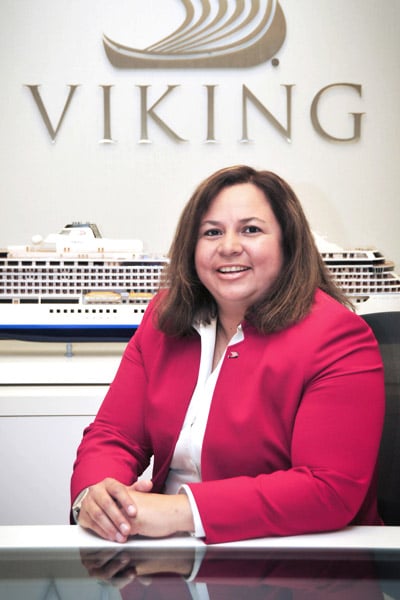 Martha Troncoza, Viking VP and leader of air operations, joined the company in 2007 and has witnessed much of the growth. "We saw the market looking for value, and we created a more inclusive product to match that. With the launch of our new Viking Longships in 2012, we truly began to rival ocean cruises thanks to better accommodations and amenities," she says. The market responded to Viking's strategy. The company inaugurated fourteen new ships in 2014 as river cruising grew annually by nine percent.
Since her arrival eight years ago, Troncoza has helped Viking's air department increase passenger loads from 16,000 to 180,000 annually. She attributes that success to her unique blend of education and experience. Troncoza—Viking's only Hispanic executive out of fifteen—was raised in Los Angeles by parents who never graduated high school. While still a teenager, she took a job with an airline and never looked back. As a high school student, the young Latina was taking flight reservations, answering customer service calls, and learning the ins and outs of pricing, itineraries, tariffs, and regulations as a desk agent.
After graduating from high school, she took a job with Princess Cruises as a front-line agent and learned the cruise business.  That same year, she was offered her first managerial role and decided to enroll in computer classes, where she discovered a passion for programming, using technology to create efficient processes for her department. She went on to get her undergraduate degree in psychology and earn a master's in finance.
Although she had then hoped to try something new, an opportunity arose at Viking that Troncoza couldn't turn down. She found herself back in the world of air travel and cruises. "I accepted the job because I knew I was really good at it, and I was given an opportunity in a  department that I knew I could change for the better," she says.
She set out to run Viking's air department as a small business, using her background in finance, travel, and technology to help her peers and colleagues grasp and manipulate numbers, budgets, costs, and quality. And while transforming the department, Troncoza also continued  with her studies. The VP most recently completed an executive education program at Harvard University.
At Viking, Troncoza leverages her unique skill set to address three issues: customer service, technology, and staffing. "We have to provide the very best level of quality," she says, adding that her staff constantly pours over booking information to make sure they provide the most direct flights with intuitive connections when necessary. They spend time on seat assignments and small details other companies overlook. Additionally, she works with Delta, Air Canada, and other top partner airlines to leverage her $300 million in annual spending to negotiate the best rates.
While addressing customer service, Viking Cruises' air department also focuses on technology. While growth is good, Troncoza doesn't want to simply hire as quickly as possible and "throw bodies at the process." Instead, she's found tech solutions to handle some processes without sacrificing product and quality. With these and other measures, Troncoza has automated 70 percent of what was once a fully manual and laborious process.
Lastly, Troncoza addresses staffing. To do so, she spends extra time training and mentoring so that front-line agents aspire for leadership positions. A third-party survey and other tools help her track development and satisfaction.
Viking plays to its strengths by offering tours of cultural powerhouses and historic centers—especially to baby boomers and other experienced travelers seeking enrichment and exploration. The most popular cruise is a fourteen-day "Grand European Tour" from Amsterdam to Budapest; other destinations include "Portraits of Southern France",  "Waterways of the Tsars" in Russia, and "Undiscovered China." Smaller vessels without all the bells, whistles, and Broadway shows of the big ocean liners allow guests to focus on the destination. "Let us take care of everything. Step off the ship, and walk fifteen minutes to the center of a top international city," Troncoza summarizes.
As Viking continues to grow, Troncoza and others in leadership are creating new itineraries and developing new strategies. She's in talks to investigate blending river and rail experiences to open destinations where river cruises are difficult. While she travels the world to support a wildly successful international company, Troncoza's thoughts stay anchored on her hometown of Los Angeles. "I was so focused on my own career for many years, and now it's time to give back," she says.
Recently, Troncoza started volunteering with underprivileged girls and sitting on the board of several organizations that support them.
"I want to show them what's possible," she says. "I want them to grow up knowing and believing that a Latina can make it in this country. That the American dream is really possible."