The Grammy-nominated musician remembers sitting before a contract, pen extended for him to sign on the dotted line. A musician since age eight, he played his first professional gig at twelve. He studied jazz and opera before becoming a writer, publisher, producer, and record label owner working with the likes of Julio Iglesias, Chayanne, and Enrique "Kiki" Garcia. Despite that résumé, Héctor Almaguer always hesitated at the slide of a contract across polished wood. That hesitation led him to pursue a degree in law.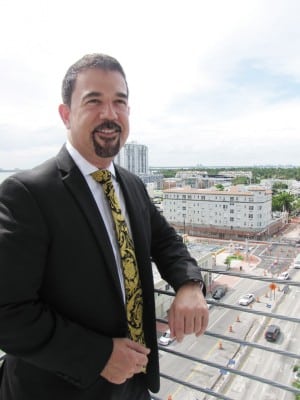 Almaguer enrolled in University of Miami's night program to study law, so he could understand the contracts he was asked to sign. He never intended to be a lawyer, but the self-described "creative guy in a lawyer suit" is vice president and general counsel at Viacom International Media Networks.
Just as Almaguer was graduating from law school, his record label ran into major challenges, as most do. He decided to take the bar exam while he continued pursuing his music endeavors. He passed, accepted a job at a small firm, and discovered that he enjoyed the practice of law. "Law is actually like music in many ways," he says. "Often you're still performing—just in front of a judge or jury instead of a typical audience."
It wasn't long before Almaguer found himself working more directly in the entertainment industry again. After starting his own practice, Almaguer developed a great rapport with creative clients whom he represented. That led to a job in original productions and acquisitions with HBO Latin America, where Almaguer worked as head of the business affairs section of the legal department. From there, he briefly worked at FOX before Universal Music Group tapped him to lead all of its business and legal affairs for the US Hispanic and Latin American markets. No sooner had he found his dream job than a merger killed the position. By then he had made fans within Universal Music Group and moved to Los Angeles, where he handled legal work for the company's TV and film productions, acquisitions, and distribution deals.
All of his eclectic experience came together fortuitously when Viacom approached Almaguer about taking over as general counsel of the Americas division. The role would move him back to Miami, overseeing its offices in Argentina, Brazil, and Mexico to handle its Hispanic channels in the United States, Latin America, Caribbean, and Canada. Almaguer manages all legal issues related to original productions, distribution deals, outside counsel, and regulation throughout more than 35 countries. In doing so, he gets to exercise his international legal and language skills in English, Spanish, and Portuguese.
As general counsel, Almaguer wears many hats, but he especially relishes the chance to be part of the creative process. "Viacom takes advantage of my creative skill set and lets me have input on pitch and creative meetings, something most GCs don't get to do." Viacom—which owns outlets like MTV, Nickelodeon, and Comedy Central—is a natural fit for the musician. "For me, music is like air. I couldn't live without either," Almaguer says. "And I've learned how music and good TV go hand-in-hand." As a lawyer, he dives deeply into music-related issues for Viacom and particularly enjoys their unique nature and complexity.
When it comes to leading his department, Almaguer takes another cue from his background in music. "I'm looking to create harmonies," he explains. He looks to lead his team in a way that makes them feel challenged but not overwhelmed, part of a team but self-sufficient, and secure but always looking to grow. "In this quickly moving market, if you're not moving up, you're moving down," he says. "You can't maintain a straight line for long in life. I want to keep growing, and my team members do, too."
Their challenge is to work with production companies, executive producers, internal and external clients, and companies with competing interests. The goal is to get them all to collaborate effectively. Each department within the company has its own set of needs that, like each instrument in an orchestra, must be heard but must not overpower the rest. When it all comes together, the company wins and the viewers win, receiving the great content they expect.
Although he misses some aspects of performing as a musician, Almaguer feels he is in the right place at Viacom. "This job combines everything I've learned and practiced over the past 30 years," he says. Viacom provides him with what he calls "a great playground." Almaguer still makes music in his free time—and now that it's not his job, he finds that he enjoys it in new ways.
EDITOR'S NOTE: After press time, Hispanic Executive editors learned that Hector Almaguer would leave Viacom to pursue some creative and business opportunities of his own. Hispanic Executive wishes him the best in his next career endeavors.