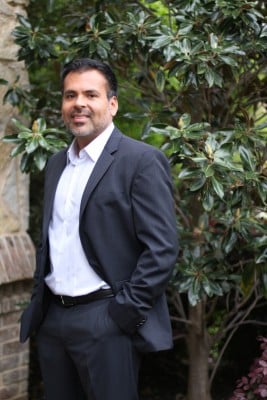 After years of working as an engineer, technology specialist, and consultant at companies ranging from Microsoft to Verizon, Adolfo del Valle found a well-matched career in the online travel sector. In this business, Del Valle has progressed from data warehouse operations manager to director of enterprise data warehousing at the Expedia organization, which now includes Travelocity. Besides the fact that the company headquarters was just five minutes from his home, "the position combined my two passions: technology and travel," he says.
Born and raised in Peru, Del Valle moved to the US to attend college at the University of Utah, where he studied economics and IT. He went on to work all over the country, from Washington to California and eventually Texas, where he also earned an executive MBA from Southern Methodist University in Dallas.
Though Del Valle's role with Expedia in "data warehousing" might sound overly technical, he describes his objectives in simple terms: "to collect massive amounts of data, centralize all of that data, and make it readily available so management teams can use it to make informed decisions and find insights to move the business forward." In addition, one of the main goals, according to Del Valle, is to improve ecommerce website functionality and gain a better understanding of their customers' needs.
When Del Valle started at Travelocity in 2008, he led a small team of six data warehouse developers, database administrators, and programmers. Over the next six years, his team expanded to as many as thirty-two people. He was leading data architects, developers, and project managers working in operations, database development, and analytics across three continents: in Bangalore, India; Krakow, Poland; and the US.
One of Del Valle's chief challenges is the massive amount of data coming from multiple sources that he and his team must process every day. He must also be quick to evaluate and adapt to constantly evolving technologies. "You can't stand still," he explains. "There is a constant need to keep learning and adapting to new technologies, and you have to be able to implement them successfully before your competitors to be able to gain an advantage." On the other hand, he warns, "We can't just buy it because it is the latest [technology]," he notes. "We need to understand how it can make our business better."
Del Valle has also had to contend with a recent seismic shift in his industry; earlier this year, rival online travel agency Expedia purchased Travelocity. As with any transition that involves merging multiple teams together, working through this was difficult, as he and his team faced concerns about downsizing and reorganizing. "Through all of the transitions, I did my best to be honest with the team as to what was going on," Del Valle says. "And I worked hard to keep the focus on how important it was for us to ignore the noise of change and deliver the highest quality work on time and on budget in order to enable a successful transition."
"The more I learned, the more hungry I was to go out and explore."
And this is exactly what he did. Over the last year and a half, Del Valle and his team stayed focused on migrating data from old platforms to new technologies as well as to Expedia platforms. "Though this may seem like a simple task, change like this requires a lot of coordination between us, the sources that feed us data, as well as those who access our data," he says. "Projects like this require detailed planning and execution to ensure no gaps are left where we could lose information or create inaccuracies in the data." Del Valle prides himself on completing the work ahead of schedule and accurately.
As Del Valle looks ahead, he sees his role only becoming more crucial as "big data," data science, and analytics become an increasingly vital part of every business. While data storage systems have become cheaper over the years, the challenge moving forward, according to Del Valle, "is who is going to build the best applications to interpret, process, and present this data that continues to grow exponentially while also becoming more complex."
Despite the fact that the jobs in data management and analytics are growing in number and importance, Del Valle admits he doesn't see a lot of other fellow Hispanics in his field. "Tech corporations need to continue pushing hard in our schools to promote technology, math, and science," he says.
He also would like to see more Hispanic participation in the field. "There are good engineering schools in Latin America to supply corporations with graduates, and I'd love to see more Latin American locations as offshore alternatives," he says. "The growing presence of technology corporations in Latin American countries will encourage those living there to become more involved in the field," he says.
Del Valle, of course, stands out as a perfect example of what's possible. As a kid growing up in Lima, he was "mesmerized by what was going on in technology and the first microcomputers," he recalls. "The more I learned, the more hungry I was to go out and explore."