When people say Tanya Saracho is a "new" playwright, they are not exactly correct. "The world just started taking me seriously after 12 years of doing theater," Saracho says. "People ask me where I came out of but I've been here." Also, the title Chicana Chekhov, bestowed to her by critics, is a gracious gesture but it is an alliterative misnomer. "If I was Chicana, I would be so proud," she says. "I have a lot of the same belief systems as Chicanismo but I'm Latina and very much Mexican and Americanized but not American since I'm not a citizen."
Originally from Sinaloa, Mexico, Saracho moved to Texas in the late 1980s and later to the Windy City where she cofounded Teatro Luna, an all-Latina theater ensemble. Since then, her plays Our Lady of the Underpass, Kita y Fernanda, and The House on Mango Street, an adaptation of Sandra Cisneros's beloved book, have received glowing reviews.  Her art for storytelling and sharp writing dominate the stage and has moved her into the national spotlight. "I feel like I'm in this new generation of playwrights," she says. "I couldn't be where I am if women like Migdalia Cruz, Cherríe Moraga, and María Irene Fornés didn't open the doors for me."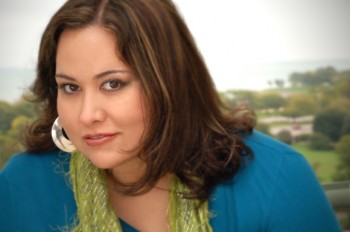 In April 2011, more praise followed Saracho for her first commissioned piece with Teatro Vista, El Nogalar, a retelling of Anton Chekhov's The Cherry Orchard. She remaps the story onto a modern Mexican family as their way of life is threatened by encroaching drug cartels, violence, and economic upheaval. The critical acclaim has solidified her as brand name in Chicago and as an emerging powerhouse in American theater.
Eddie Torres, cofounder and artistic director of Teatro Vista, describes Saracho in one word: amazing. "Tanya is doing some of the most comprehensive, entertaining, and politically savvy writing that I've seen," he says. "She's writing roles for women that are smart and funny, but poignant and political. She doesn't apologize for who they are, where they're coming from, and what they're saying."
Producing new and provocative plays is a gamble for any theater company, but Torres believes the rewards outweigh the risks. In 2009, the company produced Saracho's play Our Lady of the Underpass, which incorporated interviews of people who believed they've seen the Virgin Mary. The play helped to establish Torres and Saracho's company as forces to be reckoned with.
Bending Barriers
Taking those risks and establishing coproduction partnerships has enabled Teatro Vista to thrive within a stiff economy and to celebrate 20 years as a theater company, Torres says. He credits both decisions as major reasons for the company's staying power. "We've been able to survive by sharing the wealth and sharing the debt." Teatro Vista and the Goodman Theatre launched a three-year producing partnership dedicated to new work by Latino writers. Saracho's El Nogalar marked the beginning of this joint venture.
UPDATE:
By press time Tanya Saracho was a resident playwright with Teatro Vista but has since taken on the role as resident playwright emerita.
As a resident playwright of Teatro Vista, Saracho and her characters have ample space and opportunity to bend the barriers of not only the landscape of American theater but to show the diversity and the complexity of Latin Americans that television fails to capture. "When people watch TV or see a commercial, it is geared toward a couple of images of Latinos," she says. "For my writing, I want to complicate the image of the Latino. If I do it on the stage, maybe it will complicate the perceptions of audience members so they will not measure us as the pregnant teen, the maid, or the prostitute."
Nowadays, Saracho finds herself busy with multiple commitments—directing, attending readings, and completing commissions. Chicago's nationally recognized Steppenwolf Theatre Company has commissioned Saracho to write two new plays as a part of its Andrew W. Mellon Foundation grant. But as she reaches new heights, Saracho feels the need to make sure other Latina playwrights are on stage alongside her. "The Latina playwrights are out there but they are not getting produced," she says. "I don't know why we aren't making a bigger dent in the landscape."
According to Saracho, the lack of space for artists to experiment and perform is the main problem, so she is spearheading The Ñ Series, a series of curated readings by new Latino directors, playwrights, and writers from the Latin Diaspora. The Ñ Series is the first phase of The Ñ Project which was designed to provide creative spaces for Latino artists. "I want to provide an exploratory space where we can nurture that training and provide a community," she says.
She believes all of the elements are aligning for Chicago to be the nexus of the American Latino theater movement. The Ñ Series, along with the city's supportive theater community, can create the perfect incubator and platform for new Latino voices. "I have to do something bigger than myself," Saracho says. "It is my hope that I have a hand in that movement."