Experience and time are far too often the only true ways of knowing whether a choice was the right one. For Loyola University Medical Center President Tad Gomez, losing out on a promotion to VP earlier in his career seemed—at the time—like a sign that striving for new experiences beyond his pharmacy background might be the wrong move.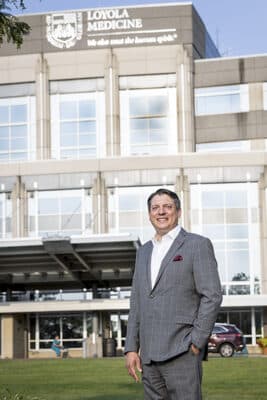 Little did Gomez know, that loss would help him gain the essential leadership experience that would eventually land him a coveted role as president and confirm his leadership of one of the country's premier medical centers.
Now, Gomez and the leadership team at Loyola University Medical Center are using everything they know to evaluate the hospital's performance and chart a new direction forward, one that's centered on doing what Loyola does best: treating the body and the spirit.
The Role of a Good Mentor
Gomez's journey into leadership may have never happened had it not been for one of his mentors. "I always thought I would be in the pharmacy space," Gomez explains. "I didn't ever see myself operating outside of it. But the CEO from one of my previous positions asked me a question that always stuck with me. He told me that I'd done great things in pharmacy, and asked what made me think that I couldn't do great things in other areas."
That mentor encouraged Gomez to apply for a leadership position that Gomez wasn't sure he was ready to undertake. Gomez made it to the shortlist but ultimately lost out. But when a leadership shakeup later hit the C-suite, the position Gomez had vied for was suddenly eliminated. He had been saved by the loss.
The new leadership team gave Gomez the opportunity to start overseeing new departments, including respiratory care, occupational therapy, physical therapy, and, eventually, the health system chaplains. "That was a particularly great experience because I knew if I wanted to someday lead a health system, I would need to have experience on both the clinical and nonclinical side," Gomez explains. "And it was nice to know I had a whole department praying for me."
Another C-suite turnover occurred, and the position Gomez had applied for suddenly came back into the picture—and the experience he had gained by not getting the job helped him win it that time around. "Some of it was right place-right time, some of it was hard work," Gomez says. "But I also had to make that leap of faith, and I'm glad I did."
The Great Differentiator
That leap of faith helped bring Gomez full circle: a self-described "cradle Catholic," Gomez got his start in Catholic healthcare and considers his move to Loyola University Medical Center, one of the most well-known Catholic hospitals in the country, a sort of homecoming.
Loyola Medicine, Gomez explains, encompasses both Loyola University Chicago Stritch School of Medicine and Loyola University Medical Center, which share a campus in Maywood, Illinois. In 2011, the medical center was sold by the university to Trinity Health, a large, national Catholic health system, and now operates as a separate legal entity. When Gomez joined the team, he was determined to help rebuild a close relationship between the medical center and the university based on their shared historical roots.
Of course, there was also work that needed to be done to improve the performance of the medical center. "There are a lot of great people here with amazing institutional knowledge," Gomez explains. "But I think everyone recognized that we needed to get back to the basics of doing the things that put us in the upper tier of health systems in the nation."
That back-to-basics effort includes two key elements. The first is a renewed focus on safety and quality metrics. "In today's healthcare environment, everything is about value-based care," Gomez says. "The first part is just about getting back to what we're known for, and that is doing more, aspiring to be more, and continually being better."
The second component of the plan focuses on what Gomez has long known about the health system but wants emphasized. "We know that people come to Loyola because they expect great care, but they choose us because we're going to do more," he says. "We're going to treat a physical or mental illness, but we also care about their spiritual health."
That is not to say that the hospital only treats people with Catholic beliefs. But that religious foundation makes the hospital a welcoming institution where more than two dozen different spiritual leaders are available to treat patients of any faith.
"That welcoming atmosphere is why my whole family is treated here," Gomez says. "It's easy to say that it's because I'm the president here, but it has nothing to do with that. We, like most families, have a choice. We don't live close to Loyola, but we come here because we know people here care about more than just treating your body. Their care goes beyond that, and it is a phenomenal differentiator for me. It's why I believe so strongly in this place."