The couple had talked about marriage before that night, of course. Pat Pulido knew the question was coming, and she assumed her then boyfriend, Manny Sanchez, was planning to pose it over an intimate dinner, where the two could enjoy great food and high emotions.
"Well, it was far from that," Pat says with a chuckle.
Pat had flown in from St. Louis to attend an event with Manny at the Chicago Club. The 120-plus-person gathering was a combination fiftieth birthday party for Manny and an announcement that he was receiving the Raoul Wallenberg Award for humanitarian service (which now draws an eye from its shadowbox on the wall of his office). Unbeknownst to guests—and to Pat—the event would also serve as a public venue for a proposal.
"I go to the mic," Manny recalls, "and I asked, 'How, when, and where?'" The audience was confused, so he repeated himself, "'How? Hopefully, like this. When? Now. And where? Here! Pat, will you marry me?'" and took out a ring box.
Everyone was stunned, Pat included. She stood up beside him, grabbed his jacket, and said, "How could you do this to me?" She took the box without opening it, said, "yes" into the mic, and only later did she remember to look at the ring.
Manny, founder and managing partner of Sanchez, Daniels & Hoffman LLP, and Pat, president and CEO of Pulido Sanchez Communications, embody the idea of a power couple. Both belong to multiple boards across the country and are heavily involved in philanthropic and political matters within Chicago. Asked how they manage it all, their answer isn't a grand mystery. "We're partners in life," Pat says. "It sounds so hokey, but it's true. We're partners as a couple, as parents, politically, ethically, and in our pride in our Latino heritage."
MANNY
Managing one of the nation's largest certified minority business enterprise law firms is no small task; it's a long list of responsibilities. Manny's firm handles a number of practice areas in tort, contract, commercial, employment, and statutory controversies.
He is one of just five Latinos in the prestigious Commercial Club of Chicago, the oldest business club in the city. He sits on the boards of the Economic Club of Chicago, Chicagoland Chamber of Commerce, Steppenwolf Theatre, Ounce of Prevention, Gems World Academy Advisory Board, and various other organizations that involve work with children, the arts, and Northern Illinois University (NIU). He was appointed to NIU's board of trustees in 1995 and served again in 2001. "Known for his passion, ambition, intellect, and extraordinary devotion to his alma mater, " the college's website boasts, "Mr. Sanchez is the quintessential alumnus of NIU."
Manny's reach stretches beyond Chicago's borders, as well. In 2011, he received an appointment from President Barack Obama to the President's Advisory Commission on Educational Excellence for Hispanics, where he serves on the early learning subcommittee.
"I want to see a generation of Latino power couples. There's a dearth today, but in the next generation, you'll see many more."
–Manny Sanchez
When Manny met Pat, he hadn't planned to get married again. His firm was thriving, and he'd built a full, enviable life in Chicago. Now, when he tells the story of his proposal, he still gets choked up. "I didn't think it would happen again," he reflects. "But I'm so happy. I'm married to this beautiful woman, and our life together is wonderful."
Ask him what's coming up next, and you won't hear a plan to slow down any time soon. Manny wants to increase the visibility and profile of Latino business leaders, focus on early education for Latinos, and continue to support comprehensive immigration reform. This is the legacy he wants to leave, and he's well on his way. "I want to see a generation of Latino power couples," he says. "There's a dearth today, but in the next generation, you'll see many more."
PAT
Pat moved from St. Louis to Chicago after she and Manny were engaged, but she's no stranger to the Windy City. Her first position with Anheuser-Busch Companies was as corporate relations manager in Chicago. Today, Pat has more than 25 years of experience in strategic communications, which she leverages as president and CEO of her own firm, Pulido Sanchez Communications. She serves on the corporate boards of ITxM/LifeSource Congressional Hispanic Leadership Institute, Academy for Global Citizenship, and the National Museum of Mexican Art.
Pat had thrived as a working single mother for seven years and married Manny when her daughter was 10 years old. That role came with "a lot of learning curves," and it didn't stop once Pat was married. "My career has had ebbs and flows, like anyone's, and navigating how to support one another when we both have had such demanding careers has been challenging at times, but we ultimately found the right balance."
Pat's firm works with a number of high-profile clients to use applications such as Facebook, Instagram, and Twitter to strengthen a company's brand and interact with its consumer base. Among these clients are the Consul General of Mexico, Crown Imports, and the Hispanic Association on Corporate Responsibility (HACR). Though Pulido Sanchez Communications started as a traditional strategic communications firm, it has grown to include an arsenal of tools, such as focus groups, strategic planning, and the integration of innovative social media technology.
"We're partners as a couple, as parents, politically, ethically, and in our pride in our Latino heritage."
–Pat Pulido Sanchez
Like her husband, Pat has a number of personal goals and a focus on strengthening the Latino community. "I want to continue on my path to make my work more meaningful," she adds. Pat recently invested in DonorPath, a Chicago-based technology company that provides innovative software for nonprofits to manage, grow, and sustain their donor base. She will soon serve as the Chair of the Capacity Building Fund at the Chicago Community Trust for DonorPath. Pat hopes to leverage her experience, relationships, and networks to help the company make a social impact. She wants to apply her entrepreneurial mind-set to help DonorPath's technology spread to nonprofits that need it. "The Latino community is extremely underresourced and underrepresented in both classrooms and businesses," she says. "Through my venture philanthropic work, I want to bring more awareness to the need for technology in the Latino community."
MR. and MRS.
Step into the Sanchez home in the Chicago suburb of Lisle or their condo in the city, and you'll see a collection of artwork and knickknacks from around the world. When the two travel, they interact with the world around them and pick up mementos along the way. At home they're comfortable enough in one another's company to focus on each other and keep to themselves.
The couple's average weeknight is spent in their Chicago condo, and it drifts between the mundane—Manny picks up something from Mariano's, Pat cooks, and they watch TV together—to the glamorous—a political, civic, or philanthropic black-tie event after work, during which both weave effortlessly through a crowd that knows them well. Fridays involve a trip to the country club for dinner or cocktails with friends, and they finally relax once they're out in the suburbs for the weekend.
Well, in theory.
When we met one week in October, their schedules seemed like a whirlwind, and it was one of many such weeks they'd experienced in the last year. First they attended a gala thrown by the Kevin Spacey Foundation in Washington, DC and enjoyed a concert given by Spacey to support youth in the arts. Then they headed to New York City for dinner at the Rockefeller Center, joining guests including former president Bill Clinton, and participated in a powerful discussion on the global role of education. Next, they spent two days in Orlando, Florida for a golf outing and dinner hosted by the Kate and Justin Rose Foundation, which fights childhood hunger and supports early education. In between all of these appearances, Manny and Pat drove to Ann Arbor, Michigan, to visit their daughter, Andrea.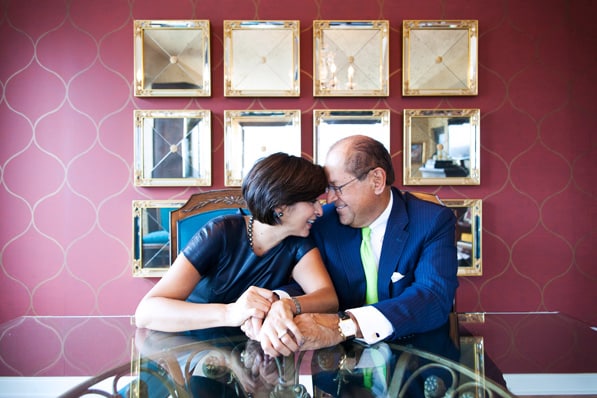 Manny and Pat each mean many things to many people. That their week was focused on social welfare as well as their family is indicative of their commitment to improving the lives of families everywhere. They don't use the term "step-child," though both had their own children before their marriage. They are just a family, and they've worked hard to cultivate their personal relationships despite heavy outside pressures. "Women always ask me, how do you make time to make it all work?" Pat says. "It didn't happen overnight, and it involves a lot of respect for one another and for each other's work."
Manny and Pat are a fixture in Chicago's philanthropic, civic, and political activism scene, and one rarely appears without the other, unless they need to make simultaneous appearances for different organizations. Both recognize the other as a partner in business and philanthropy as well as in their marriage, and they serve on boards and in capacities that complement rather than overlap or work against one another.
That's not to say they've never been competitive. Manny is a lawyer, and Pat is in business; there was natural competition between them in the beginning. "Then you grow comfortable with each other," Pat says, and she smiles at Manny. "You want to see each other succeed and grow."
When the two married, they chose excerpts from poems to include in their wedding vows. Among them, Pat selected a verse that included the phrase "utterly content."
"Those words are so perfect to me," Manny says. "It's so important to have that sentiment in your life."
Pat nods. "And I am," she agrees. "I am utterly content."