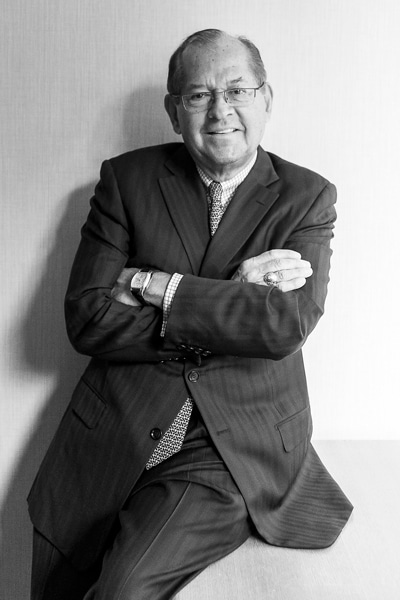 "I graduated from the University of Pennsylvania Law School and worked at Hinshaw Culbertson for 13 years before deciding to open my own law firm—now called Sanchez Daniels & Hoffman. We are the second-largest minority-owned law firm in the United States.
I had taken advantage of opportunities to join some organizations with other lawyers, but wanted to expand my network farther than just colleagues. That's when I found the Executives' Club of Chicago. It is a members-only club of business leaders, focusing on providing members with exposure to like-minded individuals from around the country. It was the first non-law-related organization I joined.
Twenty-five years ago, I wanted to grow my business. I could see that I'd have to mingle with folks on the business side of the equation to do that. I first heard about the Club when I went out to meet a claims person from McDonald's who said he was going to an Executives' Club luncheon. I remember the day I was accepted as a member. The CEO called to welcome me to the club. Soon after, I got a call from the Chairman of the Club, Art Velasquez, the only Latino member of the board. He was stepping down and wanted to nominate me to take his place. I am privileged to still be on the board.
We do a lot of luncheon and breakfast events, including a highly respected women's breakfast series—at which women business leaders candidly share insight. Men can also attend.
Speakers are usually CEOs who share success stories, strategies, and business plans. One recent speaker was the CEO of a company—both while it was publicly held and after it had gone private—who said that when it was publicly traded, he spent a lot of his time dealing with regulators, compliance issues, etc. Now he can spend that time on growing the business and strategizing, all those things that create more jobs and more profits. I am continuously inspired when I am able to learn new insights from such impressive leaders.
We've had wonderful speakers: Chris Matthews of MSNBC, Robert Iger of Walt Disney, Bill Gates. Each year we hold a global signature luncheon and name a Person of the Year. It could be someone from anywhere in the world. We've secured some of the most visible, successful, high-profile executives for the global event, such as [International Monetary Fund managing director] Christine Lagarde.
The Executives' Club of Chicago at a Glance
Founded: 1911
Number of members: 2000
Mission: To connect Chicago's business community to business leaders from around the country; to provide access to networking opportunities and knowledge/insights
About: The Executives' Club of Chicago is the city's premier executive membership and networking organization. For more than 100 years, The Club has served as a platform for executives to build relationships, share ideas, develop new business opportunities, and participate in world-class programming. The Club helps executives develop professionally and prepares the next generation of business leaders for success.
One clear benefit to becoming a member of the Executives' Club of Chicago is networking. You gain exposure to over 1,000 business leaders from all over Chicagoland at an average event. Other benefits include the nuggets of knowledge you gain just by listening at these events. You get exposed to unanticipated ideas—then you say to yourself, 'That's something I should implement going forward!'
Here's an example of something I learned—and applied—from an event. I'm old school, so I didn't agree with the "business casual" concept. Then we had a speaker on the tech side who was wearing jeans and a long-sleeve shirt, no jacket. Someone asked if he felt his clothing sent the wrong message to his employees, and he simply said that he didn't care what his employees wore as long as they were productive. From that day forward, I let my law firm go to business casual—though everyone had to keep a set of business clothes at the office in case they were going to court.
As a member of the board, I strive to secure more diverse speakers for our programs. There are relatively few Latinos in really high-level positions, but we work to cultivate those that are to come speak to our members.
From my standpoint, it doesn't seem like enough Latinos, especially the younger ones, see the value of the Club. They see it more as an expense than a benefit. That's a mistake. More than any other group, young people should seek membership so that they can interact with possible mentors. I understand that it's not easy to get people out of their routine. I encourage other Latinos to experience the benefits for themselves.
I was recently honored to introduce Justice Sonia Sotomayor at a breakfast event, and I invited several Latino business friends to attend. There were probably 100 Latinos in the audience that day, making connections with one another.
The truth is, to step into the next level in any sector of business—whether you're a CPA, a lawyer, or a doctor—requires expanding your networking circle. For me, the Executives' Club of Chicago was the place to do it."