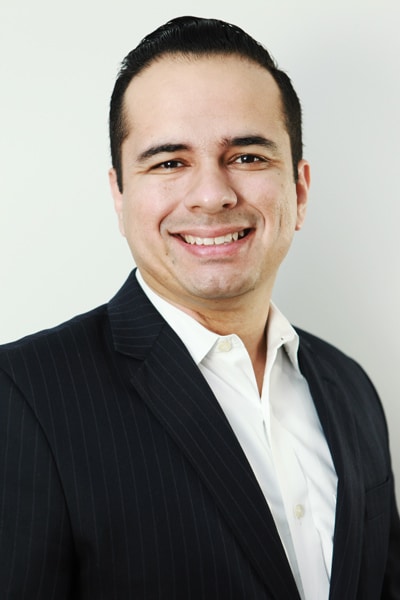 When a Pollo Tropical location recently needed fast repairs, it was Jorge Rodriguez's job to get the fast-casual restaurant back up and running—in 24 hours. Luckily, the director of facilities was up to the daunting task, largely thanks to his empowering style of management, which also helped him tackle a recent upgrade to the entire Pollo Tropical chain.
Rodriguez oversees the maintenance, operations, and improvements of the chain's 156 restaurants. There are currently locations in Florida, Georgia, and Texas, with new ones in the works. "Whether it be as extreme as a car crash that demolishes a good portion of a restaurant, or something as mundane as a small pothole in the parking lot, my days vary," says Rodriguez, who joined the Miami-based company this past January.
Pollo Tropical recently launched a strategic renewal plan, revitalizing the brand in core markets with key facility improvements. Rodriguez helped devise a master capital plan as part of that effort, and it encompasses everything from roof replacements to parking-lot refurbishments to new restaurant equipment and other enhancements. "We did a massive survey of all of our sites and identified many opportunities," Rodriguez says, describing his job as asset management, which involves looking at the entire building envelope to improve its physical and operational elements. "We are replacing 35 air-conditioning units and two parking lots. We want to be ahead of the curve instead of chasing these issues."
He directs a team of four regional facilities managers and more than 25 field technicians in a style he describes as "servant leadership," which he defines as ensuring that others' needs are met first. "It's about removing barriers in order for people to do their jobs effectively," he says. "I want my field teams fully empowered, and I want to create individual leaders."
Rodriguez is at the forefront of his profession, using data analysis to evaluate thousands of work orders a month, uncovering patterns and connections that improve efficiency. "The industry is on the cusp of a data revolution, shedding its break-fix mentality for a data-based approach that identifies issues and opportunities," he says. "We break everything down by the trade and vendor, analyzing the data to diagnose issues so that we are prescriptive instead of reactive in our responses."
Rodriguez estimates that he spends most of his time collaborating and partnering with different divisions to support company initiatives such as the renewal program. His team also works closely with Ameritech Facility Services, one of Pollo Tropical's general contractors, to help improve its facilities. "They are working with an aggressive timeline and allocating a lot of resources, doing much of the work overnight to prevent restaurant closures for improvements," Rodriguez says.
"The industry is on the cusp of a data revolution, shedding its break-fix mentality for a data-based approach that identifies issues and opportunities."
—jorge rodriguez
The renewal program includes the replacement of dining room chairs, menu boards, roofs, and parking lots,  as well as the overall enhancement of back-of-house operations. "We're already seeing the initiative's impact; employee morale is up and our customers enjoy a more pleasant dining experience," Rodriguez says. "We are getting back to the heritage of the brand, the essence of what made Pollo Tropical so successful."
Founded in 1988, Pollo Tropical evokes both the comfort of a home-cooked meal and a sense of Latino heritage, making it a South Florida institution, by many accounts. Rodriguez points to a recent BuzzFeed article that asked, "How Miami Are You?" in which several readers responded that they ate at Pollo Tropical as proof of their "Miami-ness." "I emailed my marketing director and asked if we sponsored this, which we did not," Rodriguez says. "People have grown up eating Pollo Tropical for almost 30 years. The brand is part of their heritage. It's comfort food and nostalgic, with a remarkable price point."
Rodriguez remembers eating Pollo Tropical himself as a child growing up in Miami, and he takes pride in being part of an institution embedded in the heart of city. "Pollo Tropical is chicken, rice, and beans at its core, and that is the food that we ate at home," he says. "When I was growing up, my mom worked late and often would bring home Pollo Tropical for dinner, which was like home-cooked food. It's a gift to work here because people recognize the brand and have warm feelings about it."
The New Jersey transplant started on his career path in Miami while in high school, working retail at Old Navy clothing stores and advancing up the retail chain of command to office manager and, eventually, facilities manager. He later worked in a variety of retail, restaurant, and fine-dining establishments that exposed him to many facets of the facilities-management industry. "What has made me successful is not being shy about taking on new challenges," he says. "There are so many different components to facilities management. I suggest doing it all, from pulling data to assisting the marketing department, and don't be afraid to ask for help. If it's an area that I'm not too familiar with, I will ask for coaching to get the job done. By asking for help, you open up more opportunities. Training and exposure are essential to this profession."
With new Pollo Tropical stores opening soon, Rodriguez's plate is full of opportunities to grow the publicly traded company and foster its deeply rooted heritage.