To whom much is given, much is expected.
This belief is ingrained in Phyllis Barajas and in the work of Conexión, the ten-month executive mentoring and leadership program she founded upon the principle of successful Latinx leaders giving back to elevate the next generation. When Hispanic Executive last spoke with Barajas, in 2015, Conexión was primarily focused on midcareer Hispanic mentees. Today, the program has added a new arm: an early-career division, which launched an eight-month program in the 2018-2019 season.
"We're very excited," Barajas says. "This is our first cohort, and we're going to learn a lot from these amazing and talented early-career mentees. They are phenomenal."
The ten early-career mentees—called "conexiónistas"—range from twenty-three to thirty years old and represent almost every country from Mexico through Central and South America. They possess many talents to contribute to the workplace, Barajas says, but all they lack are the right connections, sponsorships, and confidants—also known as "social capital"—to help them discern career moves.
Social capital is the model for Conexión. In the early 1990s, Barajas worked for the now-retired Harvard University professor Robert D. Putnam, who is a proponent of the concept, she says. In her work with Putnam, she learned that those who have a well-developed social network of value succeed more than those who don't.
The idea of social capital is true for communities, organizations, economies, and countries. "The better connected you are and the better support system you have, the more successful you will be economically, socially, and emotionally," she says.   
From the standpoint of the mentor, it's all about giving back—fulfilling the aforementioned adage. Barajas—a first-generation Mexican American born and raised in Omaha, Nebraska, who earned her master's degree in education from Boston University and has received numerous awards and recognitions—shares this perspective. "What point is there in having lived my life, unless I do something with it?" she explains. "To me, mentoring is an opportunity to support, influence, and impact others. It's about sharing what you have."        
Barajas has a track record of making a positive difference in increasing the much-needed visibility and representation of US Hispanic/Latinx professionals across all leadership positions and in all sectors. Indeed, that was the impetus for creating Conexión. Since 2005, the Boston-based nonprofit has targeted Hispanic/Latinx professionals who are at the midcareer level to help accelerate their advancement to upper management and executive levels.
Prior to founding Conexión, Barajas witnessed how Hispanics, despite being the second-largest demographic in the country, were absent and marginalized across all sectors as her career took her to Washington, DC; New York; and Boston. Upon moving to Boston, she and a group of social entrepreneurs sat down to brainstorm a possible solution. "Increasingly, people are going to look to our demographic to fill the talent pipeline," she recalls discussing during that meeting. "We can't wait and focus on kids, so we have to focus on midcareer people who are pious to take on those leadership roles. That's why we chose midcareer."
"The better connected you are and the better support system you have, the more successful you will be economically, socially, and emotionally."
Executive mentors then became the focus. Conexión looks for mentors who already have experience in mentoring formally and informally, are active within their communities in addition to their day job, and are willing to commit their time and focus to meeting at least once a month with their midcareer Conexión mentee for the duration of the ten-month program.
"This is a reciprocal relationship. Your job is to be a role model, focusing on success. Engage with the mentee in an exchange of ideas, thinking out loud, and help this person think about the next phase of their career," says Barajas, who also notes that the mentors do not have to be Hispanic. In fact, many of Conexión's mentors are Caucasian men who have never mentored a Latino before but are happy and willing.
This speaks to the other side of the mentor-mentee relationship. "We say to the mentees, 'This is your opportunity to really help this individual get greater insight to what the world looks like from where you sit in your organization,'" Barajas explains. Mentees are to remember the reciprocity—their mentor has something to gain, as well.
With its new division, Conexión's plan is to continue the successful work it has achieved for its midcareer program and apply the same concept of social capital to the early-career program. "My hope is that the results will be faster and better for the early-career, to get them connected sooner," Barajas says.
The goal is for conexiónistas to finish with a more robust network of professional connections that may even flourish into long-term friendships, along with a feeling of responsibility for the future of the country and of being compelled to accomplish great things. "We want mentees to have broken out of their workplace silo as a result of having this mentor," she says. "Many have gone on to make a difference in ways that they never would have."
Barajas recalls the success of a woman mentee who graduated from the program, who expressed gratitude for having met people on boards and commissions, which was facilitated by her mentor, a retired CEO. "We know that these connections are what makes the world go around," Barajas says, "and we will work to make change happen."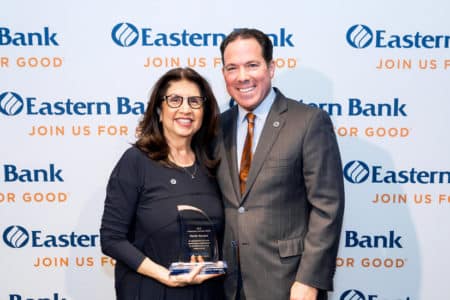 Community Advocacy Honors
Boston-based Eastern Bank—the nation's oldest (since 1818) and largest mutual bank—has been a big supporter of Conexión since day one. In honor of Hispanic Heritage Month 2018, Eastern Bank awarded its first Community Advocacy Award to Phyllis Barajas. The award recognizes those who dedicate their time and talent to addressing the needs of the community.
"I was very honored," says Barajas. "I am the first person, the first Latina, and the first Latina Community Advocacy honoree that Eastern Bank has had in 200 years. My hope is that other companies will replicate this strategy in terms of engagement and social and economic commitment to the growing Hispanic/Latinx demographic."