I learned almost everything I needed to know about integrity while growing up in a small town outside of Fresno, California. My potential then developed through higher education.
My parents both came from large Mexican-American families. After high school, my father went to trade school while my mom went to a beauty college. They eventually started their own business in real estate. The two of them strongly instilled the importance of higher education in preparing my sister and me for our future. In our family, attending college was not an option, it was a given.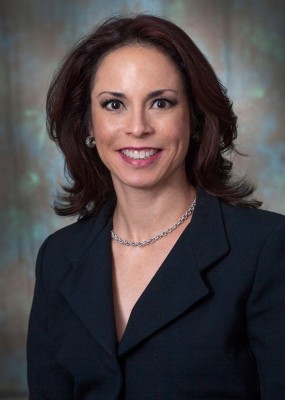 In high school, playing competitive tennis and other extra curricular activities taught me life lessons that I treasure today, such as how to be a good sport, whether you win or lose.
I studied economics at California Polytechnic State University, San Luis Obispo, and attended law school at the University of California, Davis. At the start of my career, I worked for a few different law firms in Los Angeles but felt an immediate connection to labor and employment law. About 10 years ago, I joined Northrop Grumman Corporation, where I provide counsel on matters related to employees such as hiring, managing, and ensuring compliance. I specialize in discrimination laws, wage and hour issues, leave laws, accommodating employees with disabilities, and religious beliefs.
One of my main attractions to Northrop Grumman was its reputation in the community and how much it values its employees. After joining the company, I realized its high level of commitment to diversity and meaningful inclusion. I also discovered how much the company supports education within the community, especially in science, technology, engineering, and math programs. In 2013 Northrop Grumman contributed in excess of $40 million in philanthropic donations through its charitable giving programs, the Northrop Grumman Foundation and the employee charity organization. Our law department has also developed community, pro bono, and diversity programs.
Philanthropy has also always been a priority in my family. As a member of the Los Angeles Women's Giving Circle, I joined my peers in pooling money to make contributions to nonprofit organizations that are dedicated to the financial independence and economic self-sufficiency of women and girls. Many of these organizations serve those who are at risk and have been affected by homelessness, domestic violence, substance abuse, or gang involvement. In 2013 we raised $56,000 for six grants.
The Mexican American Bar Foundation is a scholarship foundation where I serve and chair its annual fundraising gala. At the 2013 gala, we awarded 31 scholarships, of at least $5,000 each, to law students. I am honored to support these high-achieving students who are about to enter the workforce.
As a professional, I enjoy staying on top of all the latest regulations and developments in labor and employment law. It takes more than knowing the rules; it's also about common sense and knowing how to implement practically. One of the most valuable traits I offer in the workplace is my ability to transform knowledge and experience into effective programs.
The reality for those entering the labor market, in any field, is that it's highly competitive. For me, standing out has been about pursuing higher education and utilizing life lessons. It's also been very valuable to seek the advice and support of those I trust. I can attest that going beyond a bachelor's degree to earn a graduate degree or specialization is a differentiator and provides more opportunities.