#NextGenLíderes 2017 National Tour
Hispanic Executive Presents:
The #NextGenLíderes National Tour
Sponsored by:

At 79 million strong, the millennial generation is now the largest, most diverse generation in the United States.
Join Hispanic Executive and Northwestern Mutual at the #NextGen Líderes National Tour, where we convene a select group of up-and-coming bicultural professionals for an evening of lively cocktails, and stimulating dialogue. This event series hopes to engage and inspire. Connect, collaborate, and create lasting relationships with other talented young professionals during this transformative event.
CONNECT
#NextGenLideres
---
SAN DIEGO
Thursday, March 2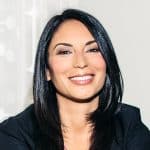 Featuring January/February Cover: Maribel Hines
VP – Talent and Organizational Development
Universal Music Group
About Maribel:
Maribel leads the Talent & Organization Development function at Universal Music Group – a global music organization & leader headquartered in Santa Monica, CA. Serving as an internal consultant, business partner, coach, and employee champion, her passion for helping high potential and emerging leaders learn, grow and develop keeps her engaged in her work.
Maribel's experience in human resources and organization development spans across various industries: nutrition/health & wellness (Herbalife International); consumer products/beverages (Red Bull North America); filmed entertainment (Warner Bros Entertainment Group); and music entertainment (Universal Music Group).
She holds a B.S. from the University of Southern California and an M.B.A. from the University of Phoenix. Maribel is in the process of earning her Ph.D. in Business Psychology from The Chicago School of Professional Psychology, and is also Adjunct Faculty at the University of Phoenix.
Maribel is married with three boys who love baseball.
Agenda-at-a-Glance
6:00pm
Cocktails + Socialize
7:00pm 
Dinner + Program
Location:
Herb & Wood
2210 Kettner Blvd.
San Diego, CA 92101
*Seats are limited. Secure yours today!
---
CHICAGO
Thursday, April 13
Featured Speaker: Codie Sanchez Baker
Entrepreneur. Speaker. Investor
About Codie:
Codie Sanchez Baker has been a Latina journalist covering human trafficking in Mexico, a finance exec running a multi-million dollar international business, a speaker talking to hundreds, a podcast host on The Struggle Isn't Real, and a startup CEO on the Today Show for her last company she exited.  When she isn't presenting to pensions, government and sovereign wealth funds, she is running one of her startups, consulting with the companies she angel invests in, or running her motivational & business building company at www.codiesanchez.com. She has been featured on The Today Show, Fast Company, People en Espanol, Huffington Post, Business Wire, Telemundo, and Univision. She brings ideas in technology and innovation from some of the fastest growing startups she invests in and advises, to Corporate America, and to entrepreneurs at Incubators across the country. She has an MBA from Georgetown University, Masters from ESADE and FGV, and a BA from Arizona State University. She believes if we can increase the number of diverse individuals and minorities in positions of power we will have a healthier society and greater equality.
Agenda-at-a-Glance
6:00pm
Check-ins + Socialize
6:30pm
Program
7:30pm
Cocktails + Tasty Eats + Socialize
Location:
Virgin Hotel Chicago
The Manor
203 N Wabash Ave.
Chicago, IL 60601
---
SAN FRANCISCO
Thursday, September 14
Featured Speaker: Marisela Garcia
CEO & Founder, Iberus
About Marisela:
Marisela Garcia is the CEO and founder of Iberus, founded in 2015 to focus on cross-border investments in tech startups between San Francisco/Silicon Valley and international markets. She is a second-generation San Franciscan and the first Latina millennial leading cross-border investments.
In addition, she is a strong advocate for the startup ecosystems in Latin America and Europe. Most recently, she lead a sister city alliance with San Jose, California, and Guadalajara, Jalisco; co-lead a delegation of Silicon Valley Latinos in Tech to Guadalajara; and continues to promote delegations to emerging startup ecosystems around the world.
During her young career, she has been able to master the art of international relations and has accomplished the daunting task of taking Iberus from being a local organization to a recognized global brand. She has successfully opened a chapter with two thousand members in Guadalajara, Jalisco, and is currently working to expand the Iberus network into Colombia, Argentina, Chile, Peru, Brazil, and Spain.
She is also the cofounder and cohost of the first Americas Summit 2016 in San Francisco/Silicon Valley, and founder of Women in Venture initiative. 
Agenda-at-a-Glance
6:00pm
Check-ins + Socialize
6:30pm
Program
7:30pm
Cocktails + Tasty Eats + Socialize
Location:
One Kearny Club
23 Geary St.
San Francisco, CA 94108
---
PREVIOUS EVENTS
#NextGen Líderes San Francisco