Mónica León Bernstein's leadership style is continually evolving. As she understands more about herself, she also learns what works best for the people she oversees at Interstate Hotels & Resorts. As an in-house counsel in the hospitality industry, she's learned that trust plays a big role.
"I'm a leader who trusts our team," Bernstein says. "Each person on our team has a great deal of responsibility in their respective areas, and they really take ownership of them. That is key to our success at Interstate, especially in such a leanly staffed but fast-paced environment."
That environment, she says, doesn't allow for the luxury of micromanaging, so Bernstein's approach to leadership is to ensure the legal department has the training it needs. She spends a significant amount of time with her team, especially in the initial weeks when she carefully oversees their roles, responsibilities, and expectations at Interstate Hotels. It's an investment that pays off.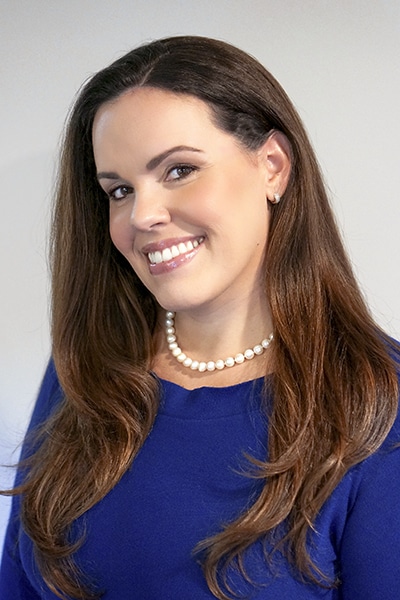 "We're constantly having to multitask and address numerous issues at once," she says. "I believe our most valuable and scarcest resource is just time. The challenge, ultimately, is looking at how to be diligent and thorough in your guidance while still remaining swift and nimble. That way, you can jump from one matter to the next—because you're going to have to."
As vice president of legal, she oversees the agreements Interstate Hotels & Resorts has with the hotels it manages, which amount to a lot. Interstate, she says, is the global leader in third-party hotel management with a portfolio of 540 properties in eleven countries, including some under construction or to be built.
To thrive in this role, Bernstein says she has to be a generalist who handles litigation and legal areas that involve employees.
As a leader, Bernstein says her biggest influence has been her Cuban family's story of survival in the 1960s. Her parents made sure she got a solid education at an all-girls Catholic school, Our Lady of Lourdes Academy in Miami, Florida. She then graduated from Duke University, where she was challenged academically, before earning a law degree at George Washington University. Her first job was an associate at Williams & Connolly LLP, where she spent six years and where, she says, she really learned how to be a good lawyer.
Bernstein has now been at Interstate Hotels for five years, and she says one of the company's main attractions was the opportunity to learn about a new industry. When she joined the company, she did not have a background in hospitality, which she calls a pleasant industry. "Really, my peers in this industry are hospitable," she says. "They are here to serve our guests. I think this sort of mentality not only spreads to the hotels but to the corporate offices as well."
From day one, her work at Interstate's headquarters in Arlington, Virginia, has been challenging as she transitioned from a law-firm environment to an in-house role, where decisions that impact the company are typically made in real time. There isn't time for extensive research and consultations, so she relies on her legal background, experience, and talented team.
Interstate Hotels also has long-term relationships with law-firm partners, which is critical for coverage.
Bernstein has found working in a fast-paced environment to be rewarding—and exciting—because she sees the results quickly. "The more comfortable you become with that, the more fun it becomes," she says.
Throughout her career, Bernstein has refined her approach to leadership with the help inspiring mentors, such as Erica Hageman, who became Interstate's general counsel in 2015. "She expects excellence from us," Bernstein says. "She helps each of us prepare for the next level in our careers."
Hageman's support was essential during Bernstein's transition to becoming a working mother, and Bernstein likes to extend similar support to her team and other up-and-coming legal professionals. To that end, Bernstein keeps in touch with paralegals who have gone on to law school or attorneys she knew at the start of their careers. Bernstein, however, doesn't just help those building a legal career.
This past year, Bernstein volunteered at one of the Tahirih Justice Center's clinics that help immigrant mothers and their children who are seeking asylum. During her first experience at the clinic, she assisted a young girl with her asylum application. Being able to communicate in Spanish was a plus.
"Just hearing about the experiences that she had to endure at such a young age was heartbreaking," she says. "It was an emotionally challenging day, but it's nothing compared to what these people have had to sacrifice and endure."
This eye-opening experience has inspired her to be more involved in the immigrant community. And it reminded her of her family's experiences immigrating to the United States, which is, ultimately, what inspires her to be a better leader every day.
Operación Pedro Pan
Like many who grew up in Miami's Cuban exile community, Mónica León Bernstein has stories to share about her family.
Her father was eight years old when he accompanied his nine-year-old sister to the United States via Operación Pedro Pan—a program that provided air transportation to the United States for Cuban children from 1960 to 1962. When they arrived in the United States, they stayed with relatives until their parents could emigrate four years later.
Her mother was also a child when her family fled to Spain. The family was so impoverished that her father knocked on a convent's door for help. Fortunately, a young nun took them under her wing until relatives could help finance the family's move to the United States years later. The story came full circle thirty years later, when Bernstein, then a student in Madrid, reconnected with the very same nun, who was then the convent's mother superior.
"The way they came here—the struggles they had to go through—definitely impacted my life," Bernstein says.
She also recalls how her paternal grandmother carried a red umbrella when she brought her two young children to the airport. She told them to look for the umbrella below.
"Sure enough, as the plane was taking off, my grandmother was on the ground opening and closing this red umbrella," Bernstein says. "When I became a mom, it took on a whole new meaning."
Williams & Connolly recognizes diversity and inclusion as core values; exceptional advocates are not cut from a single—or predictable—cloth.  Our commitment to diversity and inclusion makes us better able to serve our clients and community.  We congratulate Mónica León Bernstein  on this well-deserved recognition in Hispanic Executive.  www.wc.com