Mark Chavez never planned to become an attorney or to go to law school. In fact, he began his academic journey at the Massachusetts Institute of Technology, where he studied biology. But, without the financial wherewithal to continue, Chavez turned to his musical abilities and joined the Army's official ceremonial service band to pay for his undergraduate degree.
"The classes that were available to me at the time were more general, so I ended up getting a business degree instead of continuing to pursue biology. Then once I started evaluating what I would do long-term, I found myself in law school. I thought maybe I would be a lobbyist or go into business," Chavez says.
Despite the circumstances, Chavez enjoyed law school. So after he finished, he made his way back home to Texas, and started working in a major law firm. It was inevitable that he'd find himself working in the energy sector. "I didn't necessarily plan on it, but it became something I was increasingly interested in because of the diversity of work. Given that I always love a new challenge, it fit my personality perfectly."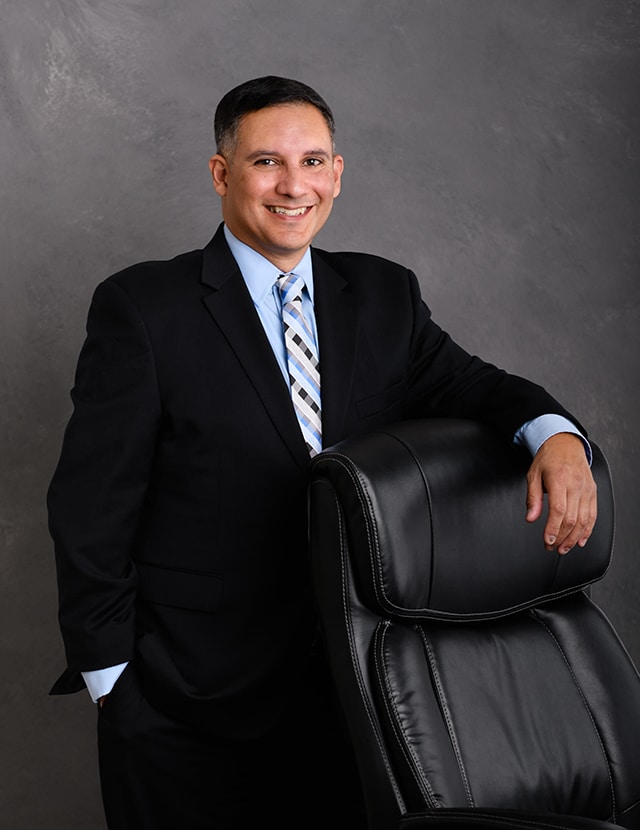 Working in energy, Chavez has learned more about the law than he ever could have imagined: pivoting from energy litigation in his early career to working on finance, creating testing, purchase and sale agreements, and learning a wide range of legal areas—from environmental laws to the legal regimes that affect energy investment in different countries.
"I've never allowed myself to internalize limiting beliefs. I've always believed that I could achieve anything I wanted if I worked hard, but I've also had to take risks," explains Chavez. "Changing jobs and putting myself in positions where I had to stretch my abilities to meet expectations pushed me to be better than I thought I could be." Luckily for him, those risks paid off, ultimately landing him where he is now.
Today, as the general counsel and corporate secretary at Ocean Point Terminals, no two days are the same. He might work on an arbitration matter one day and preparing for court the next; another day he might put together a commercial agreement or speak with opposing counsel the next. There's no such thing as a typical workday for Mark Chavez.
"I love not knowing what issue will come across my desk on any given day. I thought that after twenty years, I would've seen everything, but this industry keeps surprising me and bringing new challenges for me to tackle," says Chavez.
In his current position at Ocean Point, he oversees the company's environmental matters and is responsible for all legal issues that arise between them and the community they operate in. However, instead of viewing environmental consciousness and business viability as separate matters that should be balanced, Chavez sees them as one and the same.
"There is no business viability if you don't conduct your business in an environmentally conscious way. If you're unable to meet your environmental obligations, that's going to compromise your relationship with your regulators and the communities in which you operate, and it can even impact your ability to raise capital."
Ocean Point Terminals has also recently consummated a deal that will add a ten megawatt solar farm to their facility, a plan that will significantly reduce their emissions and bring additional clean, renewable energy to the US Virgin Islands. Beyond their contributions to advancing education in the community, since 2017, Ocean Point has donated more than one-and-a-half million dollars to various nonprofit organizations that support education, environmental stewardship and community sustainability.
There's also the aspect of social responsibility that is closely tied to environmental consciousness—something that Chavez and Ocean Point have made a priority during their time operating in the US Virgin Islands. "Our company and employees have made supporting our community a key pillar of our business, and we think that just makes business sense. It's all part and parcel of being a good corporate citizen," he explains.
Each year, Ocean Point Terminals provides more than one hundred thousand dollars in scholarships through their fellowship program, contributing over six hundred thousand dollars in scholarships since 2017. Additionally, through a partnership with the Virgin Islands Department of Labor, they host several on-site internship programs and contribute around one hundred and forty thousand dollars annually for training through the University of the Virgin Islands' Process Technology Program.
Even though Chavez's path up until law school was unexpected, he believes having a plan is an important part of building a successful career. "Generally, success doesn't happen by accident. Once I got into law and decided that this was going to be my career, I developed a clear vision of where I wanted to go," he says.
For this reason, Chavez's advice to others is to develop a road map of their goals. "Having that clear idea of where I wanted to go and how to get there was very important for me. Of course, there will always be detours and challenges, but if you have a plan, you can turn anything to your advantage, and keep on course."
---
Open-Minded Leadership

As a leader, Chavez stresses the importance of being open-minded. "I've always tried to give opportunities to candidates with unique backgrounds or those who have demonstrated tenacity in their lives. Maybe they aren't exact fits for a particular role, but for the most part, people want to succeed. When given an opportunity, people take advantage of it—and invariably, they've met or exceeded my expectations."
This trust extends to his management style, where his goal has always been to allow employees to create their own paths. "Perhaps the way that they'd solve a problem isn't how I would do it, but that's where trust comes into play. You need to give your employees the freedom to exercise autonomy in their work. There's no better way to support someone's potential than to demonstrate that you trust their judgment and ability to get the job done," he says.
---
Hunton Andrews Kurth LLP congratulates Mark Chavez on this well-deserved honor! With 900+ lawyers, we serve clients across a broad range of complex transactional, litigation and regulatory matters. Our mission is to build a diverse, inclusive professional community that fosters a culture of respect, collaboration, involvement and empowerment.
---
BakerHostetler:
"Mark is the epitome of the American dream. For years, he has worked tirelessly to hone his skills and rise up through the energy ranks. Chief among his skills is the unique talent to boil down complex regulatory matters for executives and offer practical legal advice. Congrats, Mark!"
–Greg Saikin, Partner