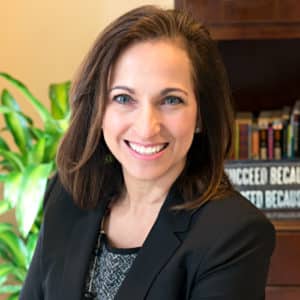 In the five years since she founded Latino U College Access in White Plains, New York, Shirley Acevedo Buontempo, now the nonprofit's executive director, has put together some impressive statistics. Seventy of the current scholars in her program have enrolled in college— 66 percent at four-year private schools, 26 percent at four-year public New York city and state schools—and 100 percent have remained in college.
Acevedo Buontempo's mission when she created her organization was to increase college enrollment among first-generation Latino students. According to the 2010 US Census, the number of people identifying as "Hispanic or Latino" in White Plains' Westchester County grew nearly 44 percent in the previous decade, and seven of the county's school districts now have student bodies that are 50 percent Latino or more.
Latino U provides classes, mentorships, and programs in English and Spanish to shepherd those students and their families through the college- application process. "Many of our students' parents don't understand the higher education system in the US," Acevedo Buontempo says. "Some have only elementary school education. The children are going through this entirely on their own. We explain to parents the difference between private and public schools and two-year versus four-year colleges. We identify high-achieving students and help them fulfill their potential. We've had incredible impact. My biggest challenge right now is obtaining seed funding so that we can continue to grow and serve more students."
In the two years since Hispanic Executive last checked in with Latino U, the organization has added a number of programs to its repertoire. Here's a look at just a few of them.
The College Access Program
This initiative pairs high school seniors preparing to apply to college with trained volunteer coaches who help them through the process. Connie Grossman is one such coach. She had worked for years as a CFO and chief accounting officer at various area companies and wanted
to give back to her community, so she's been volunteering with Latino U for the past four years and has even served as its board chair.
"I'm also a first-generation American, and helping kids resonates for me," says Grossman, who is Colombian American. "Most of them come from working-class backgrounds, and they have so much promise. I help them with everything. I start by getting to know them and ask them to build a résumé. It helps me understand where they're coming from. Once you meet the students and their families, you see they're very appreciative. We guide them the way we would our own children."
Grossman's mentee this year is Carola Vasquez, a senior at Sleepy Hollow High School whose family is from Peru. She plans to study mechanical engineering at the Rochester Institute of Technology this fall. "They have a great engineering program, but I also want a minor in photography, and they have a great photography program, too," 20-year-old Vasquez says. "Coming to the US was such a great opportunity for me to reach my dreams."
Vasquez says Grossman has been "on top of everything," helping her with her college application essays and reminding her when to apply for financial aid. The two also sat down to compare financial-aid awards from different colleges. "You don't realize that it could be very expensive later on to pay certain loans," Vasquez says. "Connie helped me figure that out. I'm grateful for her. Latino U has helped me a lot through this process. It's really stressful."
FAFSA Boot Camps
In addition to the student- mentor partnerships, Latino U now offers boot camp sessions to help students and their parents fill out the Free Application for Federal Student Aid (FAFSA) form.
Acevedo Buontempo and her team, with the assistance of trained volunteers, run the boot camps in collaboration with local libraries and public school districts in Westchester County. "We wanted to provide full-service college access to our students," Acevedo Buontempo says. "We needed to help students find financial aid, and the first step is to complete a FAFSA application."
Latino U hosted five boot camps last year and will host six this year. It's a major part of the organization's commitment to the White House Initiative on Educational Excellence for Hispanics, made in October 2015. It promised to help nine hundred families complete the FAFSA application, and as of the first half of 2017, it had already aided 607.
First Gen Forward
Launched last year with the support of a $100,000 grant from Impact100 Westchester, First Gen Forward is Latino U's program for continued outreach to first-generation students once they're in college.
The program's mentors work to ensure students make a successful transition to college and eventually graduate, helping with common issues such as stress, anxiety, and financial aid along the way
In one recent instance, a student at Binghamton University overscheduled herself with two science classes and a high-level math class because "no one told her not to sign up for three hard classes in her first semester of college," Acevedo Buontempo says. "We guided her in better balancing her class schedule."
First Gen Forward mentors also help students prepare for careers by providing internship access, networking opportunities, and interview skills. "We've recognized that a first-generation college student has greater success when they have ongoing support and see career opportunities by participating in training and workshops with others who've walked in their shoes," Acevedo Buontempo says. "Mentors and volunteers help them realize their future potential."
Latino U's work through First Gen Forward and other programs has earned it many accolades, including from Acevedo Buontempo's alma mater, Pace University. It was selected as the school's 2015-2016 Social Enterprise in Residence, a role in which it served as a case study of a social enterprise in action for the university's faculty and students.
"This organization has succeeded beyond my wildest imaginings," Acevedo Buontempo says. "Now that we're expanding from college access to college success, we can continue our work and eventually help students find that first job."