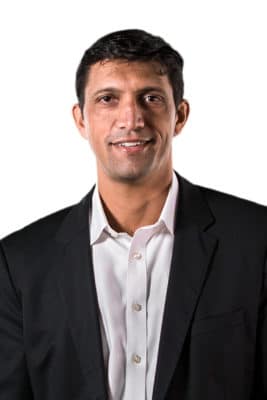 It might seem unusual for a seasoned executive to take a year off to consider his next career move. For John Fernandez, it was a great opportunity to meet fellow alums of Stanford University and the University of California–Berkeley and others to really understand which companies were creating disruption in the market.
This was also an opportunity to develop his search criteria for what he wanted in the next phase of his career. His planned year off only lasted six months when ForgeRock, a company that fit all his criteria, asked him to come on board.
He joined the multinational identity and access-management software company in 2013, as its first chief financial officer. Former employees of Sun Microsystems had founded the start-up, in Norway, three years prior. Today, it's headquartered in San Francisco, and it has among its clients Toyota, TomTom, and GEICO as well as Norway, Canada, and Belgium.
Fernandez brought more than fifteen years of experience working for public and private companies to ForgeRock, which has exceed his expectations.
There's no such thing as a typical or boring day. "That's the way you would expect it to be when you're running an international enterprise software company in one of the most dynamic areas of security, which is identity-centric today," he says.
Building a Career in Finance
Fernandez grew up in rural Oregon as one of five children in a family of modest means. Both parents were educators who passed on their belief that anyone can achieve anything they want through education.
Initially, Fernandez studied premed at Stanford, completing all the tough prerequisites before concluding it wasn't the right fit. When he started looking for another career path, his parents reminded him that "ever since you were little, you used to count your money, and you always had a mathematical mind for that. Maybe you should pursue a business degree."
He switched to economics. "When they started talking about supply and demand, the way pricing works, all of these things, my mind lit up," he says.
Then, after he had been in the workforce six years, Fernandez decided he wanted a leadership role in a company, so he went and earned an MBA from UC Berkeley's Haas School of Business. He was fortunate to be awarded a scholarship for underrepresented minorities, sponsored by Michael Torres, CEO of Adelante Capital Management.
With a master's degree in hand, Fernandez worked as the acting CFO and senior vice president of finance at Rearden Commerce before taking his planned year off to figure out the next step in his career.
It was during that time that Fernandez developed five criteria for his next company to meet: Number one had to do with the company's CEO. It turned out Mike Ellis, ForgeRock's CEO, shared Fernandez's views about integrity—that all decisions should be made in the best interests of the company, its employees, and its customers.
"You focus on every step you take that leads you to a good end," Fernandez says.
Integrity is a standard for Fernandez and ForgeRock. He credits the people he works with and the five founders who wanted to create a company where they would be proud to work.
His second criterion had to do with the company's board. Not having a board's support would inhibit efforts toward a successful outcome. The third criterion involved the members of the management team and their experience.
The fourth had to do with the company's product and its potential for growth. The ForgeRock Identity Platform helps global companies and governments manage the identity of their people, things, devices, and services, all in the name of digital identity and security—certainly a hot topic these days.
Fifth, Fernandez questioned what sector of the software industry he wanted his prospective company to work in. He noted, in this age of digital proliferation, where everything is online, that ForgeRock's technology had the opportunity to provide value to enterprises by securing digital identities.
Leading with Integrity
As CFO, Fernandez directs more than sixty people. When he started, there were five. The top quality he looks for in potential employees is desire.
Calling upon his experience working in construction, Fernandez says that with a start-up, "you must be a builder. You need a vision for what you want, the ability to pull it together, and the tenacity to see your vision through to a long-term goal or outcome."
Fernandez's personal role model is his father, whose message is: "Work hard and be honest." Fernandez feels that it's easier to deal with challenges head on, acknowledging that many people have a hard time with that because they want to be liked. That's not the focus for Fernandez; fairness is.
Outside work, Fernandez and his wife, who live in San Mateo, have a son and a daughter. He loves to ski and attend his children's dance events and sports games. He also travels with his wife and enjoys cooking.
His advice to his children is, "Figure out what you like, figure out what interests you, and just pour yourself into it 150 percent, and out the other side will come good results. I very much believe that."