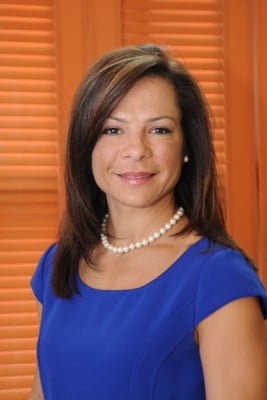 When Maria B. Winans was growing up in North Carolina, speaking Spanish seemed like more of an impediment than an opportunity—but today, as vice president of software-industry solutions marketing for IBM, it's quite the opposite. "Speaking Spanish has opened up doors for me," she says, "by giving me the opportunity to embrace international assignments."
Winans, who was born in Santiago, Chile, came to the United States at age seven when her father went to Duke University to finish his PhD in biochemistry. "We lived in a Southern community, with little diversity, and you didn't hear Spanish spoken on the streets," she recalls. "I stood out because I didn't know a word of English, and was always being pulled into special courses at school."
Like many new immigrants, Winans would have preferred to assimilate at the time. However, her parents demanded she maintain her culture and speak Spanish regularly, and when she began studying at the University of North Carolina, she saw the opportunities it presented.
"I began my career at IBM, which was looking to create a new business model to sell technology to consumers through the telephone and, later, the web," she says. "And I was eventually tapped to expand that model into Latin America."
From there, Winans's career progressed quickly. After traveling throughout Latin America to set up dot-com sales centers, she was put on the executive career track, and moved into IBM's Software Solutions division, which is responsible for much of IBM's new market-making initiatives and represents a significant portion of its revenue growth. "I've always been interested in jobs that are new, that offer entrepreneurial challenges, so I welcomed my current role, which involves a new way of selling software," she says. "We're driving substantial opportunities around the cloud, including software as a service, big data, social business, and mobile commerce among others. It's an exciting area for me—new markets, new buyers, new business models."
In her current role, Winans spearheaded the marketing of IBM's Smarter Commerce initiative. Launched in March 2011, Smarter Commerce "is about helping companies connect to today's increasingly digital consumer by intelligently automating key business functions to speed them up and appeal to consumer preferences," says Winans. Today's customers, she explains, approach a purchase empowered by technology, with more extensive real-time information available from more sources than ever before. Moreover, they expect to engage with the companies from which they're buying products and service when and how they want, whether it's in person, online, or even on the go. And they want these touch points to tie together seamlessly. IBM's Smarter Commerce solutions and services address this new world, turning customer insight into action by helping companies develop new, improved business processes to better buy, market, sell, and service their products and services. "The technology allows a business to fully understand the customer as an individual and create a system of engagement that brings value to the customer at every touch point," Winans says.
Winans is also helping to lead another initiative called Smarter Cities, which helps cities improve their services through integrated technologies. Doing so will be essential, says Winans, because in order to compete in today's economic environment, cities need advanced analytics to develop a citizen-centric approach to services. Indeed, IDC Government Insights, a market research firm, expects this new market to reach $57 billion by 2014. IBM is a step ahead of the survey with its flagship Smarter Cities implementation at the operations center it designed for the city of Rio de Janeiro, Brazil. A citywide system integrating data from 30 agencies under a single roof, it creates a virtual Rio. The system provides users with video streams from subway stations and major intersections, a map glowing with the locations of problems such as car accidents and power failures, even a weather program predicting rainfall—all rendered in real time. "It's about using information to coordinate resources, anticipate problems, and make more informed decisions that ultimately improve the lives of citizens," says Winans.
Rallying support for these new initiatives wasn't easy. "When we first began initiating conversations with the line of business (non-IT buyers) the question was, 'How do we convince people who are not accustomed to dealing with IBM that we should be their trusted advisor?'" Winans explains. "For Smarter Commerce, we were speaking to chief marketing officers, and they were sending us next door to the chief information officer—and the two of them were not always talking to each other. For Smarter Cities, we needed to show mayors that we could assist them in achieving their objectives more effectively. It was a challenge to get our new customers behind our idea, but it was also a great opportunity to start a dialogue with buyer with whom we've never had a presence and create a new market."
Though these initiatives sound like a major challenge, it's no surprise that Winans was up for it. "Success is about passion rather than position—what you want to do versus what role you're in," she says, pointing to her passion for fitness as an example. Since Winans taught her first fitness class in 1988, she has received certifications in an number of specialties, including kickboxing, TRX, and Russian Kettlebells, and today teaches five classes a week at Excel Body Fitness in North Carolina. "Transformation motivates me," she says. "Just as I'm fueled by changing businesses for the better at work, in my personal life I'm fueled by changing people for the better—and I like to do that at work as well," she says.
The key to her broad success, says Winans, is looking at challenges as opportunities for smart risk taking. "From coming to the United States and not being able to speak the language to what I do at IBM today (making new markets), both involved risks," she explains. "By looking far ahead, however, I was able to link the reward back to the challenge, and realize it presented the opportunity for growth, both personal and for IBM."
Winans urges other Latinas to find a balance between their heritage and growth. "Be rooted by your culture, but not constrained by it," she says. "A lot of people are victims of the fact that they weren't born in the United States and don't speak the language perfectly. I say, don't play the role of a victim or wait for everything to be perfect. Every step that you take forward, whether it's learning a new language or seeing an opportunity, makes you more self-confident and more successful."