For someone who speaks four languages, grasping the nuances of international communication translates into a serious edge in the world stage, as is the case for Luis Avila, assistant general counsel for the high-profile global executive-recruiting firm Heidrick & Struggles.
"After I graduated from Columbia, I came back to Chicago and worked as an associate for two different firms. When I was looking for a new position, my recruiter suggested I interview with Heidrick & Struggles," Avila says. "When I met with the group, I really enjoyed the team culture they had created, and though I always had thoughts of working in-house, I didn't think it would be that early in my career."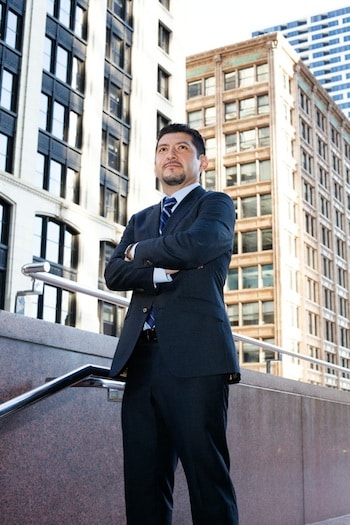 Avila started at Heidrick & Struggles in 2008, coming off a four-year stead at Kluever & Platt, which was the second associate position he held after completing his law degree in 2001, first working for Lord, Bissell & Brook from 2001 to 2003. "I was doing a lot of transactional work, ranging from securities to corporate policy to real estate," Avila says. His legal work at Heidrick & Struggles would be his first foray into an international scene, and with the prestige afforded by an in-house position. "Every day there is a new twist to my role and I enjoy the complexity," Avila says. "Not only do I enjoy the subject matter of the work I do, but I have the luxury of doing it on an international platform."
Luis Avila's tips for navigating the global marketplace
Be cognizant of the cultural nuances and communication shifts in the various countries where you do business.
Be inquisitive with your approach to international matters and transactions.
If you speak languages other than English, develop those skills, because languages are a personal asset and make you more marketable.
Partners Gardner Heidrick and John E. Struggles founded Heidrick & Struggles in Chicago in 1953 during the height of the post-war employment boom; capitalizing on new recruitment needs for a fast-growing labor force. By 1968, with offices established on America's West and East coasts, the firm made its first move into the international market by opening a new office in the United Kingdom. Now, as the firm celebrates its 60th anniversary, it has more than 50 offices in 30 different countries, mobilizing professionals in everything from European tech start-ups to seated Fortune 500 companies.
Heidrick & Struggles is a $527.8 million leadership-advisory firm providing executive-search and leadership-consulting services, including succession planning, executive assessment, talent-retention management, and M&A [mergers and acquisitions] human-capital integration consulting. It is Avila's job as assistant general counsel to oversee commercial transactions, data protection, real estate and IP matters for the firm's international network.
Commercial transactions at a recruiting firm involve confidentiality agreements, review and negotiation of contractual terms, multiyear management services agreements, and leadership consultation agreements. Avila also oversees all of the client and service partner contracts, ensuring legal continuity and fair exchange.
It's Avila's real estate, privacy and subsidiary management work at Heidrick & Struggles that calls for an international edge. International offices mean international issues, which is where communicational politics—and a knack for picking up on legal nuances—comes into play. "While the legal bases for these areas of knowledge is fairly common throughout the world, there will be nuances depending on what country you're in, and you need to be aware that those exist," Avila says. "If I recognize a deviation in the terms of a particular issue, I will consult with local counsel to bridge the gap."
Collaboration is thus essential for Avila. Utilizing various technological communication tools, Avila is able to operate primarily out of Chicago, which is where his polylinguistic skills come to the fore—and give him the edge as counsel operating in the international scene. "My Mexican-American heritage helps me to better understand and appreciate different cultures and countries. If you're working outside of the United States, you have to bring a certain level of awareness and respect for those differences," Avila says.
In addition to his duties at Heidrick & Struggles, Avila is also an active member of the  Midwest Minority In-House Counsel Group. From his vantage point as a minority legal professional, and through his networking within this group, Avila is working to promote the introduction of Latino legal professionals to the world of in-house counsel. "To begin with, there are already a small number of Latinos in the legal field," Avila says. "I want to see this number grow. I'd also like to see more Latinos eventually move into in-house counsel positions. I think we can be a great asset to this type of legal environment."
Avila adds, "In the years I've been here, I've been able to work outside of some of my regular duties, and it has broadened my legal experience. Whether it's making sure we're getting the best terms on our contracts, or making sure we're protected on a certain lease, it's my goal to help this firm continue to grow."