Although organizations around the world have, for many years, focused on diversity in its various shapes and forms, it can be much more difficult to consider the diversity of external partners. When she was only twelve years old, Gladys Lopez saw firsthand the impact that mindful supplier choices could make on a community.
"My father's business had just been awarded some subcontract work from a local government agency because his was a minority-owned company," she recalls. "Those were just the beginning stages of supplier diversity, but I immediately knew I wanted to be a part of that process when I grew up, to help the Hispanic community."
In her new role as senior manager of supplier diversity for Hilton, Lopez can continue on her long, accomplished career of doing just that.
Minority small-business owners such as her father haven't always had opportunities to grow and succeed, but Lopez entered the field of supplier diversity hoping to push change. She took her first official supplier-diversity role after earning her bachelor's degree at Georgetown University, guided by a mentor that has continued to influence her career. "That person believed in me, and gave me my first job a month after I graduated—like a beacon of light," she says.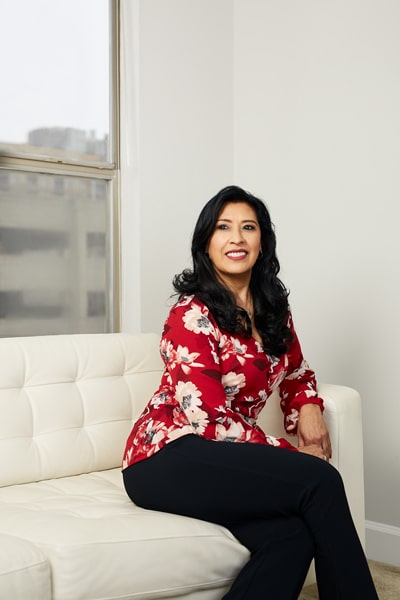 Driven to level the playing field for minority-owned businesses while also feeling a dual responsibility to her employers and suppliers, Lopez quickly found herself with more opportunities to make a difference. As a growing field, the world of supplier diversity calls for innovative thinkers and flexible strategists—attributes that Lopez continues to demonstrate. "The key is maintaining fairness and consistency, despite the many challenges," she says.
Lopez joined American Express's supplier-diversity team in 1997, focusing on global voice and data transport services and then moving into mainframe and mid-range software and hardware. In a short time, she grew into a senior management role, driving growth for the global financial services company by leading a corporation-wide supplier diversity initiative with more than 1,000 diverse suppliers for longer than a decade.
After twenty years with American Express, Lopez was ready for a new challenge. She became senior manager of supplier diversity at Hilton in early 2018. The multinational organization manages a broad portfolio of hotels and resorts, also overseeing franchises across the world. Rather than bring a single cookie-cutter hotel to a dozen different markets, Hilton aims to work as a partner with the diverse small business communities surrounding its properties—one of the main reasons Lopez was drawn to the company.
"I was very excited to work for a brand that is going to give more opportunity to the diverse business community," she says.
When she joined Hilton, the organization was at the tail end of a global business-model transformation, which put supplier diversity at the forefront. Diversity and inclusion had been a priority for Hilton for nearly a decade, and Lopez' supplier diversity team fits into the company's marketplace initiative of creating a global competitive business.
"We can engage more strategically and partner with nonprofit organizations and marketing campaigns to cater to diverse customer segments and provide opportunities for women and people of color," Lopez says.
Lopez credits the new leadership in the Hilton supply management department—particularly that of Senior Vice President and Global Head of Hilton Supply Management, Anu Saxena—for carving a path that could allow for such positive impact. "She set out to redefine the department by strengthening our capabilities, committing to more aggressive growth plans, and investing heavily in talent and technology," Lopez says. Between that top-down commitment and Lopez' strategic focus, Hilton has been able to more fully feel the benefits of diversity and inclusion.
"I want to help these diverse communities navigate corporate America. That is one of the most difficult things for suppliers to do, and it's important to have someone on the inside that can help them."
The hospitality industry comes with a great deal of change and complexity—especially for a global organization. Consumer needs evolve quickly, and Hilton must be agile. Communicating the impact of supplier diversity to each and every department is an essential part of Lopez' job. By empowering champions and supporters of the initiative in other teams, she ensured that supplier diversity maintains its value in corporate conversations even when she's not there to affirm it.
"We need to make sure we have the right infrastructure to respond to anything, to ensure we know how both our customers will be impacted and how our diverse vendors will be impacted," Lopez says.
Though still relatively new to the role, Lopez has been consistently handling upwards of twenty separate projects at any given moment. In addition to utilizing Lopez' strategic skills to ensure strong relationships within the organization and with suppliers, Hilton is utilizing technology in support of its diversity focus. Here, too, Lopez maintains her meticulous attention to detail. "Right now I'm evaluating supplier diversity management software, and there are more than 100 components of each offering," she says. She is also leading projects such as revamping websites to further ease suppliers' experience. These new sites will allow prospective suppliers to find and contact Hilton, register with the diversity program on procurement, and more.
"I want to help these diverse communities navigate corporate America," she says. "That is one of the most difficult things for suppliers to do, and it's important to have someone on the inside that can help them figure out how to put together their value proposition, do the most effective research on the company—to get them to the right person at the right time for the right opportunity."
That help extends beyond the oftentimes transactional nature suppliers may find with other organizations. If Lopez finds a supplier that may need to strengthen a particular area of their business, she offers guidance or suggests mentors that may lead them to further success.
At the end of the day, those connections benefit both Hilton and the minority businesspeople. Accomplishing that duality has led to a variety of awards and recognition, but being able to help Latinos, women, and other people of color is the true reward, Lopez says. "Being recognized for making contributions to the Hispanic business community resonates because it reminds me that I'm doing things right, doing what I set out to do when I was very young."
Community Activism
"I practice diversity and inclusion in everything I do," Lopez says. "Both from my parents and from my mentor, I learned early on the importance of staying connected with my community, and encouraging the same for others. Today, for example, I am on the board of advisors for the Caobas Foundation, which offers educational resources to at-risk youth across the Washington, DC, metro area and the Dominican Republic. I'm also the chapter president of the Catholic Association of Latino Leaders for Washington, DC, a group committed to growing in faith through prayer, education, service, and leadership. Right now our main focus is Catholic education, helping Hispanic children in grades K-12 attend Catholic schools. And, I'm the newly appointed corporate board chair of the National Association of State Latino Chambers of Commerce, which represents approximately 80 percent of the Hispanic state chambers in the United States and Puerto Rico. In addition, Hilton has selected me to chair the Hispanic Latino Team Member resource group. I also founded the Hispanic Leaders in Supplier Diversity and D&I group.
Throughout all this work, I want to share success stories, offer assistance, and, through collaboration with my peers, help diversity practitioners, especially those just getting into the function. We want to be able to leave a legacy of diverse suppliers, of Hispanic program managers that continue to carry the torch."