Genaro Perez Jr. knows people. He can assess their character and what keeps them motivated, how they react in certain situations, and what they tend to need from him. Perez knows a lot of people—over the course of his twenty-five-year career, he has made innumerable connections in the key fields of finance, consulting, and nonprofits. Now, as director of business development at CrossCountry Consulting and on the NY senior leadership council of the Association of Latino Professionals for America (ALPFA Inc.), Perez is able to capitalize on both his people knowledge and his wide-ranging connections.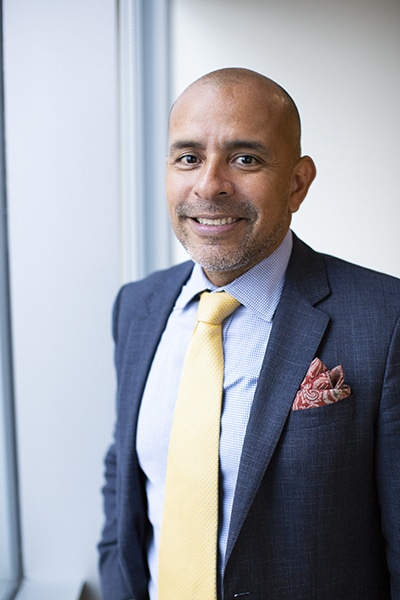 All of his career, Perez has focused his efforts on growing and developing his team. "That's one of the most important things I've learned, was the importance of bringing people on and then nurturing, inspiring, and motivating them," Perez offers. "The more I can develop my team and have them join me during complex client situations, the more confidence I'll have that my clients' attention is being addressed in my absence. And that's how successful teams help grow the business."
This approach actually flies in the face of conventional wisdom, Perez explains. Many people, especially in a field like consulting, are extremely protective of their client relationships and aren't willing to open them up to junior team members. But Perez believes firmly in giving his team opportunities to "own it." As he says, "That's what open communication—and an open door—really means. I'm open to stepping back and having someone on my team meet with a client because they can use that opportunity to do great things."
Of course, Perez does not throw his team members into those situations alone without preparation or training. "It was hard work but my teams enjoyed the camaraderie,'" Perez says, laughing. "You have to go through a bit of a journey before you can take advantage of these opportunities. I always tell them that it's about effective communication, people skills, and exceeding expectations."
First, Perez explains, you have to lay a foundation with both your team and the client. When client opportunities come from a pursuit, ask questions and talk to your team about it—then follow that with strategic research. Do you understand the company? The trends within the industry? What's driving the needs? After that, you need to assess the competitive landscape and identify what you can bring to the table. "Doing that groundwork really helps build rapport and strengthen relationships, which is key to any professional services firm like CrossCountry," Perez notes. "It will also serve you well to bring a personal touch to your interactions with the client. Talk about your personal life, your family—just have an open, informal conversation."
"When I reconnect with people from my professional past and connect with new contacts, I make it so there's a positive outcome for everyone involved."
He explains that this kind of dialogue helps build cumulative trust. "It's human nature to want to work with and be around people that you enjoy," says the director of business development. "In fields like consulting, the people you're working with are incredibly smart—they know when you're trying to sell them something, and they know when you're being genuine and honest." He also says having a high emotional intelligence can be helpful as it offers the ability to be socially and self-aware. Those who are self-aware can positively manage emotions to communicate effectively, empathize with others, and overcome challenges.
In addition to helping his team forge relationships with clients, Perez has leveraged his network of connections from Goldman Sachs, Deloitte, and other top companies to generate new business relationships. "When I reconnect with people from my professional past and connect with new contacts, I make it so there's a positive outcome for everyone involved," he says.
According to Perez, it is that same focus on networking and relationship-building that has made ALPFA so successful. In Perez's two-plus decades with the organization, membership has increased from just three hundred to over eighty thousand. "The people that I met twenty-four years ago are now CFOs, CEOs, and partners at accounting firms," he says. "And a lot of that success came down to the ALPFA network—that's where people often go to get clients, to get mentors, and to find new opportunities."
The leadership at ALPFA, Perez says, realized that some of the most sought-after firms for aspiring students and young professionals to join are also the hardest to get into, especially for Latinos and other minority groups. Perez himself worked in one of the Big Four Global CPA firms but admits, "You had to be at the top of your class, have relevant experience, and demonstrate leadership skills by your junior year." He says, "The rigorous recruiting process to the Big 4 Global CPA firms is highly challenging, requiring months of preparation. Now we're looking to make sure that our members have access to resources and mentors so they can compete on a level playing field."
---
Related Links
Oscar Garcia Offers Financial Empowerment to the Underbanked
Miguel Myhrer: "A hallmark of any successful person is a commitment to continuous learning."